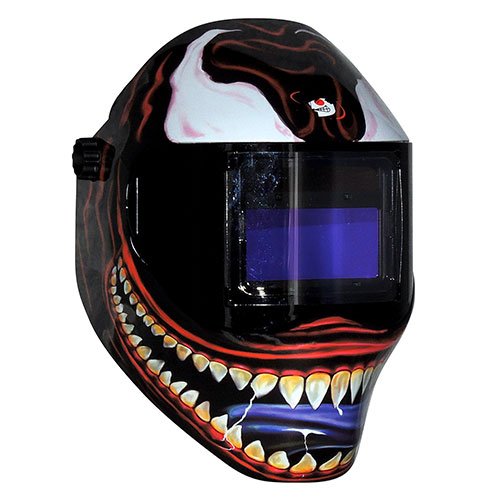 Sometimes having ADF technology incorporated into a welding helmet just isn't enough to meet a specific need. Most ADF helmets have a rather limited viewing window that limits your peripheral vision. The Save Phace Kannibal 40-Vizl2 Welding Helmet tells a different tale. It is part of a series of helmets that is the only 4×4 inch ADF-integrated lens which offers 180-degrees of viewing.
With over 40 square inches of total viewing space, you will certainly be able to see your welding project with ease. This helmet is also cheater lens compatible and offers an articulating multi-point adjustable headgear. What makes it stand out, however, is the artwork that is on the helmet – which is a trait of the Save Phace brand
Our Observations from the Save Phace Kannibal Helmet

It offers operators a solid level of airflow. The amount of air movement which occurs around the head and face of the operator with this welding helmet is better than average. You'll still get sweaty on a hot day or in an enclosed space, but it takes longer to reach the point of needing to stop to change out your bandana.
It is a fairly lightweight helmet. It weighs about 23 ounces, so it is one of the lighter helmets in the industry that is this feature-rich. You have 2 arc sensors, a grind mode, sensitivity and delay controls, as well as a flash indicator all built into this series of helmets by Save Phace.
Shade options are somewhat limited. For welding purposes, you have access to shading in the range of 9-13 with the Kannibal. If you are grinding, then the standard light shade is #4. You do receive 2 bonus flex-fit front pocket lenses in the box, with the ADF filter being provided a 24-month warranty.
The peripheral vision appears at a faint red. From a regular welding perspective, the view is about what every other helmet is able to provide. There are added optics, faintly there, which could be beneficial to some operators.
Overall, we have no complains about the fit of this helmet, though the sizing options might not be comfortable for users with specific needs. The feel of the helmet is also pretty good, though it does feel a little cumbersome from time to time. Save Phace has made the knobs on the helmet easy to use and locate and they don't feel like they'll just pop off the helmet.
And of course, the paint job on this helmet really makes the product pop. It doesn't make up for some of the deficiencies that some users might see with the helmet, but it's a good start.
Our Grade: A-
The Save Phace Kannibal 40-Vizl2 Welding Helmet is a little sensitive, with standard lighting setting it off. The front protector is not sealed either, going into the grooves instead. You might want to tape off the edges. This is what prevents a higher grade from us, but the value, look, and durability of the helmet are definitely worth taking into consideration.
Click here to view the price on Amazon and get the best deal.
Don't forget to take a look at the best Save Phace welding helmet reviews today!