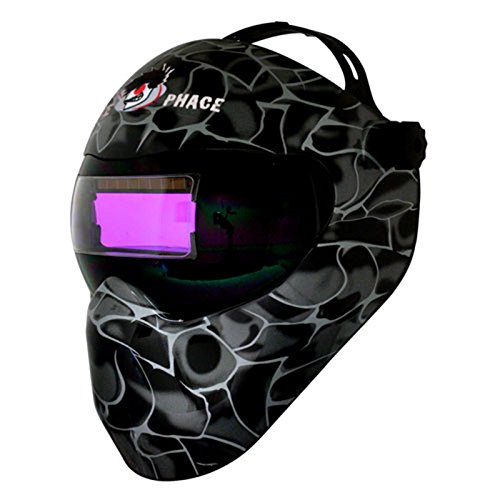 Some welding masks or helmets thrive on getting the basics right so they can be affordable. Others offer a premium price, but come with advanced features that are worth the investment. The Save Phace Black Asp Gen X Welding Mask is a good mid-range compromise for those who want some advanced features, but need a product that is consistent in getting the basics right.
This isn't an ADF multi-shade lens, but it does offer an automatic darkening or lightening experience for the operator. When triggered by an arc or bright light, the sensors will darken the lens to Shade #10 for welding. In its standard mode, it is a Shade #3, so the mask is also useful for grinding.
With a viewing area of 23 square inches, the optics and comfort of Black Asp welding mask is one that we found to be quite attractive.
Key Observations About the Save Phace Black Asp

#1. The headgear is based on a standard halo design, but offers 9 points of adjustment so it is about as close to a one-size-fits-all that can be obtained. We had no problem finding a setting that was comfortable. You're also given a headband on the gear to help absorb sweat so you don't need to wear a bandana if that is your preference. The headband is also replaceable.
#2. The weight of the helmet is listed at 2 pounds, which is a little heavy for a protective product that is a mask instead of a complete helmet. The headgear comes around your head in such a way that the weight is supported effectively, however, so you won't feel the weight much unless you wear the mask for an extended period.
#3. The automatic shading function is somewhat sensitive. We could trigger it by turning on a basic LED light in the shop. This function is powered by a lithium battery, which you'll want to have on hand because the shading does tend to shift between 3 and 10 more often than other viewing areas from other brands.
#4. The tightening knobs do tend to loosen a bit if you are moving your mask up and down throughout the day. We solved the problem by adding a little tape to the mix and would recommend anyone who welds on a regular basis do the same thing.
#5. The helmet itself is made from a hard plastic. If you're doing heavy welding that is above a ½-inch weld, there is the possibility that you could melt the plastic. It isn't very flexible, but that durability also provides users with a higher level of protection.
Our Grade: B+
With the Save Phace Black Asp Gen X Welding Mask, you can make a couple of simple upgrades that would up the grade of this product. Because users need to add some tape and limit their welding activities, however, the functionality of this mask as-is can be somewhat limited. It is an excellent entry-level, training, and home-use welding mask and should be treated as such.
Click here to view the price on Amazon and get the best deal.
Make well informed purchase decisions when you take a look at the best Save Phace welding helmets on the market.