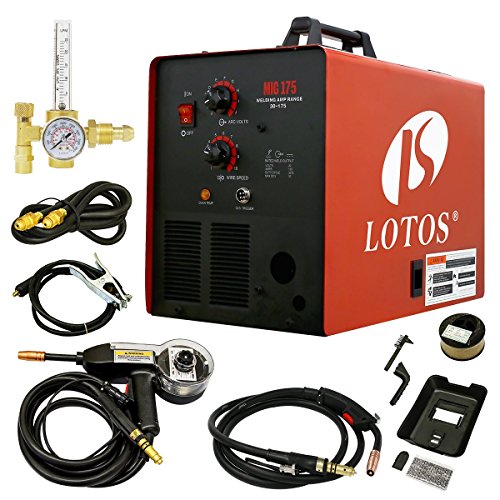 If you need to weld mild steel, stainless steel, or aluminum on a consistent basis, then you need to have a welder that will perform consistently. You also need to have a welder that will give you a good flow rate, a quick setup, and a solid torch. You'll get all of that and a whole lot more when using the Lotos Technology MIG175 welder.
This welder comes with the spool gun and mask, along with an argon regulator and the consumables you'll need to get started right away. We got up and running with this welder in about 10 minutes.
It requires a 220/240V outlet to operate and handles standard 4-inch or 8-inch wire spools. Overload protection is included with this MIG welder.
Here are the specifications that help to describe this welder, which we found to be spot-on.
It features a duty cycle of 20% when running at full capacity.
The power cable is 6 feet in length, but works well with one of the best welding extension cords if you need added length.
The DC output current is variable, with a range of 30-175 amps.
The 60% duty cycle hovers around the 60A range. It seems to run a little longer when you can give the welder a space that is somewhat open.
If you have the right gas supply, it can handle aluminum welding that is 1/8-inch + plate.
The ground clamp offers 2 inches at maximum width.
How Does the Lotos MIG175 Handle?

We found the torch on this particular MIG welder to be comfortable and fairly adaptable. With a 4-prong end connection and more than 8 feet in length, we found that it works for most applications. Our only struggle with this model is in terms of portability. The gas hose is just 5 feet long, so combined with the short cable, you're not able to move around much or weld in anything but a standard position.
You can also use this welder with flux core if you prefer. We found that the .035 wire for flux core seemed to work the best.
If there was any room for improvement, it would be to add a two-stage trigger to this welder. That way you could flood your area with a shielding gas before striking the arc and that would help to create a better overall bead. The gas is instead on a 3-second timer, so you've got to count it off in your head so you get the arc right. That's a bit of a learning curve.
Our Bottom Line: The Lotos MIG175 is a good entry-level welder for hobbyists and those who are just starting to learn the tricks of the trade. We were happy with its performance and the skill versatility it offers, even if its portability is somewhat limited. The gun is somewhat forgiving and produces a nice weld, so it is a great deal that will help you get ready for bigger welding projects in the future.
Check out the best MIG welders on the market to find the perfect MIG welding machine.
Click here to view the price on Amazon and get the best deal.