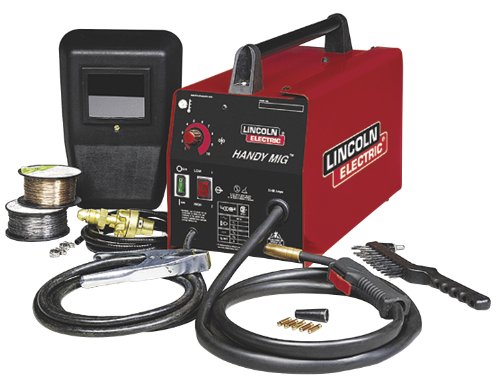 Do you have the need to weld mild steel on a regular basis? Are you looking for a MIG welder that can also weld flux-core? Then the 70-amp Lincoln Electric K2185-1 MIG welder could help you get the job done. It isn't going to be able to tackle the tough projects that you've got around the house or at the shop, but it does give you the ability to effectively weld mild steel up to 1/8-inch thick.
There is also a 1-year warranty in place on parts and labor, though the gun and the cable are only warrantied to 90 days.
Here are the features that you'll want to take a look at if you're considering this Lincoln Electric MIG welder.
It offers a duty cycle that is 20% at 70 amps. You have a variable amperage output of 35-88, however, so there is some versatility offered within this small welder.
It will operate off of any 115V 20-am household outlet.
The clamp cable length is 8 feet, which is the same length as the power cord.
You receive a .035 flux-core wire and .025 solid MIG wire in the box with this welder, as well as three tips for both sizes.
With a good shielding gas supply, we were able to achieve a clean weld on thin sheet metal and on some body panels. The flux core welds just as consistently. You can achieve welding on some thicker materials if you pre-heat your joint before you get to work. You'll just need to make sure you've done a proper job in prepping the joint before starting your weld if that's the case.
Tips on Using the Lincoln Electric K2185-1 MIG Welder

We had no issues with this little welder overheating on us. It's a pretty solid welder for any of those simple DIY jobs you might have around the house.
The controls are pretty simple for this welder, but we would recommend referencing the instruction manual that comes with it. There are a few little tweaks to the design that you'll want to be aware of before you get to work. We found it to be a very forgiving welder, however, and it works consistently.
We weren't really a fan of the hood that comes with this set. You'll want to purchase one of the best welding helmets to meet your needs instead of relying on the included product. The chipping hammer was only slightly better than the hood.
Our Bottom Line: This welder does a surprisingly good job, despite it being a little light on the amperage side compared to other models. We find it to be a good option for beginners who are just starting to learn welding. It also has some light home and automotive applications. It's more for residential needs than commercial, but some specific industries might enjoy the portability of the Lincoln Electric K2185-1 MIG welder. If you have light welding work and need a solid performer, this is it.
Click here to view the price on Amazon and get the best deal.
View the best Lincoln welder reviews online and choose the welder that's perfect for your needs.