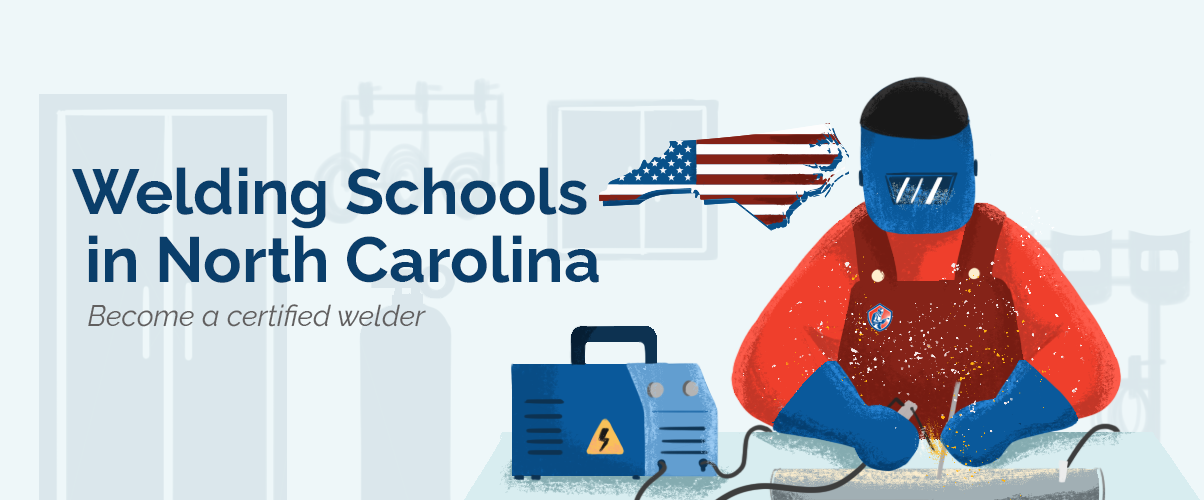 Welders join pieces of metal together and fix broken objects that are made of metal.
Because many industries use metals in their manufacturing process, this profession will continue to be needed in the future.
If you are located in North Carolina and you'd like to explore a career in welding, on this page we have compiled relevant information about education requirements, employment, and salary prospects.
What Do Welders Do?
Although this profession is very complex, a broad definition is that welders use machinery that emits high heat to join pieces of metal or repair damaged parts
The biggest employer for welders, cutters, solderers, and brazers are metal manufacturers, specialty trade contractors, and in the field of repair and maintenance, according to the Bureau of Labor Statistics (BLS).
According to the same report, approximately 5 percent of all welders were self-employed.
Before being ready to venture into your own welding business you will need to gain some experience in a factory or welding shop.
Job Prospects
Employment for these professions is projected to grow by 3 percent from 2019 to 2029, with most job openings occurring on infrastructure repair and rebuild projects, according to BLS.
Welders who have completed post-secondary training and have a certificate offered by the American Welding Society will have the best employment prospects.
How to Become a Welder
If you want to become a certified welder in North Carolina, the first step is to finish high school because most trade schools and community colleges that offer welding training programs require a high school diploma or GED for admission.
After graduating from high school the next step is to do your research and find the right training program for you.
Another thing that will help you in your career is to sit for the welding certification testing offered by the American Welding Society.
From trade schools to community colleges, there are many places where you can learn how to weld in North Carolina.
Although program duration and complexity varies, most of these post-secondary programs are designed to prepare students for a career in welding right after graduation, covering a variety of useful topics, such as:
Cutting
Arc welding
Blueprint reading
Brazing
Equipment setup and operation
Safety procedures
Welding programs can last between a few months and more than 2 years depending on the type of program and the curriculum.
Some offer only in-person classes while other programs combine online education with classroom training and practicum.
Costs vary between less than $5,000 and more than $15,000 depending on the duration of the program and the type of credential it offers.
Diploma programs usually are shorter and less expensive than programs that offer an associate's or a bachelor's degree.
In the table below we have compiled information about educational programs for welders in North Carolina.
You can use this as a starting point in your research.
34 Welding Schools in Welding Schools In North Carolina
Omitt Trade School LLC
101 W Sugar Creek Rd, Charlotte, NC 28213
704-248-0837
Wake Technical Community Clg
519 Industrial Dr, Zebulon, NC 27597
919-866-5000
GTCC N. Main St. Jamestown NC
5472 Winters Way, Greensboro, NC 27410
336-344-2584
Asheville-Buncombe Technical Community College
340 Victoria Rd, Asheville, NC 28801
828-398-7900
Guilford Technical Community College
901 S Main St, High Point, NC 27260
336-334-4822
Fayetteville Technical Community College
171 Laketree Blvd, Spring Lake, NC 28390
910-678-1000
Randolph Community College
110 Park Dr, Archdale, NC 27263
336-328-1750
Forsyth Technical Community College Main Campus
2100 Silas Creek Pkwy, Winston-Salem, NC 27103
336-723-0371
Pit Weld U
133 Byers Creek Rd Suite B, Mooresville, NC 28117
704-799-3869
Miller-Motte College
105 New Frontier Way, Jacksonville, NC 28546
910-778-9304
Carolinas Electrical Training Institute (CETI)
13530 S Ridge Dr, Charlotte, NC 28273
704-523-7001
NASCAR Technical Institute
220 Byers Creek Rd, Mooresville, NC 28117
704-658-1950
Blue Ridge Community College
180 W Campus Dr, Flat Rock, NC 28731
828-694-1700
Miller-Motte College
3488, 3901 Capital Blvd STE 151, Raleigh, NC 27604
919-230-6471
Durham Technical Community College
1637 E Lawson St, Durham, NC 27703
919-536-7200
Coastal Carolina Community College
444 Western Blvd, Jacksonville, NC 28546
910-455-1221
Guilford Technical Community College
601 E Main St, Jamestown, NC 27282
336-334-4822
Lenoir Community College
231 North Carolina Hwy 58, Kinston, NC 28504
252-527-6223
GTCC Small Business Center
1451 S Elm-Eugene St #1201, Greensboro, NC 27406
336-334-4822
Southwestern Community College - Swain Center
60 Almond School Rd #9544, Bryson City, NC 28713
828-366-2000
Mitchell Community College- Mooresville Campus
219 N Academy St, Mooresville, NC 28115
704-663-1923
Miller-Motte College
5000 Market St, Wilmington, NC 28405
910-632-5542
McDowell Technical Community College
54 College Dr, Marion, NC 28752
828-652-6021
Vance-Granville Community College
200 Community College Rd, Henderson, NC 27536
252-492-2061
Aviation Institute of Maintenance
7421 E Independence Blvd, Charlotte, NC 28227
980-785-0700
A-B Tech Enka
1459 Sand Hill Rd, Candler, NC 28715
828-398-7900
Surry Community College
630 S Main St, Dobson, NC 27017
336-386-8121
A-B Tech South
303 B Airport Rd, Arden, NC 28704
828-398-7716
Wilson Community College
902 Herring Ave E, Wilson, NC 27893
252-291-1195
Beaufort County Community College
5337 US-264, Washington, NC 27889
252-946-6194
Career Academy & Technical School
350 Old Murdock Rd, Troutman, NC 28166
704-978-2791
Brunswick Educational Center
104 Ocean Hwy E, Supply, NC 28462
910-754-2314
James Sprunt Community College
133 James Sprunt Dr, Kenansville, NC 28349
910-296-2400
Edgecombe Community College
2009 W Wilson St, Tarboro, NC 27886
252-823-5166
Become a Welder, Find a School >
Before choosing where to enroll there are several factors you should take into account, including the program duration, cost, and location.
According to the Bureau of Labor Statistics, the industries with the highest employment level for this profession are:
Manufacturers of fabricated metal products
Manufacturers of machinery
Fabricated metal products manufacturing
Motor vehicle body and trailer manufacturing
Foundation, structure, and building exterior contractors
Welders in North Carolina
According to the National Association of Manufacturers, manufacturers in general, account for 17.17% of North Carolina's total output and employ more than 10% of the total workforce.
Machinery manufacturers contribute approximately $5,9 Billion to this output while manufacturers of fabricated metal products made $4.3 Billion.
Manufacturers of motor vehicles and parts contribute $3.6 Billion to the state's economy.
The Bureau of Labor Statistics lists these three industries as two of the sectors with the highest employment levels for welders, cutters, solderers, and brazers.
The same source estimates the average salary for North Carolina at $51,010, as of May of 2020.
Salaries for welders in this state vary widely based on many factors.
Entry-level wages usually range between $33,000-$52,000 per year, depending on education, skills level, certifications, and many other factors.
According to salary.com, the median annual wage for North Carolina welders with less than 3 years of experience is $41,336 as of April 2021.
This means that half of all entry-level welders earn less than this amount while half earned more.
The same report calculates the median annual salary for welders with 3-5 years of experience at $47,741 with wages ranging between less than $38,000 and more than $59,000.
Welders with 5-7 years of experience reportedly earn $57,815 on average.
The lowest 10 percent of experienced welders reportedly made less than $44,127 while the highest 10 percent made more than $74,975.
Wages also vary depending on the city of employment and local economy, as the table below shows.
Annual Salary Range:
Average Salary of Welders in Welding Schools In North Carolina
| City Name | Salary |
| --- | --- |
| Charlotte | $48,569 |
| Raleigh | $47,980 |
| Greensboro | $47,385 |
| Durham | $47,703 |
| Winston Salem | $47,499 |
| Fayetteville | $45,496 |
| Cary | $47,980 |
| High Point | $47,668 |
| Wilmington | $45,223 |
| Asheville | $45,577 |
Welding Schools by City