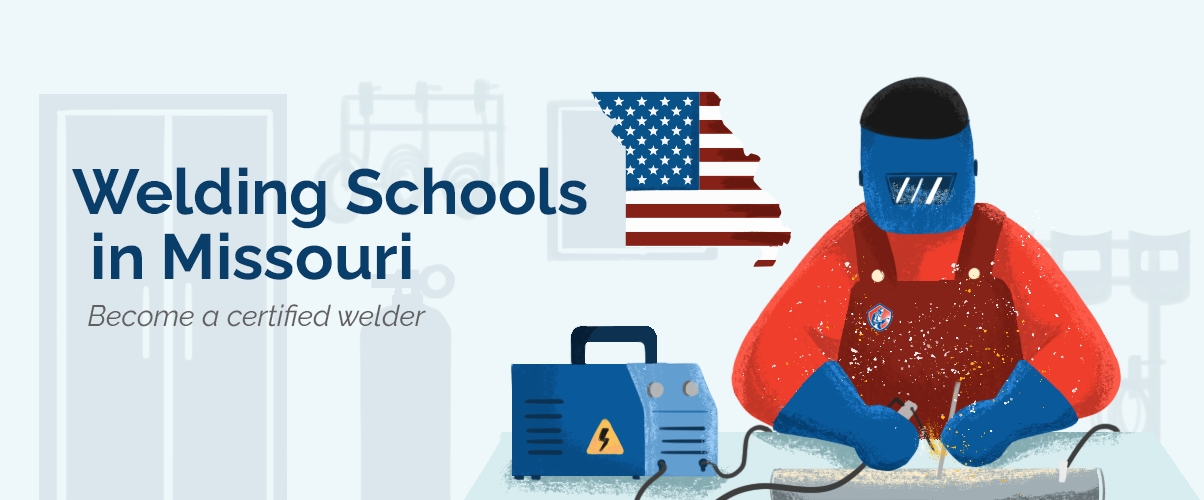 If you're located in Missouri and you're thinking about becoming a welder, we invite you to read on in order to find out more about this career path and the best trade schools that are ready to prepare you for a career as a welder.
Job Description
Although job descriptions vary depending on the industry of employment and the specialty, as a welder, you will usually be responsible for:
Reading blueprints
Igniting torches
Starting power supplies
Monitoring the welding process
Maintaining welding equipment
Calculating the dimensions of the parts that will be welded together
Inspecting the final product and fixing any imperfections
You can learn the above skills during high school if it offers technical education and shop classes, through an apprenticeship or post-secondary education program.
There are different types of programs that can prepare you for a career in welding.
You can enroll in a six months certification program where you will learn the trade in a systematic way, or, if you prefer the hands-on approach, you can enter an apprenticeship and you will learn to weld and solve welding problems on the spot while supervised by an experienced welder.
You also have the option of enrolling in a two-year associate's degree program at a local community college.
Occupational Hazards and Safety Issues
Welding can be dangerous and welders need to follow very strict safety procedures to avoid injury.
One of the most important risks welders face every day is the risk of burns.
To avoid them, welders use leather gloves and jackets with long sleeves.
The brightness of the weld may cause inflammation of the eye and in order to avoid this, welders use special helmets.
Depending on the materials they work with, welders may also be exposed to dangerous gases and there is also a risk of electrical shocks.
Regardless of the training program you choose, you should make sure that it also teaches you about safety and how to avoid risks.
Career Path
The first step towards a welding career is finishing high school.
Taking some technical education classes such as blueprint reading, technical drawing and mathematics will prove very useful.
After earning your high school diploma or GED equivalent, the next step is to enroll at a trade school or community college that offers welding training classes.
Welding training usually covers a variety of topics, such as mathematics, metallurgy, blueprint reading, pipe layout, and most programs also include a welding practicum.
Welding techniques usually covered by training programs are:
Arc welding
MIG welding
TIG welding
Hyperbaric welding
Pipeline Welding
Pipe-Fitting
Depending on the school and the program you may learn only one basic technique or several advanced welding techniques, such as underwater welding.
Costs also vary depending on the school you choose but usually range between $5,000 and $15,000.
You will also have to pay an application fee and a testing fee.
If the school you choose is located in a different part of Missouri you should also take into account housing costs and additional travel expenses.
Some employers may be willing to hire inexperienced workers and prepare them through on-the-job training or cover the costs of training.
Even if you graduate from a welding program, once you get a job you will also complete an on-the-job training period to learn the specifics of the industry and the position.
There are also certification programs available for welders.
Becoming certified can improve your employment and earning prospects.
Employers usually prefer to hire welders who have a basic American Welding Society Certified Welder certification.
This credential can be earned after passing an exam offered at one of AWS's accredited testing facilities.
32 Welding Schools in Welding Schools In Missouri
Missouri Welding Institute
3300 Industrial Pkwy, Nevada, MO 64772
800-667-5885
Crider's Institute of Welding Technology
300 NW Jefferson St, Grain Valley, MO 64029
816-885-2571
Grand River Welding Institute
103 N Livingston St, Brookfield, MO 64628
660-258-9353
Grand River Technical School
1200 Fair St, Chillicothe, MO 64601
660-646-3414
Northland Career Center
1801 Branch St, Platte City, MO 64079
816-858-5505
American Trade School
3925 Industrial Dr, St Ann, MO 63074
314-423-1900
Midwest Technical Institute
3600 S Glenstone Ave, Springfield, MO 65804
417-227-4950
American Welding Academy
3 Progress Pkwy, Union, MO 63084
636-800-9353
South Central Career Center
407 W Thornburgh St, West Plains, MO 65775
417-256-6152
Franklin Technology Center
810 S Wall Ave, Joplin, MO 64801
417-659-4400
Ranken Technical College
4431 Finney Ave, St. Louis, MO 63113
314-371-0236
Hillyard Technical Center
3434 Faraon St, St Joseph, MO 64506
816-671-4170
Sikeston Career & Technology
200 Pine St, Sikeston, MO 63801
573-471-5442
St Charles Adult and Community Education
2400 Zumbehl Rd, St Charles, MO 63301
636-443-4043
Poplar Bluff Technical Career Center
3203 Oak Grove Rd, Poplar Bluff, MO 63901
573-785-2248
Columbia Area Career Center
4203 S Providence Rd, Columbia, MO 65203
573-214-3800
State Technical College of Missouri
1 Technology Dr, Linn, MO 65051
573-897-5000
Lex La-Ray Technical Center
2323 High School Dr, Lexington, MO 64067
660-259-2264
Pemiscot County Career and Technology Center
1317 MO-84, Hayti, MO 63851
573-359-0021
Rolla Technical Institute
1304 E 10th St, Rolla, MO 65401
573-458-0150
Ranken Technical College - Southeast
1205 Corporation Ln, Perryville, MO 63775
314-286-3382
Gibson Technical Center
385 State Hwy 76, Reeds Spring, MO 65737
417-272-3271
Warrensburg Area Career Center
205 S Ridgeview Dr, Warrensburg, MO 64093
660-747-2283
Lewis and Clark Career Center
2400 Zumbehl Rd, St Charles, MO 63301
636-443-4950
Pike-Lincoln Technical Center
342 Vo Tech Rd, Eolia, MO 63344
573-485-2900
Pinnacle Career Institute - North Kansas City
11500 N Ambassador Dr Suite 221, Kansas City, MO 64153
800-676-7912
Lake Career & Technical Center
269 Dare Blvd, Camdenton, MO 65020
573-346-9260
Northwest Technical School
1515 S Munn Ave, Maryville, MO 64468
660-562-3022
Metropolitan Community College - Business and Technology
1775 N Universal Ave, Kansas City, MO 64120
816-604-1000
Waynesville Career Center
400 Gw Ln, Waynesville, MO 65583
573-842-2500
Aviation Institute of Maintenance
4100 Raytown Rd, Kansas City, MO 64129
816-753-9920
Poplar Bluff Technical Career
1110 N Westwood Blvd, Poplar Bluff, MO 63901
573-785-2248
Become a Welder, Find a School >
Welder in Missouri
Wages for welders with more than 5 years of experience typically fall between $44,000 and $75,000 being determined by the industry of employment, the welder's expertise and skills level but also the region and the local economy.
Salaries for welders in Missouri vary depending on a wide range of factors, including experience level, education, industry, certifications, and skills.
As a recent graduate from a welding school, your salary will most likely be less than $45,000 but your wage will gradually increase after earning a few years of experience.
According to salary.com, the median annual wage reported by entry-level welders in Missouri was $41,292 as of April 2021 with salaries ranging between less than $33,000 and more than $52,000.
The median annual wage for welders with 3-5 years of experience was $47,691.
The lowest 10 percent of mid-level welders in Missouri earned less than $37,298 while the top 10 percent made more than $59,343.
Salaries for experienced welders range between less than $44,000 and more than $75,000 per year- with the median calculated at $57,775.
The cities that offer the most jobs for welders in Missouri are Kansas City, Independence, O Fallon, and Chesterfield.
The median annual wage reported by welders in Kansas City is $49,078 while those in Chesterfield were remunerated with $48,980 on average.
You can find detailed information about salaries reported in the top 10 cities of Missouri as of May 2021 in the table below.
Annual Salary Range:
Average Salary of Welders in Welding Schools In Missouri
| City Name | Salary |
| --- | --- |
| Kansas City | $48,625 |
| Saint Louis | $48,818 |
| Springfield | $46,845 |
| Independence | $48,572 |
| Columbia | $48,276 |
| Saint Joseph | $48,195 |
| Lees Summit | $48,440 |
| Saint Charles | $48,554 |
| Saint Peters | $48,448 |
| Florissant | $48,739 |
Welding Schools by City