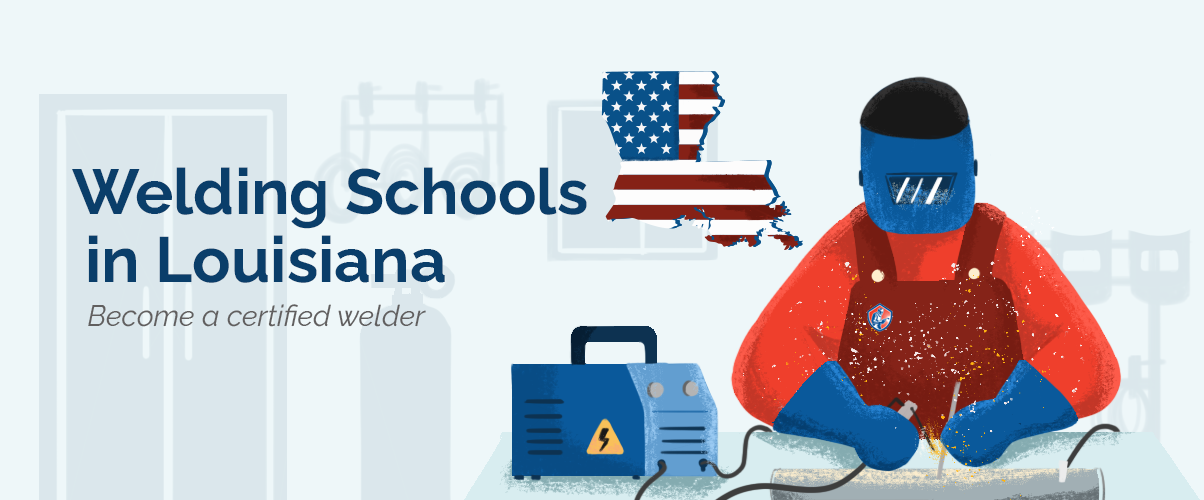 Welders join pieces of metal together and repair broken objects that are made of metal.
Because many industries use metals in their manufacturing process, this profession will continue to be needed in the future.
If you are located in Louisiana and you'd like to explore a career in welding, on this page we have compiled relevant information about this path and what you should expect in your future profession.
What Do Welders Do?
Although this profession is very complex, a broad definition is that welders use machinery that emits high heat to join pieces of metal and repair damaged parts
The biggest employer for welders, cutters, solderers and brazers were metal manufacturers, specialty trade contractors, and in the field of repair and maintenance, according to the Bureau of Labor Statistics (BLS).
According to the same report, approximately 5 percent of all welders were self-employed as of 2019.
Before being ready to venture into your own welding business you will need to gain some experience in a factory or welding shop.
Read further to find out more about a welder's job description, employment prospects, and training options that are available in the state of Louisiana.
Job Prospects
Employment for these professions is projected to grow by 3 percent from 2019 to 2029, most job openings occurring on infrastructure repair and rebuild projects, according to BLS.
Welders who have completed post-secondary training and have a certificate offered by the American Welding Society will have the best employment prospects.
How to Become a Welder
If you want to become a certified welder in Louisiana, the first step is to finish high school because most trade schools and community colleges that offer welding training programs require a high school diploma or GED for admission.
After graduating from high school the next step is to do your research and find the right training program for you.
After earning your diploma or degree, a thing that will help in your career is to sit for the welding certification testing offered by the American Welding Society.
From trade schools to community colleges, there are many places where you can learn how to weld in Louisiana.
Most of these post-secondary programs are designed to prepare students for a career in welding right after graduation, covering a variety of useful topics, such as:
Cutting
Arc welding
Blueprint reading
Brazing
Equipment setup and operation
Safety procedures
Depending on the type of program and its complexity, welding programs can last between 7 months and 2 years depending on the type of program and the curriculum.
Some offer only in-person classes while others combine online education with classroom training and practicum.
Costs vary between less than $5,000 and more than $15,000 depending on the duration of the program and the type of credential it offers.
Diploma programs usually are shorter and less expensive than programs that offer an associate's degree.
In the table below we have compiled information about educational programs for welders that are available in Louisiana.
You can use this as a starting point in your research.
Before choosing where to enroll there, you should take into account the program duration, cost, and location but also your schedule and availability.
22 Welding Schools in Welding Schools In Louisiana
Advanced Welding School
10340 Florida Blvd, Walker, LA 70785
225-667-9797
SPARX Welding & Technology Institute
280 A Equity Blvd, Houma, LA 70360
985-655-7779
Louisiana Technical College
137 College St, Greensburg, LA 70441
225-222-4251
Moore Career College
14141 Airline Hwy Bldg 1, Ste X, Baton Rouge, LA 70817
225-757-3770
College Street Vocational Center
736 W College St, Lake Charles, LA 70605
337-217-4370
Bossier Parish School for Technology & Innovative Learning
1020 Innovation Dr, Bossier City, LA 71111
318-759-2900
Compass Career College
42353 Deluxe Plaza #16, Hammond, LA 70403
985-419-2050
Central Louisiana Technical Community College
4311 S MacArthur Dr, Alexandria, LA 71302
318-487-5443
Central Louisiana Technical Community College - Natchitoches Campus
6587 LA-1 Bypass, Natchitoches, LA 71457
318-357-3162
Northshore Technical Community College
7067 LA-10, Greensburg, LA 70441
985-545-1500
Unitech Training Academy - Lafayette Campus
3253 Ambassador Caffery Pkwy, Lafayette, LA 70506
337-451-3004
Baton Rouge Community College Acadia
Louisiana Training Institute, 3250 N Acadian Thruway, Baton Rouge, LA 70805
225-359-9201
Northwest Louisiana Technical Community College
2010 N Market St, Shreveport, LA 71107
318-676-7811
Louisiana Community & Technical College System
265 S Foster Dr, Baton Rouge, LA 70806
225-922-2800
Baton Rouge Community College
3337 LA-10, Jackson, LA 70748
225-634-2636
Unitech Training Academy - Alexandria Campus
2800 S MacArthur Dr suite e, Alexandria, LA 71301
318-625-0468
ABC Training Center
222 Walcot Rd, Westlake, LA 70669
337-882-0204
SLCC New Iberia Campus
609 Ember Dr, New Iberia, LA 70560
337-373-0185
Shreveport Job Corps Center
2815 Lillian St, Shreveport, LA 71109
318-227-9331
Northshore Technical Community College
111 Pride Dr, Hammond, LA 70401
985-545-1500
Northwest Louisiana Technical Community College
9500 Industrial Dr, Minden, LA 71055
318-371-3035
SLCC Acadian Campus
1933 W Hutchinson Ave, Crowley, LA 70526
337-788-7521
Become a Welder, Find a School >
Welding in Louisiana
The manufacturing sector accounts for approximately one-sixth of Louisiana's economy, with the chemical industry, lumber and wood products, transportation equipment, and metal product manufacturers being important contributors in this sector.
According to the Bureau of Labor Statistics, the annual mean wage in Louisiana was $46,460 as of May 2020.
Salaries for welders in Louisiana vary widely depending on a variety of factors, such as:
Experience level
Industry of employment
Education
Local economy
According to a report published by salary.com, the median annual wage reported by entry-level welders was $41,509- lower than the average state salary.
Salaries for welders with this level of experience range between less than $33,000 and more than $53,000 and if you have a degree or a diploma in the field you may find employment with a company that pays well.
Welders with 3-5 years of experience reportedly earned $47,942 on average, with wages ranging from less than $38,000 to more than $59,000.
The median annual wage for experienced welders was $58,058- higher than the national average.
The lowest 10 percent of welders with more than 5 years of experience earned less than $44,312 while the top 10 percent of them made more than $75,289.
Some welders also reported additional benefits, such as healthcare, social security, time off, and pension.
Salaries also vary depending on the city of employment and the local economy.
In the table below we have compiled salary information reported by welders in the top 10 Louisiana cities.
Annual Salary Range:
Average Salary of Welders in Welding Schools In Louisiana
| City Name | Salary |
| --- | --- |
| New Orleans | $49,506 |
| Baton Rouge | $46,530 |
| Shreveport | $46,010 |
| Lafayette | $45,978 |
| Lake Charles | $45,348 |
| Kenner | $49,479 |
| Bossier City | $46,010 |
| Monroe | $45,770 |
| Alexandria | $44,339 |
| New Iberia | $45,712 |
Welding Schools by City