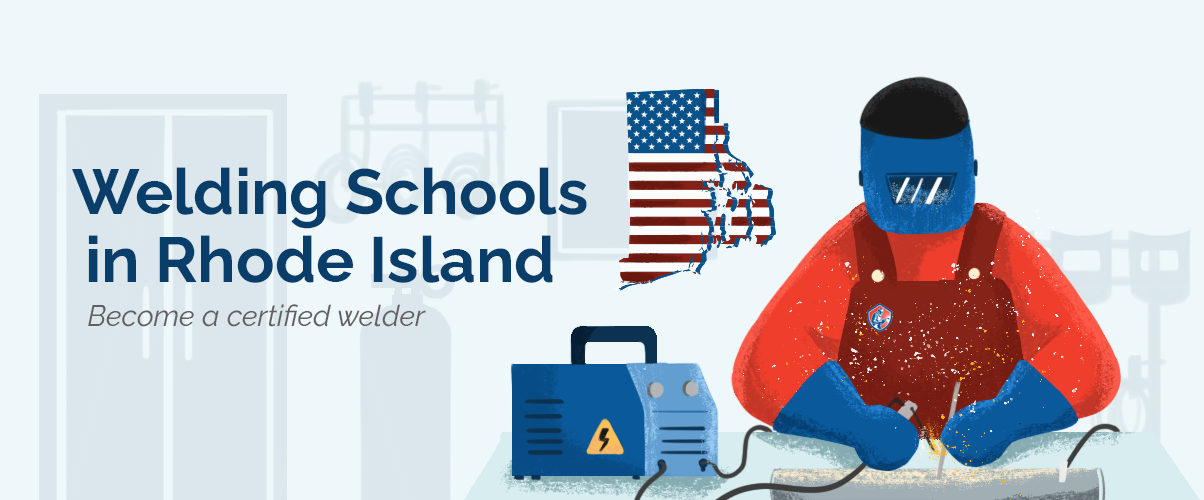 From manufacturing plants to shipbuilders and car manufacturers, many industries need good welders.
If you are located in Rhode Island and you're contemplating the idea of starting a career in welding, on this page we have compiled relevant information about this career path and what you should expect on your journey.
What Does a Welder Do?
Although this profession is very complex, the common answer is that welders assemble pieces of metal together and repair damaged objects that are made of metal using machinery that emits high heat.
According to the Bureau of Labor Statistics, the biggest employer for welders, cutters, solderers, and brazers were metal manufacturers, specialty trade contractors, and companies in the field of repair and maintenance.
Some experienced welders start their own business after spending a few years as employees in a factory or shop- the Bureau of Labor Statistics estimates that 5 percent of welders are self-employed.
Read further to find out more about the welder's job description, employment prospects, and training options.
Job Prospects
Employment for welders nationwide is projected to grow by 3 percent from 2019 to 2029, with most job openings occurring on infrastructure repair and rebuild projects, according to the Bureau of Labor Statistics.
Welders who have completed post-secondary training and/or hold a certificate offered by the American Welding Society will have better employment prospects.
If you're willing to relocate or you're trained to work in special conditions, this will improve your employment prospects.
How to Become a Welder
If you want to become a certified welder there are several steps you need to follow:
Many trade schools and employers accept only candidates who have a high school diploma so before enrolling at a trade school you should finish high school or get your GED.
Find the right training program- we encourage you to use the table below as a guide
Learn and practice for the welding certification testing offered by the American Welding Society
10 Welding Schools in Welding Schools In Rhode Island
Lincoln Technical Institute
622 George Washington Hwy, Lincoln, RI 02865
401-288-0099
New England Institute of Technology (NEIT)
1 New England Tech Boulevard, East Greenwich, RI 02818
401-739-5000
Career and Technical Center at Coventry
40 Reservoir Rd, Coventry, RI 02816
401-822-9499
IYRS School of Technology and Trades
449 Thames St, Newport, RI 02840
401-848-5777
Rhode Island Construction Training Academy
249 Roosevelt Ave, Pawtucket, RI 02860
401-305-3510
Woonsocket Area Career
400 Aylsworth Ave, Woonsocket, RI 02895
401-767-4600
Providence Career & Technical Academy
41 Fricker St, Providence, RI 02903
401-456-9136
MTTI
54 Water St, East Providence, RI 02914
866-454-6884
Warwick Area Career and Technical Center
575 Centerville Rd, Warwick, RI 02886
401-734-3150
Cranston Adult Education Programs
83 Rolfe Square, Cranston, RI 02920
401-270-8166
Become a Welder, Find a School >
There are many programs that can prepare you for this profession.
Shorter programs that lead to a diploma are available at trade schools and can usually be completed in 6-7 months.
If you want a degree, then you can enroll at a community college and get your associate's degree in 2 years.
Apprenticeships may also be available for those who want to learn on the job and get paid while learning – it's best to do your research and find out if there are any such opportunities in your area.
Welders in Rhode Island
According to the National Association of Manufacturers, Rhode Island manufacturers account for 8.11% of the state's total output and employ approximately 8.4% of the workforce.
The biggest manufacturing field in Rhode Island is aerospace and other transportation equipment manufacturing which contributes approximately $845 Million to Rhode Island's economy.
The reported output was $308 Million for machinery manufacturers and $286 for manufacturers of fabricated metal products.
According to the Bureau of Labor Statistics, the industries with the highest employment level for this profession are:
Manufacturers of fabricated metal products
Machinery manufacturers
Metal manufacturers
Motor vehicle manufacturers
Foundation, structure, and building exterior contractors
Salaries for Rhode Island Welders
The average annual wage across all occupations in Rhode Island was $60,240, as of May 2020 according to BLS.
According to salary.com, the median annual wage for Rhode Island welders with less than 3 years of experience is $45,668 as of April 2021- lower than the state average but salaries increase as welders become more experienced and earn additional certifications.
As an entry-level welder, you can make anywhere between less than $36,000 and more than $58,000.
Although the starting salary doesn't sound like much, earning a post-secondary degree or certificate can help improve your earning prospects.
The same report calculates the median annual salary for welders with 3-5 years of experience at $52,746 with wages ranging between less than $41,000 and more than $65,000 depending on other factors, including the industry of employment and the level of education.
Welders with 5-7 years of experience reportedly earn $63,876 on average.
The lowest 10 percent of experienced welders reportedly made less than $48,753 while the highest 10 percent made more than $82,834.
Wages for this profession also vary based on the city of employment, as the table below shows.
Annual Salary Range:
Average Salary of Welders in Welding Schools In Rhode Island
| City Name | Salary |
| --- | --- |
| Providence | $52,060 |
| Warwick | $52,060 |
| Cranston | $52,060 |
| Pawtucket | $52,060 |
| East Providence | $52,060 |
| Woonsocket | $52,010 |
| Coventry | $51,961 |
| Cumberland | $52,060 |
| Tiverton | $52,210 |
| Narragansett | $52,282 |
Welding Schools by City