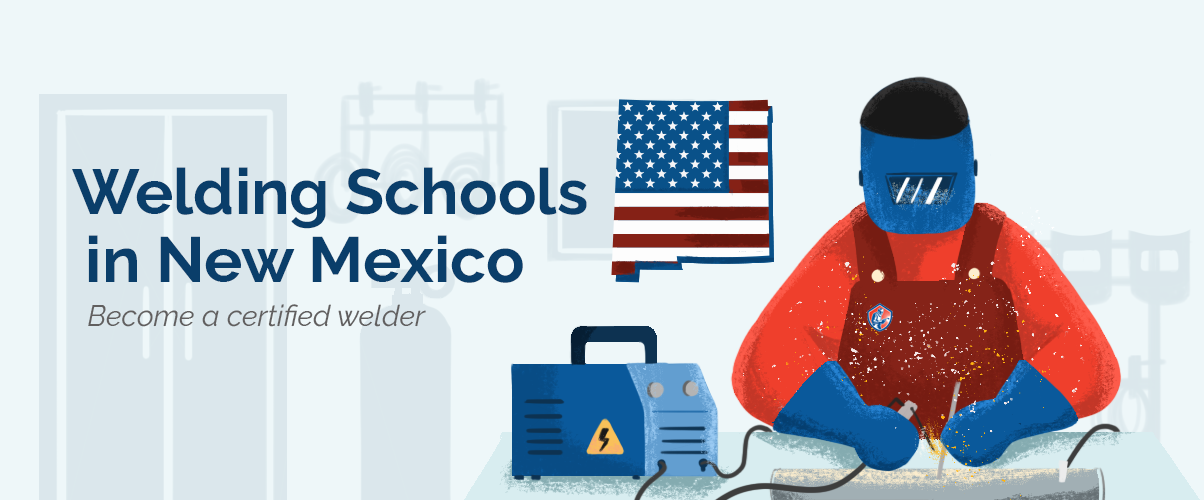 From shipbuilders to car manufacturers, in our day and age, many industries manufacture things from mental and need good welders to combine pieces together.
If you are located in New Mexico and you're thinking about starting a career in welding, on this page we have compiled relevant information about this career path and what you should expect in your future profession.
What Does a Welder Do?
Although this profession is very complex, the common understanding is that welders join pieces of metal and repair damaged objects that are made of metal using special machinery that emits high heat.
According to the United States Bureau of Labor Statistics, the biggest employer for welders, cutters, solderers, and brazers are metal manufacturers, specialty trade contractors, and companies in the field of repair and maintenance.
Some experienced welders start their own business after spending a few years as employees in a factory or shop.
Read further to find out more about the job description, employment prospects, and training options.
Job Prospects
Employment for welders, cutters, solderers, and brazers is projected to grow by 3 percent from 2019 to 2029, with most job openings stemming from the need to repair or rebuild worn-out infrastructure, according to the Bureau of Labor Statistics.
Welders who have completed post-secondary training and/or hold a certificate offered by the American Welding Society will have the best employment prospects.
How to Become a Welder
If you want to become a certified welder in New Mexico, there are several steps you usually need to follow:
Finish high school or get your GED- a high school diploma or equivalent will usually be required before hire or admission to a trade school
Find the right training program
Learn and practice for the welding certification testing offered by the American Welding Society
From trade schools to community colleges, there are many places where you can learn how to weld in New Mexico.
Although curriculum varies depending on the institution, a good welding school will usually teach you all the important skills you need for entry-level employment as a welder, including:
Reading and understanding blueprints
How to weld metal parts, fill holes using specialized equipment- depending on the school you choose you may learn one or more welding techniques.
Calculating the dimensions of objects that will be welded together
Making sure that the welding is correctly done
Equipment usage and maintenance
Following safety procedures
Welding programs usually last between 7 months and 2 years, depending on the type of program and the curriculum.
Costs vary between less than $5,000 and more than $15,000 but many schools offer lower tuition rates for in-state students.
In the table below we have compiled information about welding programs that are available in different cities across New Mexico.
20 Welding Schools in Welding Schools In New Mexico
Albuquerque Job Corps
1500 Indian School Rd NW, Albuquerque, NM 87104
505-346-2562
Iron Workers Union
2524 Baylor Dr SE, Albuquerque, NM 87106
505-242-9124
IntelliTec College in Albuquerque
4575 San Mateo Blvd NE Suite K, Albuquerque, NM 87109
505-508-5225
New Mexico State University Carlsbad
1500 University Dr, Carlsbad, NM 88220
575-234-9200
Northern New Mexico College
921 N Paseo De Onate, Española, NM 87532
505-747-2111
UNM Continuing Education
1634 University Blvd NE, Albuquerque, NM 87131
505-277-0077
New Mexico State University Alamogordo
2400 N Scenic Dr, Alamogordo, NM 88310
575-439-3600
Bond Wilson Technical Center
40 Rd 6580, Kirtland, NM 87417
505-598-4580
New Mexico Junior College
5317 N Lovington Hwy, Hobbs, NM 88240
575-392-4510
Doña Ana Community College
3400 Espina St, Las Cruces, NM 88003
575-527-7500
CNM Workforce Training Center
5600 Eagle Rock Ave NE, Albuquerque, NM 87113
505-224-5200
New Mexico State University Grants
1500 3rd St, Grants, NM 87020
505-287-6678
San Juan College
4601 College Blvd, Farmington, NM 87402
505-326-3311
Santa Fe Community College
6401 Richards Ave, Santa Fe, NM 87508
505-428-1000
UNM Gallup
705 Gurley Ave, Gallup, NM 87301
505-863-7500
Mesalands Community College
911 S 10th St, Tucumcari, NM 88401
575-461-4413
CNM South Valley Campus
5816 Isleta Blvd SW, Albuquerque, NM 87105
505-224-5000
CNM Advanced Technology Center
4700 Alameda Blvd NE, Albuquerque, NM 87113
505-224-3000
Clovis Community College
417 Schepps Blvd, Clovis, NM 88101
575-769-2811
Eastern New Mexico University
1500 S Avenue K, Portales, NM 88130
800-367-3668
Become a Welder, Find a School >
Welder Salaries in New Mexico
According to the Bureau of Labor Statistics, the industries with the highest employment level for this profession are:
Manufacturers of fabricated metal products
Manufacturers of machinery
Fabricated metal products manufacturers
Motor vehicle body and trailer manufacturers
Foundation, structure, and building exterior contractors
In New Mexico manufacturers, in general, account for 4.39% of the state's total output and employ 3.31% of the total workforce.
The industry of fabricated metal products summed up to $180 million while machinery manufacturers account for $139.1 million.
According to a report published by the Bureau of Labor Statistics, the average annual wage in New Mexico was $49,650 as of May 2020.
The same report lists Farmington New Mexico as one of the top-paying metropolitan areas for welders, cutters, solderers, and brazers.
In these regions, the annual mean wage for workers in these professions was $64,250- almost $20,000 more than the national median.
Salaries for welders in New Mexico, however, vary depending on a wide range of factors, including the level of experience, education, industry, and region.
According to a report published by salary.com, welders with less than 3 years of experience reported a median annual wage of $39,602 as of April 2021.
The report shows that as an entry-level employee, your salary can be anywhere between less than $32,000 and more than $50,000.
The median annual salary for welders with 3-5 years of experience was $45,740 with salaries ranging from less than $36,000 to more than $56,000.
Welders with more than 5 years of experience reported a median annual wage of $55,391.
The lowest 10 percent of all welders with this level of experience made less than $42,277 while the top 10 percent earned more than $71,831.
The report shows that salaries also vary depending on the city, as the below table shows:
Annual Salary Range:
Average Salary of Welders in Welding Schools In New Mexico
| City Name | Salary |
| --- | --- |
| Albuquerque | $46,418 |
| Las Cruces | $42,144 |
| Santa Fe | $46,855 |
| Rio Rancho | $46,270 |
| Roswell | $43,483 |
| Farmington | $45,893 |
| Alamogordo | $44,227 |
| Clovis | $44,666 |
| Hobbs | $44,262 |
| Sunland Park | $43,368 |
Welding Schools by City