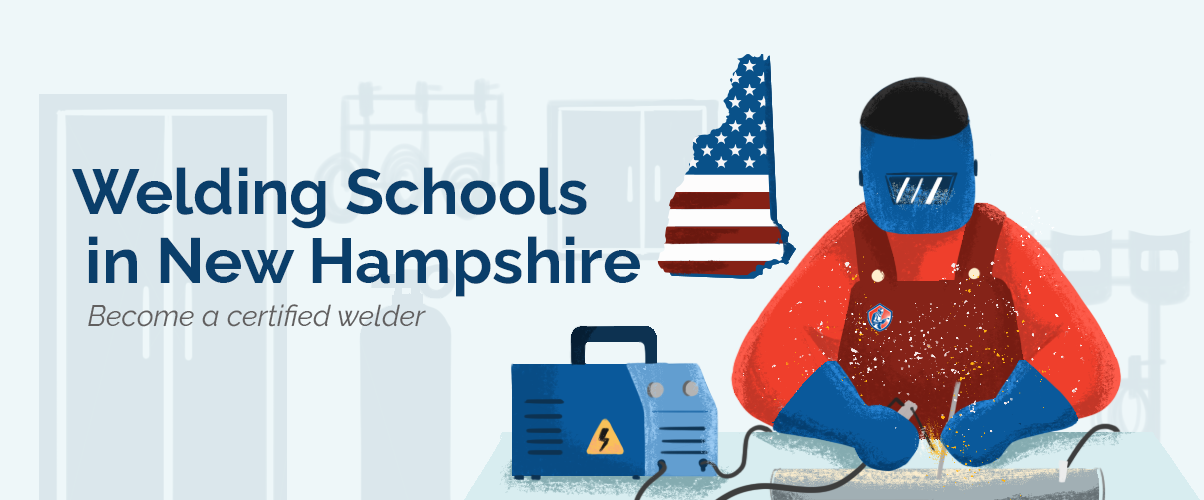 Good welders are in high demand in the United States on construction and infrastructure projects but also in factories.
The projected growth rate for this profession is 3 percent in the next 10 years, according to the Bureau of Labor Statistics.
If you're located in New Hampshire and you want to start a career in this profession we invite you to read on for more information about your career path as a welder.
Job Description
Job descriptions for welders vary depending on the employer, the industry of employment, and their experience level.
Welders are usually responsible for:
Joining metals and other materials using welding equipment
Reading blueprints
Igniting torches
Starting power supplies
Monitoring the welding process
Maintaining equipment
Calculating the dimensions of the parts that will be welded together
Education Requirements
If you want to become a welder in New Hampshire, you first need to finish high school, because most employers and post-secondary education institutions require a high school diploma or GED.
Becoming a certified welder by taking the exam at the American Welders Society (AWS) is not always a requirement but it will help you find a better-paid job.
AWS offers different types and levels of certification:
Certified Welder- this is the basic certification
Certified Associate Welding Inspector
Certified Welding Inspector
Senior Certified Welding Inspector
Certified Welding Educator
Certified Resistance Welding Technician
Certified Radiographic Interpreter
Certified Welding Supervisor
Certified Welding Sales Representative
Certified Welding Engineer
Certified Robotic Arc Welding
The type of certification employers usually required is basic certification.
To earn this credential you will have to prove that you know the procedures used in welding across different industries: structural steel, sheet metal, chemical refinery welding, and petroleum pipelines.
The application fee for the Certified Welder exam is $50.
Welding Schools
Before applying for certification you will need to learn the skills needed for this profession through post-secondary education.
Welding classes are available at many trade schools in different regions of New Hampshire so it shouldn't be hard to find one near you.
Although costs vary widely depending on the type of program and the duration, on average, welding classes range from $5,000 to more than $10,000.
If you enroll at a school in another region then you should also take into account housing and travel costs.
Before choosing a school, you should first make sure that it is accredited by the appropriate institution and covers all the topics that you need.
Some of the common classes included in the welding training curriculum are:
Safety and Health Training
Blueprint Reading
Shield Metal Arc Welding (SMAW)
Gas Metal Arc Welding (GMAW)
Flux Cored Arc Welding (FCAW)
Gas Tungsten Arc Welding (GTAW)
Depending on the complexity of the program, you may also learn other techniques.
Welding school should also include a significant part of hands-on training.
To help you research the school that best meets your schedule and educational needs, we have compiled a list of top schools that offer welding classes in New Hampshire.
Many of the schools also offer online or hybrid classes to accommodate students who need to learn at their own pace, from the comfort of their homes.
19 Welding Schools in Welding Schools In New Hampshire
The New Hampshire School of Mechanical Trades
7 Perimeter Rd, Manchester, NH 03103
603-622-6544
The New Hampshire School of Mechanical Trades
109 Towle Farm Rd, Hampton, NH 03842
603-622-6544
Manchester Community College
1066 Front St, Manchester, NH 03102
603-206-8000
Seacoast School of Technology
40 Linden St, Exeter, NH 03833
603-775-8461
Advanced Trade School LLC
335 NH-125 Unit 1C, Brentwood, NH 03833
603-785-2491
Adult Education Center
345 Union Ave, Laconia, NH 03246
603-524-5712
Granite State Trade School
42 Old Manchester Rd, Raymond, NH 03077
603-895-4444
Keene Community Education
227 Maple Ave, Keene, NH 03431
603-357-0088
White Mountains Community College
2020 Riverside Dr, Berlin, NH 03570
603-752-1113
New England Institute of HVAC
240 Smith St, Lowell, MA 01851
978-735-4979
Exeter Adult Education
30 Linden St, Exeter, NH 03833
603-775-8457
Hartford Area Career and Technology Center
1 Gifford Rd, White River Junction, VT 05001
802-295-8630
Great Bay Community College
320 Corporate Dr, Portsmouth, NH 03801
603-427-7600
Lakes Region Community College
379 Belmont Rd, Laconia, NH 03246
603-524-3207
River Valley Technical Center
307 South St, Springfield, VT 05156
802-885-8300
Nashua Community College
505 Amherst St, Nashua, NH 03063
603-578-8900
White Mountains Community College
2541 White Mountain Hwy, North Conway, NH 03860
603-356-7926
River Valley Community College
1 College Pl, Claremont, NH 03743
603-542-7744
River Valley Community College
15 Hanover St, Lebanon, NH 03766
603-443-4200
Become a Welder, Find a School >
Welders in New Hampshire
According to the National Association of Manufacturers, the manufacturing industry account for approximately 11.5% of the total output of the state, employing 10.35% of the state's workforce.
The top manufacturing industries in New Hampshire are computer and electronic products manufacturing, fabricators of metal products, and machinery manufacturers.
According to the report published by the Bureau of Labor Statistics, the industries with the highest employment level for welders are manufacturers of fabricated metal products, manufacturers of machinery, and fabricators of metal products.
Starting Salary
According to salary.com, the median annual wage reported by welders with less than 3 years of experience in New Hampshire was $43,979 as of April 2021.
As an entry-level welder, you can earn anywhere between less than $35,000 and more than $56,000 depending on the industry of employment, city, and many other factors.
Entry-level welders in Bedford made $44,455 on average while those in Salem made $46,275.
Medium-Level Salary
The same report shows that welders who have between 3-5 years of experience made $50,794 on average with salaries ranging between less than $40,000 and more than $63,000.
The median annual wage reported by mid-level welders in Keene was $51,955 while those in Nashua made $54,247.
Experienced-Level Salary
Salaries for experienced welders range between less than $47,000 and more than $80,000 with a median calculated at $61,512.
Salaries also vary depending on the city and local economy.
Below we have compiled information about salaries reported in the top 10 New Hampshire cities as of May 2021.
Annual Salary Range:
Average Salary of Welders in Welding Schools In New Hampshire
| City Name | Salary |
| --- | --- |
| Manchester | $50,871 |
| Nashua | $53,747 |
| Concord | $51,168 |
| Derry | $52,251 |
| Rochester | $50,563 |
| Salem | $52,953 |
| Dover | $50,772 |
| Merrimack | $53,747 |
| Portsmouth | $50,772 |
| Bedford | $50,871 |
Welding Schools by City