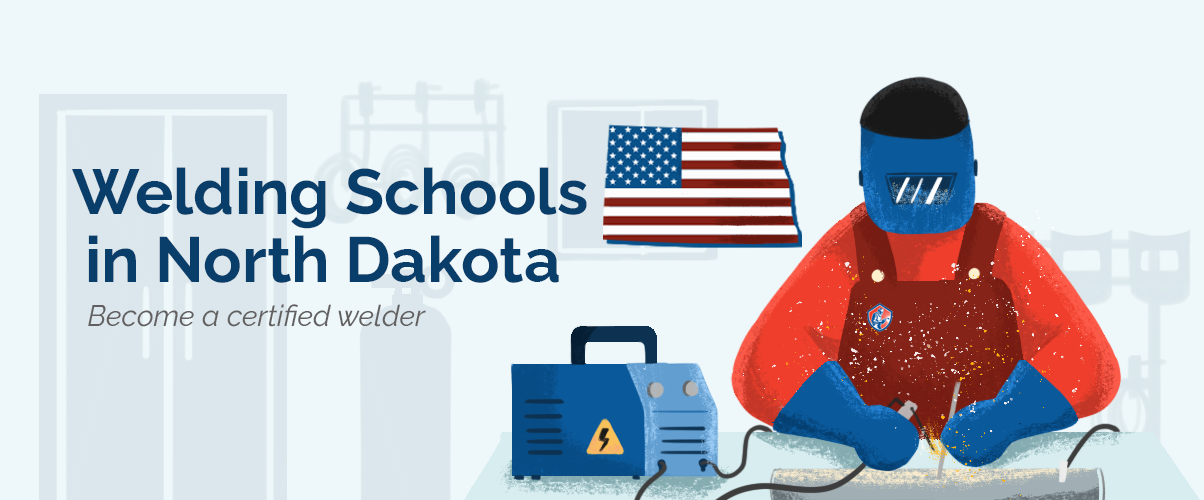 One of the top paying states for welders, North Dakota offers good employment opportunities and if you're contemplating a career in this trade, there are many educational programs that can help you get started.
If you're passionate about metals and building things and you'd like to start a career that is both lucrative and rewarding, becoming a welder can be the right path for you.
To help you decide whether or not a career in welding is a good fit, on this page, we have compiled useful information such as education requirements, salary, and employment prospects.
Job Description
Welders usually specialize in one or several types of materials and welding techniques.
Depending on the type of work they do and the field where they practice, welders can have multiple specializations:
Construction welders
Manufacturing welders
Sheet metal welders
Structural steel welders
Sheet metal workers
Industrial welders
Rig welders
Job descriptions and earning prospects vary depending on the field in which they specialize but also depending on the level of experience.
Usually, a welder is responsible for:
Joining pieces of metal together
Repairing metal components
Melting metal components
Reviewing blueprints
Cutting metal into shape
Removing creases from molten metal
Occupational Hazards and Safety Issues
Another important thing you should know if you want to start a career as a welder is that following strict safety procedures is very important in order to avoid injury.
One of the most important risks welders face every day is the risk of burns.
To avoid them, welders use leather gloves and jackets with long sleeves.
The brightness of the weld may cause inflammation of the eye and in order to avoid this, welders use special helmets.
Depending on the materials they work with, welders may also be exposed to dangerous gases and there is also a risk of electrical shocks.
In order to avoid exposure to toxic gases, employers have to make sure that welders work in well-ventilated areas.
Education Requirements
If you want to start a career as a welder, the first step is to finish high school.
Taking some technical education classes during high school is a very good idea because blueprint reading and technical drawing skills are very useful in this line of work.
Welding training usually covers a variety of topics, such as mathematics, metallurgy, blueprint reading, pipe layout, and most programs also include a welding practicum.
Training programs usually cover a variety of welding techniques, such as:
Arc welding
MIG welding
TIG welding
Hyperbaric welding
Pipeline Welding
Pipe-Fitting
Depending on the school and the program you may learn only one basic technique or several advanced welding techniques, such as underwater welding.
Costs also vary depending on the school you choose but usually range between $5,000 and $15,000.
You will also have to pay an application fee and a testing fee.
If the school you choose is in another town you should also take into account housing costs and travel expenses.
Welding training usually lasts between 6-7 months and a few years.
Some employers may be willing to hire inexperienced workers and prepare them through on-the-job training or cover the costs of training.
There are also certification programs available for welders.
Becoming certified can improve your employment and earning prospects.
Employers usually prefer to hire welders who have a basic AWS Certified Welder certification.
This credential can be earned after passing an exam offered at one of AWS's accredited testing facilities.
This exam consists of a written and a practical part.
Below we have included information about schools that offer welding programs in North Dakota:
18 Welding Schools in Welding Schools In North Dakota
Lynnes Welding Training, Inc. - Bismarck, ND
4329 Centurion Dr # 9, Bismarck, ND 58504
701-751-4256
Lynnes Welding Training, Inc. - Fargo, ND
2717 3rd Ave N, Fargo, ND 58102
701-373-0658
NDSCS-Fargo
1305 19th Ave N, Fargo, ND 58102
701-231-6900
TrainND Northwest
415 22nd Ave NE, Williston, ND 58801
701-572-2835
Adult Learning Center
1609 4th Ave NW, Minot, ND 58703
701-857-4488
North Dakota State College of Science
800 6th St N, Wahpeton, ND 58076
800-342-4325
North Valley Vocational Center
1540 School Rd, Grafton, ND 58237
701-352-3705
Turtle Mountain Community College
10145 BIA Rd 7, Belcourt, ND 58316
701-477-7862
Williston State College
1410 University Ave, Williston, ND 58801
701-774-4200
United Tribes Technical College
3315 University Dr, Bismarck, ND 58504
701-255-3285
Grand Forks Area Career & Technology Center
2400 47th Ave S, Grand Forks, ND 58201
701-787-4872
Watford City, ND PEC Safeland Safety Training
810 3rd Ave SW, Watford City, ND 58854
651-210-7717
Bismarck State College
1500 Edwards Ave, Bismarck, ND 58506
800-445-5073
North Dakota State University
1340 Administration Ave, Fargo, ND 58105
701-231-8011
Quentin N. Burdick Job Corps Center
1500 University Ave W, Minot, ND 58703
701-857-9600
Sitting Bull College
9299 ND-24, Fort Yates, ND 58538
701-854-8000
Minnesota State Community and Technical College (M State) Moorhead
1900 28th Ave S, Moorhead, MN 56560
877-450-3322
Dickinson State University
291 Campus Dr, Dickinson, ND 58601
800-279-4295
Become a Welder, Find a School >
Welders in North Dakota
According to the Bureau of Labor Statistics, North Dakota ranks fifth in a list of top paying states for welders, cutters, solderers, and brazers.
The average annual wage reported by workers in these professions who were employed by factories or contractors in this state was $57,320- more than $10,000 higher than the national median.
Manufacturers, in general, account for 7.28% of the state's total output and employ 5.87% of all workforce, according to the National Association of Manufacturers.
The numbers published by the above source, show that the top manufacturing sector, machinery manufacturers, contribute $1.3 Billion to the state's economy.
According to the Bureau of Labor Statistics, machinery manufacturers are the industry with the second-highest employment level of welders, cutters, solderers, and brazers nationwide.
Other fields where welders may find employment are fabricated metal product manufacturers and motor vehicle body and trailer manufacturers.
The outcome reported by North Dakota fabricated metal products manufacturers is approximately $172 Million, while manufacturers of motor vehicles and parts sum up to $87.7 Million.
Salaries for welders in this state vary widely based on many factors.
Entry-level wages usually range between $33,000-$75,000 per year, depending on education, skills level, certifications, and many other factors.
According to salary.com, the median annual wage for North Dakota welders with less than 3 years of experience is $40,686 as of April 2021.
This means that half of all new-employed welders earn less than this amount while half earned more.
The same report calculates the median annual salary for welders with 3-5 years of experience at $46,991 with wages ranging between less than $37,000 and more than $58,000.
Welders with 5-7 years of experience reportedly earn $56,906 on average.
The lowest 10 percent of experienced welders reportedly made less than $43,434 while the highest 10 percent made more than $73,796.
Annual Salary Range:
Average Salary of Welders in Welding Schools In North Dakota
| City Name | Salary |
| --- | --- |
| Fargo | $46,518 |
| Bismarck | $47,410 |
| Grand Forks | $43,736 |
| Minot | $46,666 |
| Mandan | $47,410 |
| Dickinson | $46,666 |
| West Fargo | $46,518 |
| Williston | $46,666 |