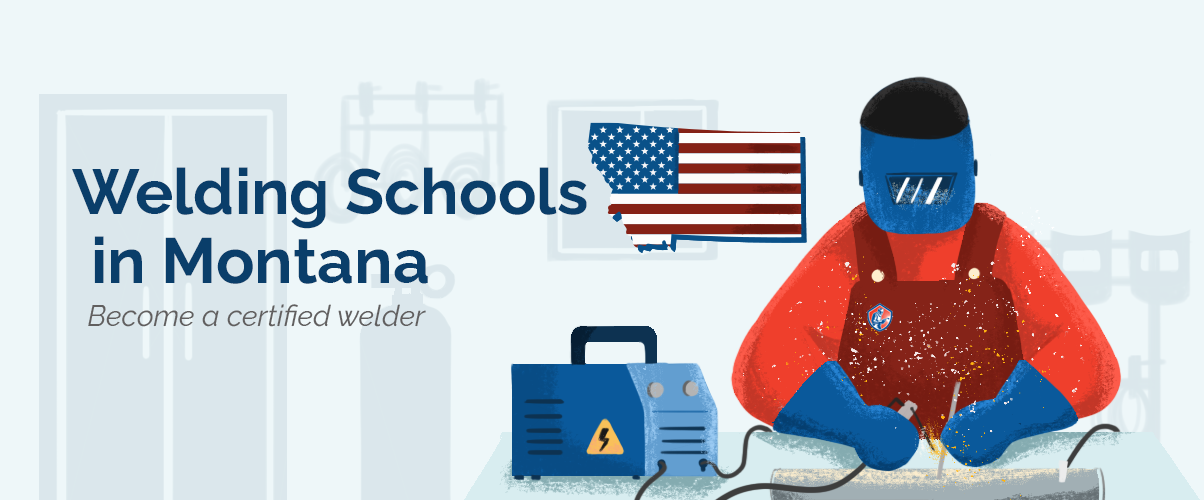 If you're living in Montana and you want to become a welder you will find in this article all the information you need for this career.
You will learn about types of welding, welding certificates, job prospects, and schools in your region that offer training in this profession.
Job Description
If you're contemplating the idea of starting a career in this profession, you already know in broad lines at least what do you do as a welder: you join two pieces of metal together using different techniques.
But, besides MIG and TIG welding, the two most frequent welding techniques, there are also other welding techniques, such as aircraft welding or thin alloy welding.
Usually, the more complex and delicate the weld, the more skills you need and the higher the pay.
However, there are also welding techniques, such as pipe welding, that require a strong, error-free weld.
Any major project regarding infrastructure will require welders so it isn't a job that will go out of style in the near future.
Job Prospects
Employment for these professions is projected to grow by 3 percent from 2019 to 2029, with most job openings occurring on infrastructure repair and rebuild projects, according to BLS.
Welders who have completed post-secondary training and/or hold a certificate offered by the American Welding Society will have the best employment prospects.
If you're willing to relocate to an area with many factories and infrastructure projects, then you will have better opportunities.
Career Path
A high school diploma or equivalent is all that you need to start your career as a welder.
If your high school offers some technical courses, it's a good idea to take them because this will teach you the basics of blueprint reading and other technical skills that are very useful in welding.
Courses such as blueprint reading, mechanical drawing are also useful and it is a good idea to take them if you can.
As you would expect, most employers prefer the candidate who has some formal training although there are still some who will train you on the job.
As a beginner in this career, it's a good idea to apply for a certificate offered by the American Welding Society because this can help you earn a higher starting salary.
You can work as a welder but also as a welding inspector once you have more experience and you desire a supervisory role.
There are many places where you can learn welding in the state of Montana.
You can enroll in a six months certification program where you will learn the trade in a systematic way.
Or, if you prefer the hands-on approach, you can enter an apprenticeship and you will learn to weld and solve welding problems on the spot.
Tuition varies between a few thousand and more than $15,000 depending on the duration and the type of the program.
Before deciding where to enroll is best to visit the school's website and gather as much information as needed about all the factors that are relevant to you, including accreditation, tuition costs, curriculum, exams, and so on.
22 Welding Schools in Welding Schools In Montana
Gallatin College
101 Hamilton Hall, Bozeman, MT 59715
406-994-5536
Occupational Trades Building
2215 HWY 93 North, Kalispell, MT 59901
406-756-3822
City College
3803 Central Ave, Billings, MT 59102
406-247-3000
Missoula College West Campus
2795 37th Ave, Missoula, MT 59804
406-243-7640
Helena College University of Montana
1115 N Roberts St, Helena, MT 59601
406-447-6900
Highlands College
25 Basin Creek Rd, Butte, MT 59701
406-496-3707
Billings Adult Education
415 N 30th St, Billings, MT 59101
406-281-5005
Montana Technological University
1300 W Park St, Butte, MT 59701
800-445-8324
College of Technology-Bozeman
20 E Olive St, Bozeman, MT 59715,
406-522-0830
Lifelong Learning Center
310 S Curtis St, Missoula, MT 59801
406-549-8765
Great Falls College Montana State University
2100 16th Ave S, Great Falls, MT 59405
406-771-4300
Dawson Community College
300 College Dr, Glendive, MT 59330
800-821-8320
Missoula College
1205 E Broadway St, Missoula, MT 59802
406-243-7870
Montana State University Billings
1500 University Dr, Billings, MT 59101
406-657-2011
Charter College
1930 Brooks St, Missoula, MT 59801
406-303-3259
Charter College
1595 Grand Ave #230, Billings, MT 59102
406-294-0156
Bitterroot College
103 S 9th St, Hamilton, MT 59840
406-375-0100
Montana State University-Billings City College
3803 Central Ave, Billings, MT 59102
406-247-3000
Fort Peck Community College
605 Indian Ave, Poplar, MT 59255
406-768-6300
Us Job Corps
5139 W Fork Rd, Darby, MT 59829
406-821-3286
Montana State University
Culbertson Hall, 100, Bozeman, MT 59717
406-994-0211
GED-Adult Learning Center
404 W Main St, Bozeman, MT 59715
406-522-6012
Become a Welder, Find a School >
Welders in Montana
The average wage for workers in Montana was $47,270 as of May 2020, according to the Bureau of Labor Statistics.
According to salary.com, the median annual wage reported by welders with less than 3 years of experience is $39,277.
This means that half of all entry-level workers in this profession earned less than this while half earned more.
Graduating from a trade school or community college that offers welding programs can help you earn a higher starting salary.
The same report shows that the top 10 percent of entry-level welders in Montana make more than $50,128 while the lowest 10 percent made less than $31,321.
The median annual wage for welders with 3-5 years of experience is $45,364 as of April 2021 with salaries ranging from less than $36,000 to more than $56,000.
Most experienced welders earned between less than $42,000 and $70,000 with the median calculated at $54,937 per year.
The top 10 percent of welders with more than 5 years of experience reportedly made more than $71,242.
In conclusion, although salaries for entry-level welders in Montana are usually less than the state average, wages gradually increase as workers become more experienced.
Salaries also vary depending on the city of employment and in the table below we have compiled salary information from eight Montana cities- the data is provided from salary.com and reflects the numbers reported in May 2021.
Annual Salary Range:
Average Salary of Welders in Welding Schools In Montana
| City Name | Salary |
| --- | --- |
| Billings | $47,483 |
| Missoula | $40,979 |
| Great Falls | $42,987 |
| Butte | $40,979 |
| Bozeman | $40,979 |
| Helena | $41,723 |
| Kalispell | $43,541 |
| Belgrade | $40,979 |