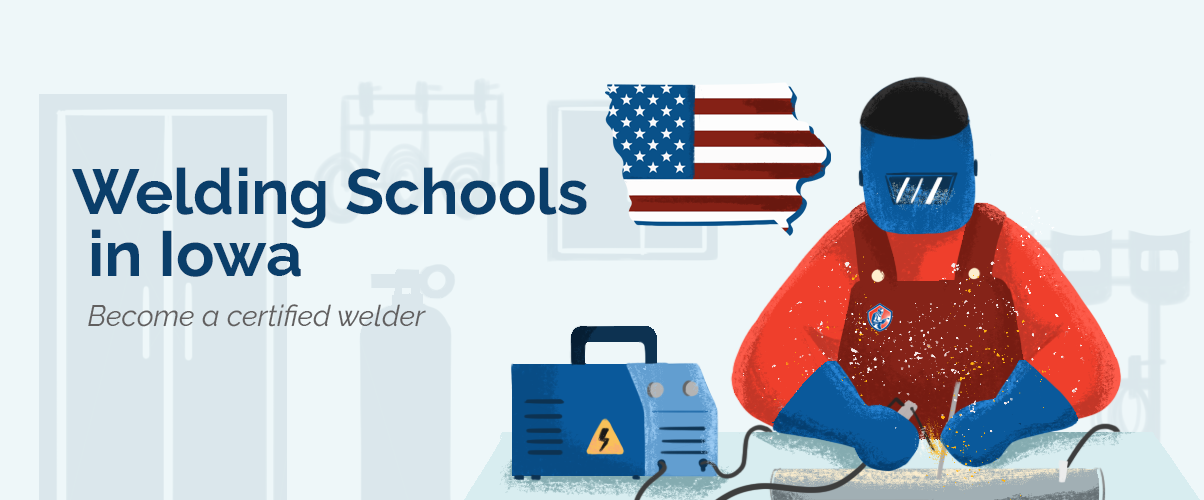 From manufacturing plants to shipbuilders and construction companies, many industries that build and sell things that are made out of mental need good welders.
If you are located in Iowa and you're contemplating the idea of starting a career in welding, on this page we have compiled relevant information about this career path and what you should expect in your future profession.
What Does a Welder Do?
Although this profession is very complex, the short definition is that welders join pieces of metal and repair damaged objects that are made of metal using special machinery that emits high heat.
According to the Bureau of Labor Statistics, the biggest employer for welders, cutters, solderers, and brazers were metal manufacturers, specialty trade contractors, and the field of repair and maintenance.
Some experienced welders start their own business after spending a few years as employees in a factory or shop.
Read further to find out more about the job descriptions, employment prospects, and training options for welders in Iowa.
Job Prospects
According to the Bureau of Labor Statistics, employment for welders, cutters, solderers, and brazers is projected to grow 3 percent from 2019 to 2029, with many job openings expected to occur on infrastructure repair and rebuild projects.
Welders who have completed post-secondary training and/or hold a certificate offered by the American Welding Society will have the best employment prospects.
How to Become a Welder
If you want to become a certified welder in Iowa, there are several steps you need to follow:
The first step is to finish high school or get your GED because a high school diploma or equivalent will usually be required before admission to a trade school
The next step is to find the right training program
Although this is not always a requirement, taking the certification exam offered by the American Welding Society can help improve your earning prospects.
From trade schools to community colleges, there are many places where you can learn how to weld in Iowa.
Although curriculum varies depending on the institution, a good welding school will usually teach you all the important skills you need for entry-level employment as a welder, such as:
Reading and understanding blueprints
How to weld metal parts, repair and fill holes using specialized equipment
Calculating the dimensions of objects that will be welded together
Making sure that the welding is correctly done
Equipment usage and maintenance
Following safety procedures
Depending on the type of program and its complexity, welding programs can last between 7 months and 2 years depending on the type of program and the curriculum.
Costs vary between less than $5,000 and more than $15,000 depending on the duration of the program and the type of credential it offers- for example, diploma programs usually are shorter and less expensive than programs that offer an associate's degree.
In the table below we have compiled information about welding programs that are available in Iowa.
Before choosing where to enroll there are several factors you should take into account the program duration, cost, and location.
Depending on the type of metal they use, there are different types of welders:
Aluminum welders
Fabrication welders
Maintenance welders
In Iowa there are many schools that offer programs designed specifically for a welding career, covering a variety of useful topics, such as:
cutting
arc welding
blueprint reading
brazing
equipment setup and operation
Many schools offer different types of programs with different lengths that lead to a diploma, a degree, or a certificate.
Some schools offer only in-person classes while others combine online education with classroom training and practicum.
20 Welding Schools in Welding Schools In Iowa
Midwest Welding Academy
300 S Martha St, Sioux City, IA 51105
712-454-5959
Western Iowa Tech Community College
4647 Stone Ave, Sioux City, IA 51106
712-274-6400
John T Blong Tech Center
9604, 8500 Hillandale Rd, Davenport, IA 52806
563-441-4360
Southwestern Community College - Osceola Center
2520 College Dr, Osceola, IA 50213
641-342-3531
Hawkeye Community College Main Campus
1501 E Orange Rd, Waterloo, IA 50701
319-296-2320
Iowa Valley Continuing Education
3702 S Center St, Marshalltown, IA 50158
641-752-4645
Indian Hills Career Academy
508 S 7th St, Oskaloosa, IA 52577
641-676-3784
Western Iowa Tech Community College Industrial Technology Center
Sioux City, IA 51106
712-274-6400
Iowa Central Community College
1725 Beach St, Webster City, IA 50595
515-832-1632
Eastern Iowa Community College
101 W 3rd St, Davenport, IA 52801
563-336-3300
Northeast Iowa Community College
1625 IA-150, Calmar, IA 52132
844-642-2338
Western Iowa Tech Community College
11 N 35th St, Denison, IA 51442
712-263-3419
Iowa Western Community College
923 E Washington St, Clarinda, IA 51632
712-542-5117
Des Moines Area Community College (DMACC)
2006 S Ankeny Blvd, Ankeny, IA 50023
515-964-6200
Southwestern Community College
1501 W Townline St, Creston, IA 50801
641-782-7081
North Iowa Area Community College
203 Brantingham St, Charles City, IA 50616
641-228-4634
Iowa Western Community College
2700 College Rd, Council Bluffs, IA 51503
712-325-3200
Iowa Central Community College
1 Triton Cir, Fort Dodge, IA 50501
800-362-2793
Southeastern Community College
1500 W Agency Rd, West Burlington, IA 52655
319-208-5000
DMACC Urban Campus
1100 7th St, Des Moines, IA 50314
800-362-2127
Become a Welder, Find a School >
Employment and Salary Prospects in Iowa
In Iowa, the manufacturing sector hires approximately 14.9% of all workforce, according to the National Association of Manufacturers.
The field of navigational, measuring, electro-medical, and control instruments manufacturing experienced job growth of 9.2% in 2020 while employment in the field of motor vehicle manufacturing grew by 6.3%.
Among the manufacturing fields that offer jobs for welders, the ones that reported job growth during the previous year in the state of Iowa are the field of aerospace product and parts manufacturing, engine, turbine, and power transmission manufacturing, and other general-purpose machinery manufacturers.
According to salary.com, the median annual wage reported by entry-level welders in Iowa was $41,466 as of April 2021, which means that half of all workers with this level of experience earned less than this amount while half earned more.
Salaries also vary depending on education and the region of employment.
The lowest 10 percent of all entry-level welders reportedly made less than $33,066 while the highest 10 percent made more than $52,920.
This group included welders who had 1-3 years of experience and welders with no experience but with a degree or certificate in the field.
Medium-level welders reported a median annual wage of $47,892 with salaries ranging between less than $37,500 and more than $59,500.
This group included welders with 3-5 years of experience.
Welders with 5-7 years of experience made $57,997, on average with wages ranging between less than $44,000 and more than $75,000.
The average annual wage in Iowa was $49,280 as of May 2020, according to the US Bureau of Labor Statistics.
As a welder, you can earn more than this, especially if you have a few years of experience in the field and you're certified in one or more welding techniques.
In conclusion, you can make a pretty decent living as a welder in Iowa but your earnings will also be determined by the region of employment and the local economy- you can find out more about the average salaries reported by welders in the top 10 Iowa cities in the table below.
Annual Salary Range:
Average Salary of Welders in Welding Schools In Iowa
| City Name | Salary |
| --- | --- |
| Des Moines | $48,328 |
| Cedar Rapids | $47,481 |
| Davenport | $47,626 |
| Sioux City | $42,592 |
| Waterloo | $45,404 |
| Iowa City | $47,091 |
| Council Bluffs | $47,313 |
| Dubuque | $47,103 |
| Ames | $47,878 |
| Urbandale | $48,328 |