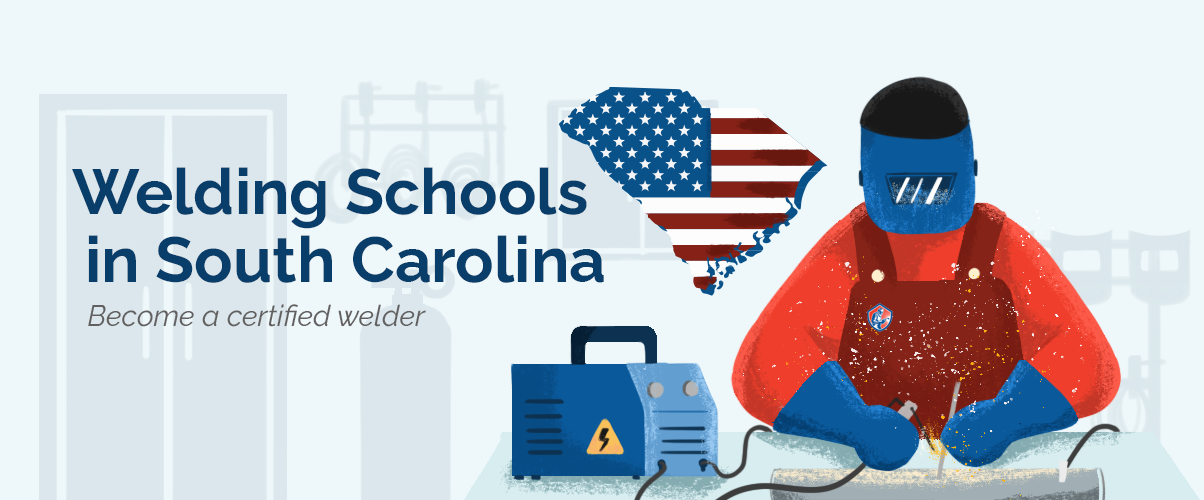 If you're looking to start a career as a welder and you're located in South Carolina, your job prospects are looking good, especially if you want to specialize in car manufacturing.
By reading this article, you will find out more about salary expectations and education requirements for this profession.
How to Become a Welder
If you want to become a certified welder in South Carolina, there are several steps you need to follow:
Finish high school or get your GED- a high school diploma or equivalent will usually be required before admission to a trade school
Find the right training program- you will find a table with the schools that offer training programs in this field below.
Take welding certification testing offered by the American Welding Society
From trade schools to community colleges, there are many places where you can learn how to weld in South Carolina.
29 Welding Schools in Welding Schools In South Carolina
Arclabs Welding School
700 Gracern Rd, Columbia, SC 29210
803-807-9180
Arclabs Welding School
2615 SC-153, Piedmont, SC 29673
864-236-9995
Arclabs Welding School
933 Commerce Cir, Hanahan, SC 29410
843-261-0044
Carolina Welding Training Institute
10 S Morgan Ave, Andrews, SC 29510
843-264-3350
Norris Mechanical,LLC
415 Manley Dr, Anderson, SC 29626
864-958-6187
Palmetto Training (North Charleston)
2150 Eagle Dr, North Charleston, SC 29406
803-225-4458
Central Carolina Technical College
506 N Guignard Dr, Sumter, SC 29150
803-778-1961
York Technical College
452 Anderson Rd S, Rock Hill, SC 29730
803-327-8000
International Diving Institute
2340 Ave F, North Charleston, SC 29405
843-740-1124
Midlands Technical College - Fort Jackson Campus
4600 Strom Thurmond Blvd, Columbia, SC 29207
803-782-3213
Industrial Technology Center
5321 US-76, Pendleton, SC 29670
864-646-8361
Florence Career Center
126 E Howe Springs Rd, Florence, SC 29505
843-664-8465
Donaldson Career Center
100 Vocational Dr, Greenville, SC 29605
864-355-4650
Woolard Technology Center
70 Innovation Way, Camden, SC 29020
803-425-8982
Aiken Technical College
2276 Jefferson Davis Hwy, Graniteville, SC 29829
803-593-9231
Miller-Motte College
8085 Rivers Ave, North Charleston, SC 29406
843-733-3073
Enoree Career Center
108 Scalybark Rd, Greenville, SC 29617
864-355-7400
Palmetto Training, Inc.
1085 Thunderbolt Dr, Walterboro, SC 29488
843-538-2090
Palmetto Training, Inc.
549 E Calhoun St, Sumter, SC 29150
803-775-9669
Dorchester County Career & Technology Center Satellite Campus
449 Old Trolley Rd, Summerville, SC 29485
843-504-3250
Horry-Georgetown Technical College Grand Strand Campus
743 Hemlock Ave, Myrtle Beach, SC 29577
843-347-3186
Williamsburg Technical College
601 Martin Luther King Jr Ave, Kingstree, SC 29556
843-355-4110
Midlands Technical College - Northeast Campus
151 Powell Rd, Columbia, SC 29203
803-738-8324
Daniel Morgan Technology Center
201 Zion Hill Rd, Spartanburg, SC 29307
864-579-2810
Horry Georgetown Technical College
2050 US-501, Conway, SC 29526
843-347-3186
J Harley Bonds Career Center
505 N Main St, Greer, SC 29650
864-355-8080
Northeastern Technical College
1201 Chesterfield Hwy, Cheraw, SC 29520
843-921-6900
Trident Technical College
7000 Rivers Ave, North Charleston, SC 29406
843-574-6111
Central Carolina Technical College - F. E. Dubose Campus
3351 Sumter Hwy, Manning, SC 29102
803-473-2531
Become a Welder, Find a School >
Although curriculum varies depending on the institution, a good welding school will usually teach you all the important skills you need for entry-level employment as a welder, such as:
Reading and understanding blueprints
How to weld metal parts and repair broken parts specialized equipment- depending on the school you choose you may learn one or more welding techniques.
Calculating the dimensions of objects that will be welded together
Making sure that the welding is correctly done
Equipment usage and maintenance
Following safety procedures
Welding programs usually last between 7 months and 2 years depending on the type of program and the curriculum.
Costs vary between a few thousand and more than $15,000 depending on the duration of the program and the type of credential it offers- for example, diploma programs usually are shorter and less expensive than programs that offer an associate's degree.
In the table below we have compiled information about welding programs that is available in South Carolina.
Welders in South Carolina
According to the National Association of Manufacturers, South Carolina manufacturers account for 16.27% of the state's total output and employ 12.04% of the workforce.
The total output from manufacturers in South Carolina was approximately $40.26 Billion in 2019.
The top manufacturer in South Carolina are motor vehicles and parts manufacturers with an output of approximately $15.7
Machinery manufacturers hold 3rd place with an output of approximately $5.3 Billion.
According to the Bureau of Labor Statistics, the industries with the highest employment level for this profession are:
Manufacturers of fabricated metal products
Manufacturers of machinery
Fabricated metal products manufacturing
Motor vehicle body and trailer manufacturing
Foundation, structure, and building exterior contractors
Welder Wage in South Carolina
According to the Bureau of Labor Statistics, the average annual wage in South Carolina is $46,230.
According to salary.com, the median annual wage for South Carolina welders with less than 3 years of experience is $40,556 as of April 2021- lower than the state average but salaries increase as welders become more experienced and earn additional certifications.
As an entry-level welder, you can make anywhere between less than $32,000 and more than $51,000.
Earning a post-secondary degree or certificate can improve your starting salary.
The same report calculates the median annual salary for welders with 3-5 years of experience at $46,841 with wages ranging between less than $37,000 and more than $58,000 depending on other factors, including the industry of employment and the level of education.
Welders with 5-7 years of experience reportedly earn $56,725 on average.
The lowest 10 percent of experienced welders reportedly made less than $43,295 while the highest 10 percent made more than $73,560.
Annual Salary Range:
Average Salary of Welders in Welding Schools In South Carolina
| City Name | Salary |
| --- | --- |
| Columbia | $45,944 |
| Charleston | $47,085 |
| Greenville | $47,098 |
| Rock Hill | $48,803 |
| Mount Pleasant | $47,085 |
| Spartanburg | $46,339 |
| Sumter | $44,336 |
| Hilton Head Island | $46,289 |
| Florence | $44,693 |
| Summerville | $46,877 |
Welding Schools by City