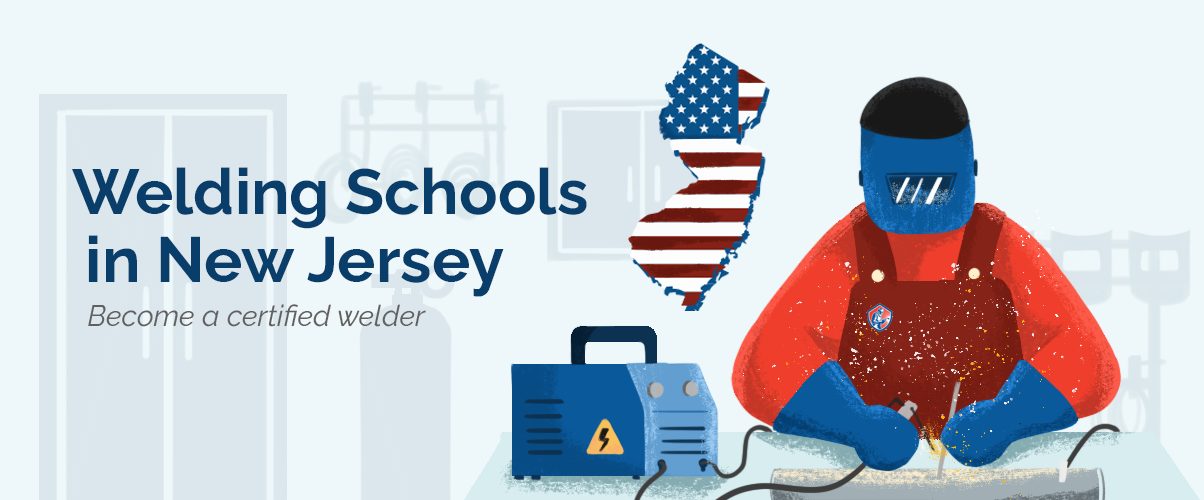 Welders play an important part in manufacturing the products that we use on a daily basis and in building the houses we live in.
If you're a recent graduate who's thinking of pursuing a career in trades or someone who wants to change jobs, learning how to correctly and safely join pieces of metal together can help you start a career that is both financially and professionally rewarding.
Read on to find out more about the welding profession and its status in the state of New Jersey.
Job Description
Job descriptions for welders vary depending on the employer, the industry of employment, and their experience level.
Welders are usually responsible for:
Joining metals using welding equipment
Reading blueprints
Igniting torches
Starting power supplies
Monitoring the welding process
Maintaining equipment
Calculating the dimensions of the parts that will be welded together
Welders who hold a supervisory position usually have additional responsibilities.
Depending on the welder's place of employment, he/she may specialize in a specific metal or perform a variety of welding techniques.
Professional Hazards
Welders may be exposed to different hazards such as very hot materials and the intense light created by the arc.
In order to avoid injuries, welders need attention to detail, dexterity and they must wear protective equipment, such as safety shoes, goggles, and masks.
Employers are required by the Occupational Safety and Health Administration to ensure that welders work in well-ventilated areas and follow strict safety procedures to avoid injuries.
How to Become a Welder
Although the path towards a welding career can vary depending on the employer's requirements, if you want to become a welder, there are a few steps that you need to follow:
Step 1: Finishing High School
The first step towards a career in welding is to graduate from high school or get your GED.
Taking some technical education classes, such as blueprint reading, is usually a good idea.
Step 2: Completing post-secondary education
There are many technical schools and trade schools that offer welding training programs in various cities across New Jersey.
During training, you will learn how to correctly join two pieces of metal together using the right tools and following safety procedures.
Some programs are offered in partnership with local welding shops and in some cases, training costs can be covered by your future employer.
Welding training usually covers several techniques and includes classes such as:
Welding and Cutting Fundamentals
Safety and Health Training
Blueprint Reading
Shield Metal Arc Welding (SMAW)
Gas Metal Arc Welding (GMAW)
Flux Cored Arc Welding (FCAW)
Gas Tungsten Arc Welding (GTAW)
Courses are usually a few months up to two years long and training also includes hands-on practice.
Step 3: On-the-job training
After getting your first entry-level job you will also undergo a period of on-the-job training that will prepare you for the specific tasks that you have to complete.
The on-the-job training period usually lasts several months.
Step 4: Becoming Certified
Although certification is not always a requirement, earning this credential can help improve your earning prospects and employment options.
There are several different types of certifications, the most common ones are those offered by independent organizations, such as the American Welding Society, the American Society of Mechanical Engineers, and the American Petroleum Institute.
35 Welding Schools in Welding Schools In New Jersey
Essex County Girls Vocational School
498-544 W Market St, Newark, NJ 07107
973-412-2203
HoHoKus School of Trade and Technical Sciences
634 Market St, Paterson, NJ 07513
800-646-9353
Lincoln Technical Institute
901 Hadley Rd, South Plainfield, NJ 07080
908-756-7155
Ocean County Vocational Technical School
137 Bey Lea Rd, Toms River, NJ 08753
732-473-3100
Divers Academy International
1500 Liberty Pl, Erial, NJ 08081
800-238-3483
Sussex County Technical School
105 N Church Rd, Sparta, NJ 07871
973-383-6700
Monmouth County Vocational
2 Swartzel Dr, Middletown Township, NJ 07748
732-671-0650
Lincoln Technical Institute
308 NJ-38, Moorestown, NJ 08057
856-722-9333
Atlantic County Institute of Technology
5080 Atlantic Ave, Mays Landing, NJ 08330
609-625-2249
Salem County Vocational Technical School District
880 NJ-45, Pilesgrove, NJ 08098
856-769-0101
Ocean County Vocational Tech
350 Chambersbridge Rd, Brick Township, NJ 08723
732-286-5670
Middlesex County Vocational and Technical Schools
112 Rues Ln, East Brunswick, NJ 08816
732-254-8700
Gloucester County Institute of Technology
1360 Tanyard Rd, Sewell, NJ 08080
856-468-1445
Cumberland County Technical Education Center
3400 College Dr, Vineland, NJ 08360
856-451-9000
Camden County Technical High School-Gloucester Township Campus
343 Berlin - Cross Keys Rd, Sicklerville, NJ 08081
856-767-7000
UCTech
1776 Raritan Rd, Scotch Plains, NJ 07076
908-889-8288
County Vocational Technical
132 W State St, Trenton, NJ 08608
609-392-6222
Ocean County Voc-Tech Schools
850 Toms River Rd, Jackson Township, NJ 08527
732-286-5665
Essex County Vocational-Technical School
620 Passaic Ave, West Caldwell, NJ 07006
973-412-2205
Lincoln Technical Institute
2299 Vauxhall Rd, Union, NJ 07083
908-964-7800
Pennco Tech
99 Erial Rd, Blackwood, NJ 08012
856-232-0310
Bergen County Technical Schools
275 Pascack Rd, Paramus, NJ 07652
201-343-6000
Lincoln Tech School
Paramus, NJ 07652
201-470-5800
Mercer County Technical Schools Health Careers Center
1070 Klockner Rd, Trenton, NJ 08619
609-587-7640
Mercer County Technical Schools Sypek Center
129 Bull Run Rd, Pennington, NJ 08534
609-737-9784
Eastwick College - Nutley
103 Park Ave, Nutley, NJ 07110
973-661-0600
Universal Technical Institute
1515 Broad St, Bloomfield, NJ 07003
973-866-2200
Middlesex County Vocational School Perth Amboy
457 High St, Perth Amboy, NJ 08861
732-376-6300
Eastwick College - Ramsey
10 S Franklin Turnpike, Ramsey, NJ 07446
201-327-8877
Eastwick College - Hackensack
250 Moore St, Hackensack, NJ 07601
201-488-9400
BCIT Medford Campus
10 Hawkin Rd, Medford, NJ 08055
609-654-0200
Aviation Institute of Maintenance
80 Moonachie Ave, Teterboro, NJ 07608
201-288-6300
A Eastwick Education Inc
634 Market St, Paterson, NJ 07513
973-755-1766
Camden County Technical Schools, Pennsauken Campus
6008 Browning Rd, Pennsauken Township, NJ 08109
856-663-1040
Hudson Training Center Inc.
2321 John F. Kennedy Blvd, North Bergen, NJ 07047
201-895-8807
Become a Welder, Find a School >
Welders in New Jersey
New Jersey manufacturers account for approximately 8.5% of the total output of the state.
Manufacturers of fabricated metal products sum up to around $2.4 billion while machinery manufacturers sum up to $1.85 billion.
According to the Bureau of Labor Statistics, the average annual wage reported by welders in New Jersey was $63,690 as of May 2020.
The same report lists New York-Newark-Jersey City, NY-NJ-PA as one of the metropolitan areas with the highest employment level for welders, cutters, solderers, and brazers.
The annual mean wage reported by workers in this profession who were employed in this region was $55,330- higher than the national average.
Welders with more than 5 years of experience usually earn more than the state average but salaries are significantly lower for entry-level welders.
According to a report published by salary.com in April 2021, the median annual wage reported by entry-level welders was $47,904 but salaries vary between less than $38,000 and more than $61,000 based on many other factors.
Welders who have between 3-5 years of experience reportedly earned $55,328 on average but salaries vary between less than $43,000 and more than $68,000.
Welders with more than 5 years of experience were remunerated with $67,003 on average.
The lowest 10 percent of all welders with this level of experience earned less than $51,140 while the top 10 percent made more than $86,889.
Annual Salary Range:
Average Salary of Welders in Welding Schools In New Jersey
| City Name | Salary |
| --- | --- |
| Newark | $56,622 |
| Jersey City | $59,647 |
| Paterson | $57,168 |
| Elizabeth | $56,622 |
| Edison | $55,631 |
| Trenton | $53,584 |
| Camden | $53,112 |
| West New York | $59,647 |
| Union City | $59,647 |
| West Orange | $56,622 |
Welding Schools by City