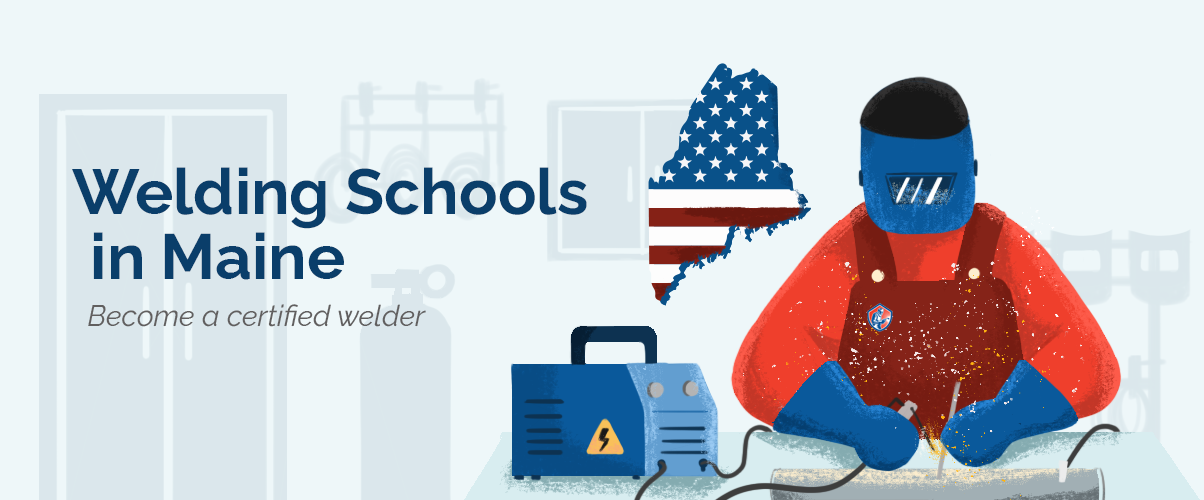 If you're living in Maine and you want to become a welder in this article you will find relevant information about this career path and what to expect on your professional journey.
You will learn about types of welding, welding certificates, job prospects, and schools that offer training in this profession.
Job Description
Although job descriptions vary depending on the industry of employment and the welder's level of experience as a welder, your main task as a welder will be to join two pieces of metal together or to repair broken pieces.
But, besides MIG and TIG welding, the two most frequent welding techniques, there are also other welding techniques, such as aircraft welding or thin alloy welding.
The more complex and delicate the weld, the more skills you need and the higher the pay.
Salaries also increase after the welder earns a few years of experience.
Because all major projects regarding infrastructure need good welders, this profession will remain in demand in the future.
Career Path
A high school diploma or equivalent is all that you need in order to start a career as a welder but having some post-secondary education will help you get a higher starting salary.
If your high schools offer some technical courses, it's a good idea to take them because this will teach you the basics of blueprint reading and other technical skills that are very useful in welding.
Courses such as blueprint reading and mechanical drawing are also useful and it is a good idea to take them if you can.
As you would expect, most employers prefer candidates who have a diploma or degree in the field but there are still some who will train you on the job.
As a beginner in this career, it's a good idea to apply for a certificate offered by the American Welding Society (AWS) because this can help you earn a higher starting salary.
This credential can be earned after passing a practical exam and a written test offered at one of AWS's accredited facilities.
There are many places where you can learn welding in the state of Maine.
From trade schools to community colleges, and apprenticeships: there are plenty of training opportunities for prospective welders.
Tuition varies between a few thousand and more than $15,000 depending on the duration and the type of the program but scholarships are also available to qualifying students.
Before deciding where to enroll it's best to visit the school's website and to gather as much information as needed about accreditation, tuition costs, curriculum, exams, and all the other factors that will be relevant in your choice.
Below we have compiled contact information about the top welding schools in Maine.
36 Welding Schools in Welding Schools In Maine
New England School-Metal Work
7 Albiston Way, Auburn, ME 04210
207-777-3375
Eastern Maine Community College
354 Hogan Rd, Bangor, ME 04401
207-974-4600
United Technologies Center-Region 4
200 Hogan Rd, Bangor, ME 04401
207-942-5296
Northeast Technical Institute
51 US-1 Ste K, Scarborough, ME 04074
800-447-1151
Portland Adult Education
14 Locust St, Portland, ME 04101
207-874-8155
MEMA Technical Education Center
25 Greenwood Rd, Brunswick, ME 04011
207-729-5298
Waldo County Technical Center
1022 Waterville Rd, Belfast, ME 04915
207-342-5231
Region 10 Technical High School
68 Church Rd, Brunswick, ME 04011
207-729-6622
Mid-Maine Technical Center
3 Brooklyn Ave, Waterville, ME 04901
207-873-0102
Portland Arts & Technology High School
196 Allen Ave, Portland, ME 04103
207-874-8165
Mid-Coast School of Technology
1 Main St, Rockland, ME 04841
207-594-2161
Northern Penobscot Tech Region
35 W Broadway, Lincoln, ME 04457
207-794-3004
Skowhegan Regional Vocational
196 W Front St, Skowhegan, ME 04976
207-474-2151
Capital Area Tech Center
7 Pierce Dr, Augusta, ME 04330
207-626-2475
Oxford Hills Technical School
256 Main St, South Paris, ME 04281
207-743-7756
Lewiston Adult Education
156 East Ave, Lewiston, ME 04240
207-795-4141
Kennebec Valley Community College
92 Western Ave, Fairfield, ME 04937
207-453-5000
Maine Community College
21 Vocational Dr, South Portland, ME 04106
207-741-5500
Northeast Technical Institute, Auburn Campus
730 Center St Suite 6C, Auburn, ME 04210
207-805-8000
Northeast Technical Institute, Bangor Campus
1435 Broadway, Bangor, ME 04401
800-447-1151
Augusta Adult Education
33 Union St #2, Augusta, ME 04330
207-626-2470
Coastal Washington County Institute of Technology
11 Addison Rd, Columbia, ME 04623
207-483-2200
Beal University
99 Farm Rd, Bangor, ME 04401
207-307-3900
Hancock County Technical Center
112 Boggy Brook Rd, Ellsworth, ME 04605
207-667-9729
Tri County Tech Center
14 Abbott Hill Rd, Dexter, ME 04930
207-924-7670
Sanford Community Adult Education
21 Bradeen St #201, Springvale, ME 04083
207-490-5145
Bath Regional Voc School
800 High St, Bath, ME 04530, United States
207-443-8257
Southern Maine Community College Midcoast Campus
29 Sewall St, Brunswick, ME 04011
207-844-2102
Central Maine Community College
1250 Turner St, Auburn, ME 04210
207-755-5100
Biddeford Adult Education
189 Alfred St 2nd floor, Biddeford, ME 04005
207-282-3883
MSAD 11 Adult Education
40 W Hill Rd, Gardiner, ME 04345
207-582-3774
Lewiston Adult Education Center
first floor, left side of the building, 145 Birch St, Lewiston, ME 04240, United States
207-784-2928
Caribou Regional Technology Center
308 Sweden St # 1, Caribou, ME 04736
207-493-4270
Washington County Community College
College Dr, Calais, ME 04619
207-454-1000
York County Community College
112 College Dr, Wells, ME 04090
207-646-9282
Merrymeeting Adult Education
35 Republic Ave, Topsham, ME 0408
207-729-7323
Become a Welder, Find a School >
Welders in Maine
According to the Bureau of Labor Statistics, the average annual wage in Maine is $51,220.
Salaries for welders in Maine vary widely depending on a wide range of factors, including education, location, industry, and experience level.
Most experienced welders who have practiced this profession for more than 5 years earn more than $58,000 per year but salaries range from less than $45,000 and more than $75,000.
Medium-level welders earn $48,000 per year on average.
The lowest 10 percent of medium-level workers in this profession earn less than $37,729, according to the numbers published by salary.com while the highest 10 percent made more than $60,028.
As an entry-level welder, however, your wage will most likely be lower than the state average.
The same report shows that most entry-level welders earn less than 50,000 per year.
The median annual wage for beginners was calculated at $41,769, according to salary.com with wages ranging from less than $33,000 to more than $53,000.
Salaries also vary depending on the city and the local economy and welders who are willing to relocate have better-earning prospects.
Below we have compiled information about the salaries reported by welders in the top 10 Maine cities.
Annual Salary Range:
Average Salary of Welders in Welding Schools In Maine
| City Name | Salary |
| --- | --- |
| Portland | $48,907 |
| Lewiston | $48,407 |
| Bangor | $45,734 |
| South Portland | $48,907 |
| Auburn | $48,407 |
| Biddeford | $48,674 |
| Augusta | $46,820 |
| Saco | $48,807 |
| Westbrook | $48,907 |
| Windham | $48,874 |