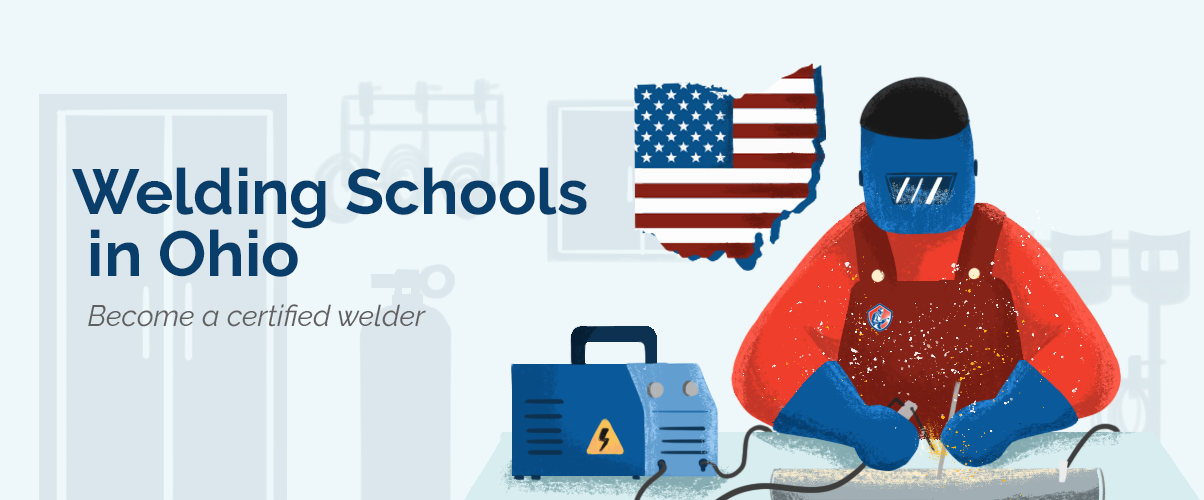 If you'd like to start a career in a skilled trade and you're passionate about building things from metal, learning how to weld can be the key to a secure and rewarding job.
Home to many manufacturing businesses, Ohio looks like a good place to start a career as a welder.
To help you decide if this profession is a right fit for you, in this article we have compiled useful information about this career path and what you should expect as a welder in Ohio.
What Does a Welder Do?
Welders are in high demand in our day and age, especially to help rebuild aging highways, buildings, and other infrastructure projects.
Welders are responsible for joining metals and other materials using welding equipment.
Among the tasks included in a welder's job description you will often find:
Reading blueprints
Igniting torches
Starting power supplies
Monitoring the welding process
Maintaining equipment
Calculating the dimensions of the parts that will be welded together
Depending on the welder's specialty and position within the company, they may also have additional administrative and project management responsibilities.
According to the Bureau of Labor Statistics, the overall employment for welders, cutters, brazers, and solderers is projected to grow 3 percent from 2019 to 2029.
The industry with the highest level of employment for this profession is, according to the Bureau of Labor Statistics, the field of fabricated metal product manufacturing.
Factories in this sector transform metal into a variety of intermediate or end products, from metal hinges to shipping containers.
Another industry with a high level of employment for this profession is machinery manufacturers.
This sector is responsible for manufacturing machinery that is used in a variety of industries, from agriculture equipment to HVAC.
According to the same report welders also held jobs in the field of vehicle manufacturing, with foundation, structure, and building exterior contractors but also in the field of railroad rolling stock manufacturing or motor vehicle body and trailer manufacturing.
Career Path
If you want to become a welder, then you should first finish high school because many employers and trade schools require a high school diploma or GED equivalent.
Taking some technical education classes such as blueprint reading or technical drawing will prove very useful.
After high school, the next step is to enroll at a trade school or community college that offers welding training classes.
Welding training usually covers a variety of topics, such as mathematics, metallurgy, blueprint reading, welding techniques, and most programs also include a welding practicum.
There are several welding techniques you can learn:
Arc welding
MIG welding
TIG welding
Hyperbaric welding
Pipeline Welding
Pipe-Fitting
Training costs also vary depending on the school you choose and the type of program and many schools offer lower tuition rates for in-state students so it's best to research all your options before deciding where to enroll.
Some schools offer online classes, others offer hybrid courses and others offer only in-person classes.
You will also have to pay an application fee and a testing fee.
If the school you choose is located in a different part of Ohio you should also take into account housing costs and additional traveling expenses.
Welding training usually lasts between 7 months and 2 years.
This trade can also be learned through a paid apprenticeship which means that you will learn on-the-job the skills needed for this profession while earning a salary.
In the table below we have compiled information about post-secondary education institutions that offer welding classes in Ohio.
Before deciding where to enroll, it's best to make sure that the program covers all the topics that you need and the school is a trustworthy institution.
34 Welding Schools in Welding Schools In Ohio
Elite Welding Academy
4670 Dues Dr, Cincinnati, OH 45246
513-874-1410
Akron Testing Lab & Welding School, Ltd.
1171 Wooster Road North, Barberton, OH 44203
330-753-2268
Ohio Technical College
1374 E 51st St, Cleveland, OH 44103
216-587-5000
Hobart Institute of Welding Technology
400 Trade Square E, Troy, OH 45373
800-332-9448
Lincoln Electric Welding Technology and Training Center
22800 St Clair Ave., Euclid, OH 44117
216-481-8100
Cincinnati State Welding Lab
Unnamed Road, Cincinnati, OH 45220
513-569-1643
Edison Joining Technology Center - OSU Welding Engineering
1248 Arthur E Adams Dr, Columbus, OH 43221
614-688-3050
Portage Lakes Career Center
4401 Shriver Rd, Uniontown, OH 44685
330-896-8200
Elite Welding Academy South Point
1910 Co Rd 1, South Point, OH 45680
740-523-0021
Eastland-Fairfield Career & Technical Schools
4300 Amalgamated Pl, Groveport, OH 43125
614-836-4530
Mid-East Ohio Vocational School
Zanesville, OH 43701
740-454-0105
Columbiana County Career and Technical Center
9364 OH-45, Lisbon, OH 44432
330-424-9561
New Castle School of Trades - East Liverpool Campus
129 E 5th St, East Liverpool, OH 43920
330-368-3130
Washington County Career Center
21740 OH-676, Marietta, OH 45750
740-373-2766
Tolles Career & Technical Center
s, 7877 US-42, Plain City, OH 43064
614-873-4666
Polaris Career Center
7285 Old Oak Blvd, Middleburg Heights, OH 44130
440-891-7600
Ironworkers Local 172 Apprenticeship School
1613 Feddern Ave, Grove City, OH 43123
614-875-9444
Millstream Adult Education
1150 Broad Ave, Findlay, OH 45840
419-427-5422
Penta Career Center
9301 Buck Rd, Perrysburg, OH 43551
419-666-1120
Trumbull Career & Technical Center
528 Educational Hwy NW, Warren, OH 44483
330-847-0503
Auburn Career Center
8140 Auburn Rd, Concord, OH 44077
440-357-7542
Butler Tech LeSourdsville Campus
101 Jerry Couch Blvd, Middletown, OH 45044
513-645-8200
Medina County Career Center
1101 W Liberty St, Medina, OH 44256
330-725-8461
Delaware Area Career Center South Campus
4565 Columbus Pike, Delaware, OH 43015
740-548-0708
Diamond Oaks Career Campus
6375 Harrison Ave, Cincinnati, OH 45247
513-574-1300
Tri-Rivers Career Center
2222 Marion-Mt Gilead Rd, Marion, OH 43302
740-389-4681
Scarlet Oaks Career Campus
300 Scarlet Oaks Dr, Cincinnati, OH 45241
513-771-8810
Vantage Career Center
818 N Franklin St, Van Wert, OH 45891
419-238-5411
Ohio Technical College
1448 E 49th St, Cleveland, OH 44103
216-881-5217
Scarlet Oaks Institute-Technology
300 Scarlet Oaks Dr, Cincinnati, OH 45241
513-771-5895
Welding Design Center
305 3rd St, Perrysburg, OH 43551
567-661-2880
Buckeye Hills Career Center
351 Buckeye Hills Rd, Rio Grande, OH 45674
740-245-5334
Pioneer Career & Technology Center
27 Ryan Rd, Shelby, OH 44875
419-347-7744
Northwest State Community College
22600 OH-34, Archbold, OH 43502
419-267-5511
Become a Welder, Find a School >
Welders in Ohio
The National Association of Manufacturers estimates that manufacturers account for 16.12% of Ohio's total output and employs 12.74% of the workforce.
According to the same report, manufacturers of motor vehicles and parts rank second in the top of Ohio manufacturers by total output.
This sector contributes almost $12 Billion to the state's economy.
A close third is fabricated metal product manufacturers with approximately $11.7 Billion.
Machinery manufacturers rank fifth with $9.9 Billion.
These industries report the highest level of employment for welders, cutters, solderers, and brazers so your prospects as a skilled welder are looking pretty good in Ohio.
Your employment and salary prospects will be better if you graduate from a post-secondary program and you have experience in several welding techniques.
According to the Bureau of Labor Statistics, Ohio is the state with the fourth-highest employment level for welders, cutters, solderers, and brazers.
The median annual wage for Ohio workers in this profession was $43,610 as of May 2020, according to the same report.
The Wheeling, WV-OH metropolitan area ranks second in a list of top-paying metropolitan areas for workers in this profession.
Welders who work in this region reportedly earned $74,970 per year on average- $30,000 more than the national average.
The average wage for the state of Ohio is estimated at $51,510, according to BLS.
As an entry-level welder, your salary will most likely be lower than the state average, but your wage will increase gradually as you earn experience.
According to salary.com, the median annual wage for Ohio welders with less than 3 years of experience is $42,306 as of April 2021.
This means that half of all newly-employed welders earn less than this amount while half earned more.
The same report calculates the median annual salary for welders with 3-5 years of experience at $48,862 with wages ranging between less than $39,000 and more than $60,000
Welders with 5-7 years of experience reportedly earn $59,173 on average.
The lowest 10 percent of experienced welders reportedly made less than $45,164 while the highest 10 percent made more than $76,736.
Annual Salary Range:
Average Salary of Welders in Welding Schools In Ohio
| City Name | Salary |
| --- | --- |
| Columbus | $48,912 |
| Cleveland | $49,076 |
| Cincinnati | $48,486 |
| Toledo | $47,990 |
| Akron | $47,603 |
| Dayton | $48,198 |
| Youngstown | $47,093 |
| Canton | $48,412 |
| Lorain | $48,278 |
| Lakewood | $49,076 |
Welding Schools by City