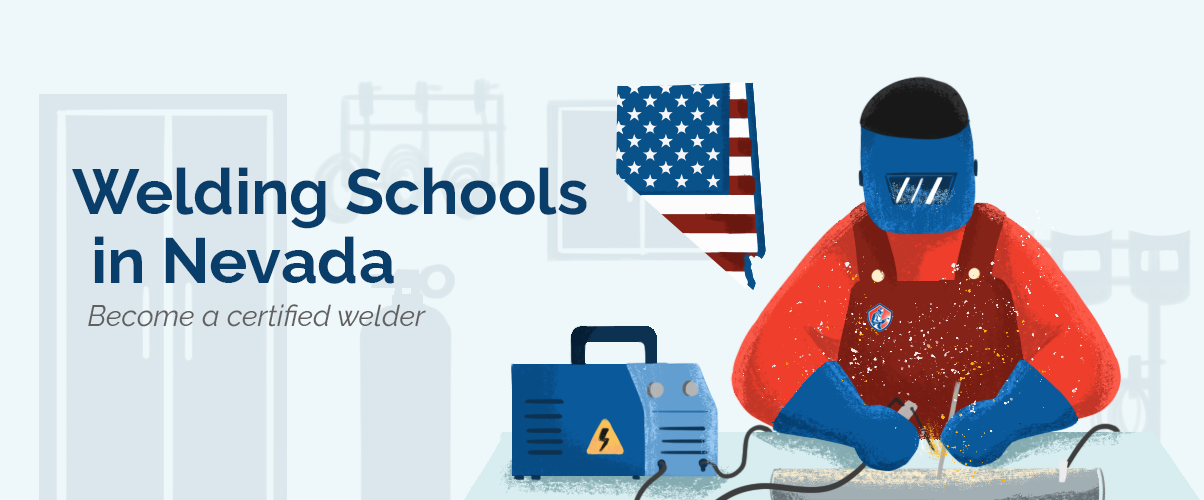 Welders join pieces of metal together and repair broken objects that are made out of metal.
Because many industries use metals in their manufacturing process, this profession will continue to be needed in the future.
If you are located in Nevada and you'd like to explore a career in welding, on this page we have compiled relevant information about this career path and what you should expect in your future profession.
What Do Welders Do?
Although this profession is very complex, a broad definition is that welders use machinery that emits high heat to join pieces of metal and repair damaged parts.
The biggest employer for welders, cutters, solderers and brazers are metal manufacturers, specialty trade contractors, and companies in the field of repair and maintenance, according to the Bureau of Labor Statistics (BLS).
According to the same report, approximately 5 percent of all welders were self-employed.
Before being ready to venture into your own welding business you will need to gain some experience in a factory or welding shop.
Read further to find out more about the job description, employment prospects, and training options for welders in the state of Nevada.
Job Prospects
Employment for this profession is projected to grow by 3 percent from 2019 to 2029, with most job openings occurring on infrastructure repair and rebuild projects, according to BLS.
Welders who have completed post-secondary training and have a certificate offered by the American Welding Society will have the best employment prospects.
How to Become a Welder
If you want to become a certified welder in Nevada, the first step is to finish high school because most employers, trade schools, and community colleges that offer welding training programs require a high school diploma or GED for admission.
If your high school offers shop classes, is good to take them because this will make it easier for you to find a job in the field.
Although some employers may be willing to hire applicants with no post-secondary education, having a diploma or certificate in welding will look good on your resume.
From trade schools to community colleges, there are many places where you can learn how to weld in Nevada.
Most of these post-secondary programs are designed to prepare students for a career in welding right after graduation, covering a variety of useful topics, such as:
Cutting
Arc welding
Blueprint reading
Brazing
Equipment setup and operation
Safety procedures
Depending on the type of program and its complexity, welding programs can last between 7 months and 2 years.
Some offer only in-person classes while other programs combine online education with classroom training and practicum.
Costs vary between less than $5,000 and more than $15,000 depending on the duration of the program and the type of credential it offers.
Diploma programs usually are shorter and less expensive than programs that offer an associate's degree.
Before choosing where to enroll there are several factors you should take into account the program duration, cost, and location.
Welding programs are offered in many different regions and cities of Nevada, including Las Vegas, Carson City, and Reno.
In the table below we have compiled information about trade schools and community colleges that offer welding training programs in Nevada.
You can use this as a starting point in your research.
19 Welding Schools in Welding Schools In Nevada
Las Vegas Institute of Welding
4060 W Hacienda Ave suite 110, Las Vegas, NV 89118, United States
702-518-1157
Area Technical Trade Center
444 W Brooks Ave, North Las Vegas, NV 89030
702-799-8300
Nevada Career Institute
3231 N Decatur Blvd #201, Las Vegas, NV 89130
702-209-0030
Advanced Training Institute, Inc.
5150 S Decatur Blvd, Las Vegas, NV 89118
702-763-5911
Quality Technical Training Center
3139 Westwood Dr, Las Vegas, NV 89109
702-597-0861
Ccnn
E Prater Way, Sparks, NV 89434
775-856-2266
Associated Builders & Contractors
240 S Rock Blvd Corporate Training Center, Reno, NV 89502
775-358-7888
Career College of Northern Nevada
1421 Pullman Dr, Sparks, NV 89434
775-856-2266
East Career Technical Academy
6705 Vegas Valley Dr, Las Vegas, NV 89142
702-799-8888
Asher College
6029 W Charleston Blvd, Las Vegas, NV 89146
702-323-0853
Aviation Institute of Maintenance
5870 S Eastern Ave, Las Vegas, NV 89119
702-798-5511
Northwest Career College
7398 Smoke Ranch Rd, Las Vegas, NV 89128
702-254-7577
UEI - Las Vegas
3450 S Maryland Pkwy, Las Vegas, NV 89109
725-210-7098
Truckee Meadows Community College (TMCC)
7000 Dandini Blvd, Reno, NV 89512
775-673-7111
Advanced Career Institute
4020 E Lone Mountain Rd Suite 100, North Las Vegas, NV 89081
702-605-5900
TMCC William N. Pennington Applied Technology Center
475 Edison Way, Reno, NV 89502
775-856-5300
Western Nevada Community College
1680 Bently Pkwy S, Minden, NV 89423
775-782-2413
Euphoria Institute of Beauty Arts & Sciences
9340 W Sahara Ave Suite 205, Las Vegas, NV 89117
702-341-8111
Contractor's Exam Center
3170 E Sunset Rd Suite# B, Las Vegas, NV 89120
702-949-7277
Become a Welder, Find a School >
After earning your diploma or degree, a thing that will help you in your career is to sit for the welding certification testing offered by the American Welding Society.
Welders in Nevada
Salaries for welders in Nevada range between less than $36,000 and more than $80,000 depending on many factors, including experience level, skills, education, certification, industry, and region of employment.
According to salary.com, the median annual wage reported by welders with more than 5 years of experience was $62,118 in April 2021 which means that half of all welders with this level of experience make less than this while half make more.
Welders with 3-5 years of experience earned $51,295 on average while the median annual wage reported by new employees is $44,412.
The manufacturing industry in Nevada accounts for 4.89% of the state's total output and employs approximately 4,2% of the total workforce.
Manufacturers of fabricated metal products and manufacturers of machinery are among the top Nevada manufacturing sectors, according to a report published by the National Association of Manufacturers.
The same report estimates job growth of 7.6% for motor vehicle manufacturers.
This industry ranks fourth among the industries with the highest levels of employment for welders in the United States.
The industry with the highest level of employment for this profession is fabricated metal product manufacturing followed by manufacturers of machinery, and manufacturers of fabricated metal products, so job prospects are looking good for welders who want to start a career in Nevada.
Annual Salary Range:
Average Salary of Welders in Welding Schools In Nevada
| City Name | Salary |
| --- | --- |
| Las Vegas | $50,648 |
| Reno | $49,780 |
| Henderson | $50,449 |
| North Las Vegas | $50,648 |
| Sparks | $49,780 |
| Carson City | $49,978 |
| Sun Valley | $49,780 |
Welding Schools by City