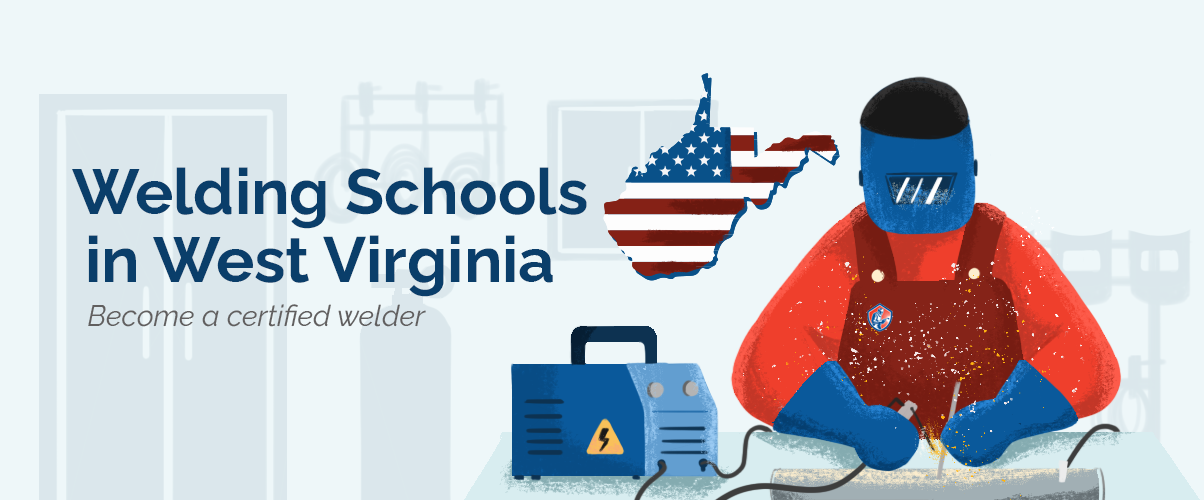 Good welders are in high demand in many industries in the United States, especially in the construction and manufacturing sectors.
The projected growth rate for this profession is 3 percent in the next 10 years, according to the Bureau of Labor Statistics.
New job openings will stem especially from the need to replace worn-out infrastructure.
If you're located in West Virginia and you want to start a career in this profession we invite you to read on for more information about this career path.
Job Description
Job descriptions for welders vary depending on the employer, the industry of employment, and their experience level.
Welders are usually responsible for:
Joining metals and other materials using welding equipment
Reading blueprints
Igniting torches
Starting power supplies
Monitoring the welding process
Maintaining equipment
Calculating the dimensions of the parts that will be welded together
Education Requirements
If you want to become a welder in the state of West Virginia, you can improve your chances of finding a good job by becoming certified by the American Welding Society.
This credential will prove to potential employers that you have the required skills and knowledge needed for this profession.
AWS offers different types and levels of certification.
Certified Welder- this is the basic certification
Certified Associate Welding Inspector
Certified Welding Inspector
Senior Certified Welding Inspector
Certified Welding Educator
Certified Resistance Welding Technician
Certified Radiographic Interpreter
Certified Welding Supervisor
Certified Welding Sales Representative
Certified Welding Engineer
Certified Robotic Arc Welding
The type of certification employers usually required is basic certification.
To earn this credential you will have to prove that you know the procedures used in welding across different industries: structural steel, sheet metal, chemical refinery welding, and petroleum pipelines.
You can prove this through an exam offered at one of AWS accredited facilities.
The application fee for the Certified Welder exam is $50.
Welding Schools
Before applying for certification you will need to learn the skills needed for this profession through post-secondary education.
Welding classes are available at many trade schools in different regions of West Virginia so it shouldn't be hard to find one near you.
Although costs vary widely depending on the type of program and the duration, on average, welding classes range from $5,000 to more than $10,000.
If you enroll at a school in another region then you should also take into account housing and/or travel costs.
Before choosing a school, you should first make sure that it is accredited by the appropriate institution and covers all the topics that you need.
Some of the most common classes included in the welding training curriculum are:
Safety and Health Training
Blueprint Reading
Shield Metal Arc Welding (SMAW)
Gas Metal Arc Welding (GMAW)
Flux Cored Arc Welding (FCAW)
Gas Tungsten Arc Welding (GTAW)
Depending on the complexity of the program, you may also learn other techniques.
Welding training should also include a significant part of hands-on training.
To help you research the school that best meets your schedule and educational needs, we have compiled a list of top schools that offer welding classes in the state of West Virginia.
Many of the schools also offer online or hybrid classes to accommodate students who need to learn at their own pace, from the comfort of their homes.
27 Welding Schools in Welding Schools In West Virginia
Carver Career and Technical Education Center
4799 Midland Dr, Charleston, WV 25306
304-348-1965
Ben Franklin Career Center
500 28th St, Dunbar, WV 25064
304-766-0369
United Technical Center
251 Marietta St, Clarksburg, WV 26301
304-326-7580
Fred W Eberle Technical Center
208 Morton Ave, Buckhannon, WV 26201
304-472-1259
Monongalia County Technical Education Center
1000 Mississippi St, Morgantown, WV 26501
304-291-9240
Fayette Institute of Technology
300 W Oyler Ave, Oak Hill, WV 25901
304-469-2911
Putnam Career & Technical Center
300 Roosevelt Blvd, Eleanor, WV 25070
304-586-3494
James Rumsey Technical Institute
3274 Hedgesville Rd, Martinsburg, WV 25403
304-754-7925
Robert C Byrd Institute
1050 4th Ave, Huntington, WV 25701
304-781-1625
Cabell County Career Technology Center
1035 Norway Ave, Huntington, WV 25705
304-528-5106
Mercer County Technical school
1397 Stafford Dr, Princeton, WV 24740
304-425-9551
Roane-Jackson Technical Center
9450 Spencer Rd, Leroy, WV 25252
304-372-7335
New River Community & Tech
789 Houfnaggle Rd, Lewisburg, WV 24901
304-645-3766
Academy of Careers and Technology
390 Stanaford Rd, Beckley, WV 25801
304-256-4615
WVU Parkersburg
300 Campus Dr, Parkersburg, WV 26104
304-424-8000
Boone County Vocational School
3505 Daniel Boone Pkwy # B, Foster, WV 25081
304-369-4585
Mineral County Technical Center
981 Harley O Staggers Dr, Keyser, WV 26726
304-788-4240
Eastern West Virginia Community and Technical College
316 Eastern Dr, Moorefield, WV 26836
304-434-8000
BridgeValley Community and Technical College
1200 Science Park Dr, South Charleston, WV 25303
304-205-6600
Wood County Technical
1515 Blizzard Dr, Parkersburg, WV 26101
304-420-9501
BlueRidge and Technical College - Technology Center
5550 Winchester Ave, Martinsburg, WV 25405
304-260-4380
ITT Technical Institute - Huntington Campus
5183 US-60 #40, Huntington, WV 25705
304-733-8700
BridgeValley Community & Technical College
2001 Union Carbide Drive, South Charleston, WV 25303
304-205-6600
Garnet Career Center
422 Dickinson St, Charleston, WV 25301
304-348-6195
Valley College
120 New River Dr # C, Beckley, WV 25801
304-252-9547
Pierpont Community & Technical College
1201 Locust Ave, Fairmont, WV 26554
304-367-4907
Blue Ridge Community and Technical College
13650 Apple Harvest Dr, Martinsburg, WV 25403
304-260-4380
Become a Welder, Find a School >
Salaries in West Virginia
According to the Bureau of Labor Statistics, the average salary in the state of West Virginia is $45,380.
The manufacturing industry accounts for 10.07% of the state's total output and employs approximately 7% of the total workforce, according to the National Association of Manufacturers.
In 2019 the total output from manufacturing in the state of West Virginia was $7.94 Billion.
The third biggest manufacturing industry in this state is motor vehicles and parts manufacturing, which accounts for roughly $730 Million to the state's output.
Manufacturers of fabricated metal products contribute approximately $720 Million to the state's economy.
According to the Bureau of Labor Statistics, these two industries are two of the biggest employers for welders, cutters, solderers, and brazers.
According to salary.com, the median annual wage for West Virginia welders with less than 3 years of experience is $38,389 as of April 2021.
The median salary shows us that half of all workers in this profession earned less than this amount while half earned more.
As an entry-level welder, you will typically earn less than the state average but salaries increase as you become more experienced and earn additional certifications.
Salaries reported by entry-level welders range between less than $31,000 and more than $48,000.
Earning a post-secondary degree or certificate and learning multiple welding techniques can improve your starting salary.
The same report calculates the median annual salary for welders with 3-5 years of experience at $44,339 but wages range from less than $35,000 and more than $55,000 depending on other factors, including the industry of employment and the level of education.
Welders with 5-7 years of experience reportedly earn $53,694 per year on average.
The lowest 10 percent of experienced welders reportedly made less than $40,982 while the highest 10 percent made more than $69,631.
As the table below shows salaries for West Virginia welders also vary depending on the city of employment.
Annual Salary Range:
Average Salary of Welders in Welding Schools In West Virginia
| City Name | Salary |
| --- | --- |
| Charleston | $45,164 |
| Huntington | $44,286 |
| Parkersburg | $44,029 |
| Wheeling | $48,540 |
| Morgantown | $48,540 |
| Weirton | $48,374 |
| Fairmont | $48,540 |
| Beckley | $44,767 |