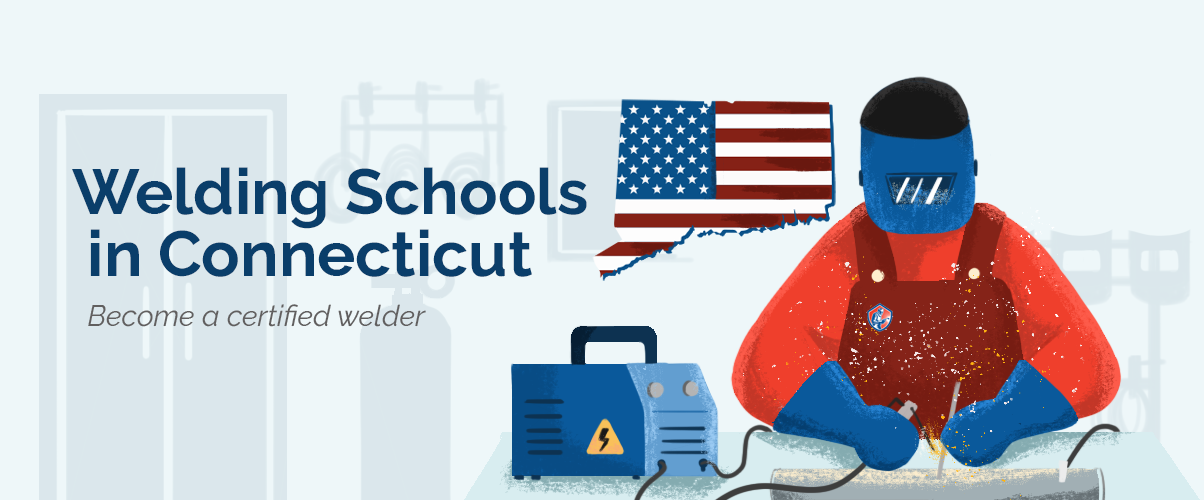 If you'd like to start a career in a skilled trade and you're passionate about repairing and building things made out of metal, learning how to weld can be the key to a secure and rewarding job.
Welders are in high demand in our day and age, especially to help rebuild aging highways, buildings, and other infrastructure projects.
Although this profession is very complex, the short definition is that welders are responsible for joining metals and other materials using welding equipment.
They are also responsible for:
Reading blueprints
Igniting torches
Starting power supplies
Monitoring the welding process
Maintaining equipment

Calculating the dimensions of the parts that will be welded together
Depending on the welder's specialty and position within the company, they may also have additional administrative and team management responsibilities.
According to the Bureau of Labor Statistics, the overall employment for welders, cutters, brazers, and solderers is projected to grow 3 percent from 2019 to 2029.
The industry with the highest level of employment for this profession is, according to the Bureau of Labor Statistics, the field of fabricated metal product manufacturing.
Factories in this sector transform metal into a variety of intermediate or end products, from metal hinges to shipping containers.
Another industry with a high level of employment for this profession is machinery manufacturers.
This sector is responsible for manufacturing machinery that is used in a variety of industries, from agriculture to HVAC.
According to the same report welders also held jobs in the field of metal vehicle body and trailer manufacturing, with foundation, structure, and building exterior contractors but also in the field of railroad rolling stock manufacturing or motor vehicle body and trailer manufacturers.
Career Path
If you want to become a welder, then you should first finish high school because many employers and trade schools require a high school diploma or GED equivalent.
Taking some technical education classes such as blueprint reading, but also physics, chemistry, and mathematics will prove very useful.
After high school, the next step is to enroll at a trade school or community college that offers welding training classes.
Welding training usually covers a variety of topics, such as mathematics, metallurgy, blueprint reading, welding techniques, and most programs also include a welding practicum.
The main welding techniques post-secondary programs cover are:
Arc welding
MIG welding
TIG welding
Hyperbaric welding
Pipeline Welding
Pipe-Fitting
Depending on the school and the program you choose, you may learn only one technique or several different welding techniques.
Costs also vary depending on the school you choose and the type of program but usually are between $5,000 and $15,000.
Some schools offer online classes, others offer hybrid courses and others offer only in-person classes.
Additional costs can include an application fee, book costs, and a testing fee.
If the school you choose is located in a different part of Connecticut you should also take into account housing costs and additional traveling expenses that vary widely depending on the location and the program duration.
Welding training usually lasts between 7 months and 2 years.
In the table below we have compiled information about top welding schools in Connecticut.
Before deciding where to enroll, it's best to make sure that the program covers all the topics that you need and it is a trustworthy institution.
20 Welding Schools in Welding Schools In Connecticut
Bristol Technical Education Center
431 E Minor St, Bristol, CT 06010
(860) 584-8433
Lincoln Technical Institute
97 Newberry Rd, East Windsor, CT 06088
(800) 243-4242
Construction Education Center
35A Robert Jackson Way, Plainville, CT 06062
(860) 529-5886
Porter and Chester Institute
1245 Dixwell Ave, Hamden, CT 06514
(475) 234-6600
Lincoln Technical Institute
8 Progress Dr, Shelton, CT 06484
(203) 929-0592
Ct Aero Tech
500 Lindbergh Dr, Hartford, CT 06114
(860)566-1234
Porter and Chester Institute
670 Lordship Blvd, Stratford, CT 06615
(203) 375-4463
Naugatuck Valley Community College
750 Chase Pkwy, Waterbury, CT 06708
(203) 575-8000
Porter & Chester Institute– Watertown, CT
320 Sylvan Lake Rd, Oakville, CT 06779
(860) 274-9294
Lincoln Technical Institute
200 John Downey Dr, New Britain, CT 06051
(860) 225-8641
Porter and Chester Institute
881 Wolcott St, Waterbury, CT 06705
(475) 689-3800
W.F. Kaynor Technical High School
43 Tompkins St, Waterbury, CT 06708
(203) 596-4302
Entech Advanced Energy Training
10 Alcap Ridge, Cromwell, CT 06416
(860) 893-0605
Naugatuck Valley Community College Danbury Campus
190 Main St, Danbury, CT 06810
(203) 437-9699
Platt Technical High School
600 Orange Ave, Milford, CT 06461
(203) 783-5300
Asnuntuck Community College
170 Elm St, Enfield, CT 06082
(860) 253-3000
Bridgeport Job Corps Admissions Office
1067 Park Ave, Bridgeport, CT 06604
(203) 549-1501
New England Job Corps. Waterbury Admissions Office
249 Thomaston Ave, Waterbury, CT 06702
(203) 575-1859
Windham Technical High School
210 Birch St, Willimantic, CT 06226
(860) 456-3879
Emmett O'Brien Technical High School
141 Prindle Ave, Ansonia, CT 06401
(203) 732-1800
Become a Welder, Find a School >
Salary
According to the Bureau of Labor Statistics, the median annual wage reported by welders, cutters, solderers, and brazers in the United States was $44,190 as of May 2020.
This tells us that half of all workers in these professions earned less than this amount while half earned more.
However, depending on experience level, education, specialty, the industry of employment, and a variety of other factors, wages vary between less than $30,000 and more than $66,000.
Entry-level workers usually earn a salary that is close to the minimum for this profession but their wage increases after earning a few years of experience in the field and additional certifications.
You can also improve your entry-level salary by graduating from a trade school and earning a certification in the welding field in which you want to specialize.
According to salary.com, in Connecticut, the median annual wage reported by mid-level welders was 54,147- higher than the median reported by BLS.
However, salaries also vary depending on the level of experience.
Entry-level welders reportedly earned $46,882 on average while experienced welders made $65,573.
Wages vary based on the city and the local economy as well.
Mid-level welders in New Britain, for example, reportedly earned $54,047 per year, on average while those in Stamford made $57,588.
In the table below we have included information about welder salaries in the top Connecticut cities.
Another thing that we'd like to mention is that you can improve your earning prospects by earning additional certifications.
One of the most important certifications for this career path is the one offered by the American Welding Society (AWS).
AWS provides different types and levels of certification.
Certified Welder- this is the basic certification
Certified Associate Welding Inspector
Certified Welding Inspector
Senior Certified Welding Inspector
Certified Welding Educator
Certified Resistance Welding Technician
Certified Radiographic Interpreter
Certified Welding Supervisor
Certified Welding Sales Representative
Certified Welding Engineer
Certified Robotic Arc Welding
The type of certification employers usually required is basic certification.
To earn this credential you will have to prove that you know the procedures used in welding across different industries, such as structural steel, sheet metal, chemical refinery welding, and petroleum pipelines.
The way to prove this is through a written and practical test performed at a facility accredited by AWS.
The application fee for the Certified Welder exam is $50.
Annual Salary Range:
Average Salary of Welders in Welding Schools In Connecticut
| City Name | Salary |
| --- | --- |
| Bridgeport | $56,849 |
| New Haven | $54,232 |
| Hartford | $53,787 |
| Stamford | $57,588 |
| Waterbury | $53,947 |
| Norwalk | $57,587 |
| Danbury | $55,556 |
| New Britain | $54,047 |
| West Hartford | $53,787 |
| Greenwich | $57,588 |
Welding Schools by City