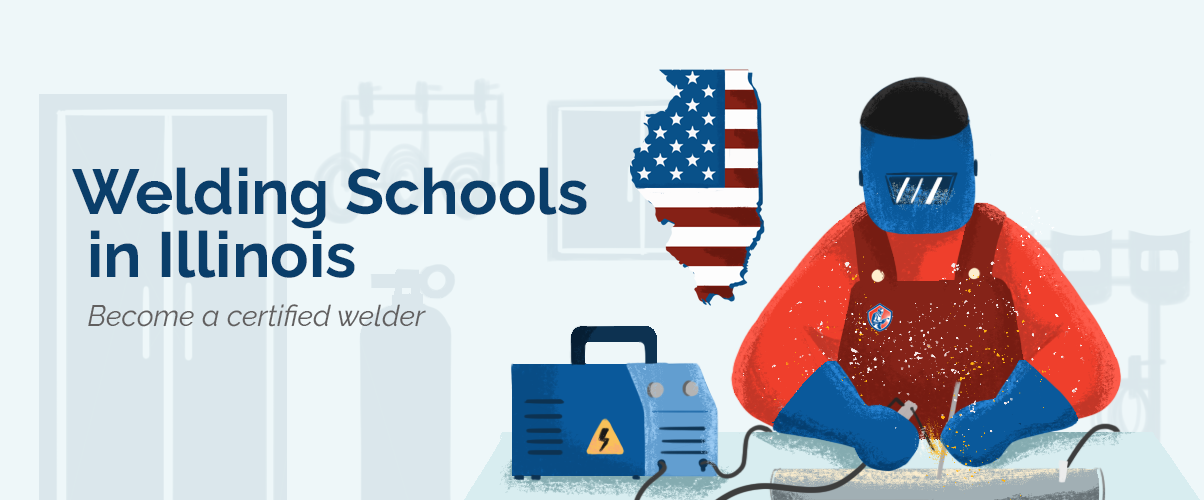 In our day and age, good welders are needed in a variety of different sectors so if you're contemplating a career in this profession you will have plenty of work opportunities.
From manufacturing plants to shipbuilders and car manufacturers, many industries need good welders on their teams.
If you are located in Illinois, on this page we have compiled relevant information about this career path and the schools that offer welding schools in your state.
What Does a Welder Do?
The short definition is that welders assemble pieces of metal together and repair damaged objects that are made of metal using machinery that emits high heat.
According to the Bureau of Labor Statistics, the biggest employer for welders, cutters, solderers, and brazers were metal manufacturers, specialty trade contractors, and repair and maintenance businesses.
Some experienced welders start their own businesses but before being ready to venture on your own you will first be an employee in a factory or a shop.
Read further to find out more about a welder's job description, employment prospects, and schools that offer training programs in your region.
Job Prospects
Employment for this profession is projected to grow by 3 percent from 2019 to 2029, according to the Bureau of Labor Statistics, with most job openings occurring on infrastructure repair and rebuild projects.
Welders who have completed post-secondary training and/or hold a certificate offered by the American Welding Society are expected to have the best employment prospects.
How to Become a Welder
If you want to become a certified welder in Illinois, there are several steps you need to follow:
Finish high school- many trade schools accept only candidates who have a high school diploma or GED equivalent but it's best to double-check.
Find the right training program
Learn and practice for the welding certification testing offered by the American Welding Society
From trade schools to community colleges, there are many places where you can learn how to weld in Illinois.
Although curriculum varies depending on the institution, a good welding school will usually teach you all the important skills you need in this career, such as:
Reading and understanding blueprints
Safe welding techniques- depending on the school you choose you may learn one or more welding techniques.
How to calculate the dimensions that will be weld
How to make sure that the welding is correctly done
How to maintain the equipment
How to follow safety procedures
Training programs last between 7 months and 2 years depending on the type of program and the curriculum.
Costs vary between less than $5,000 and more than $15,000 depending on the duration of the program and the type of credential it offers.
Before choosing where to enroll, there are several factors you should take into account, including the program duration, its cost, and location.
To make sure that the program is recognized by employers in your area, you should also make sure that the program includes hands-on training and is accredited by government institutes.
In the table below we have included information about schools that offer welding programs in the state of Illinois
28 Welding Schools in Welding Schools In Illinois
Illinois Welding School
1315 Enterprise Dr, Romeoville, IL 60446
630-679-0566
Midwest Industrial Trade School
535 S Simmons St, Stockton, IL 61085
877-648-9353
ETI School of Skilled Trades
500 Joliet Rd #100, Willowbrook, IL 60527
888-572-9937
Heartland Technical Academy
One College Park, Decatur, IL 62521
217-872-4050
Midwest Technical Institute
2731 Farmers Market Rd, Springfield, IL 62707
217-527-8324
Rock Valley College
4151 Samuelson Rd, Rockford, IL 61109
815-921-4140
Midwest Technical Institute
280 High Point Ln, East Peoria, IL 61611
309-427-2750
Learn your Trade
2458 Elmhurst Rd, Elk Grove Village, IL 60007
847-709-2960
Lincoln College of Technology
8317 W North Ave, Melrose Park, IL 60160
708-344-4700
Arc Academy
2225 W Chicago Ave, Chicago, IL 60622
312-912-8622
Grundy Area Vocational Center
1002 Union St, Morris, IL 60450
815-942-4390
Calumet Welding Center
1947 Griffith Blvd, Griffith, IN 46319
219-923-9353
Livingston Area Career Center
1100 E Indiana Ave, Pontiac, IL 61764
815-842-2557
Indian Valley Vocational Center
600 Lions Rd, Sandwich, IL 60548
815-786-9873
Rockford Career College
1130 S Alpine Rd #100, Rockford, IL 61108
815-965-8616
First Institute
790 McHenry Ave, Crystal Lake, IL 60014
815-459-3500
The Arturo Velasquez Westside Technical Instituite
2800 S Western Ave, Chicago, IL 60608
773-838-1520
SWIC Southwestern Illinois College
2500 Carlyle Ave, Belleville, IL 62221
618-235-2700
Bloomington Area Vocational
1202 E Locust St, Bloomington, IL 61701
309-829-8671
Okaw Area Vocational Center
1109 N 8th St, Vandalia, IL 62471
618-283-5150
Universal Technical Institute
2611 Corporate W Dr, Lisle, IL 60532
630-529-2662
Illinois Central College - East Peoria Campus
1 College Dr, East Peoria, IL 61635
309-694-5422
John Wood Comm Clg Workforce
4220 Kochs Ln #7630, Quincy, IL 62305
217-641-4971
Waubonsee Community College
18 S River St, Aurora, IL 60506
630-801-7900
Washburne Trade School
3901 S State St, Chicago, IL 60609
773-602-5487
Capital Area Career Center
2201 Toronto Rd, Springfield, IL 62712
217-529-5431
ICC Caterpillar Dealer Services Building
1 College Dr, East Peoria, IL 61611
309-694-5422
Wilco Area Career Center
500 Wilco Dr, Romeoville, IL 60446
815-838-6941
Become a Welder, Find a School >
Employment Opportunities for Welders
As a welder in Illinois, you can find employment in a variety of different field, such as:
Fabricated metal manufacturing
Machinery manufacturing
Fabricated metal product manufacturing
Motor vehicle body and trailer manufacturing
Foundation, structure, and building exterior contractors
Ship and boat building
Railroad rolling stock manufacturing
According to the Bureau of Labor Statistics, salaries for welders, cutters, solderers, and brazers (which were grouped together by BLS) vary widely depending on the place of employment.
Those who worked for ship and boat builders reportedly earned a median wage of $52,720 per year while those who worked for manufacturers of vehicle bodies and trailers made around $41,180 on average.
According to BLS, the Chicago-Naperville-Elgin metropolitan area is one of the metropolitan areas with the highest level of employment for welders, cutters, solderers, and brazers.
Salaries for welders in Illinois vary widely depending on many factors, including the level of experience, education, certifications, and region of employment.
According to salary.com, the median annual wage for entry-level welders was $44,499 as of April 2021 but salaries vary between less than $35,500 and more than $56,500.
This is lower than the state average salary, which, according to the Bureau of Labor Statistics, was 58,070.
The first group included welders who had between 1-3 years of experience and inexperienced welders who have graduated from a trade school.
The median salary for medium-level welders in Illinois is $51,395.
The lowest 10 percent of intermediate welders earned less than $40,194 while the top 10 percent made more than $63,951, according to the same report.
Mid-level welders are those with 3-5 years of experience in the field.
The median annual wage reported by experienced welders was $62,239 with salaries ranging between less than $48,000 and more than $80,000 depending on many other factors.
In conclusion as a welder you can earn more than the average in your state, especially after earning a few years of experience but as a new employee, your wage will typically be below this threshold.
Salaries also vary depending on the city and below we have compiled information about the median salary reported by mid-level welders in the top Illinois city.
Annual Salary Range:
Average Salary of Welders in Welding Schools In Illinois
| City Name | Salary |
| --- | --- |
| Chicago | $53,091 |
| Rockford | $49,283 |
| Aurora | $52,647 |
| Naperville | $52,136 |
| Peoria | $48,337 |
| Springfield | $46,190 |
| Joliet | $51,773 |
| Elgin | $52,189 |
| Waukegan | $50,101 |
| Cicero | $53,091 |
Welding Schools by City