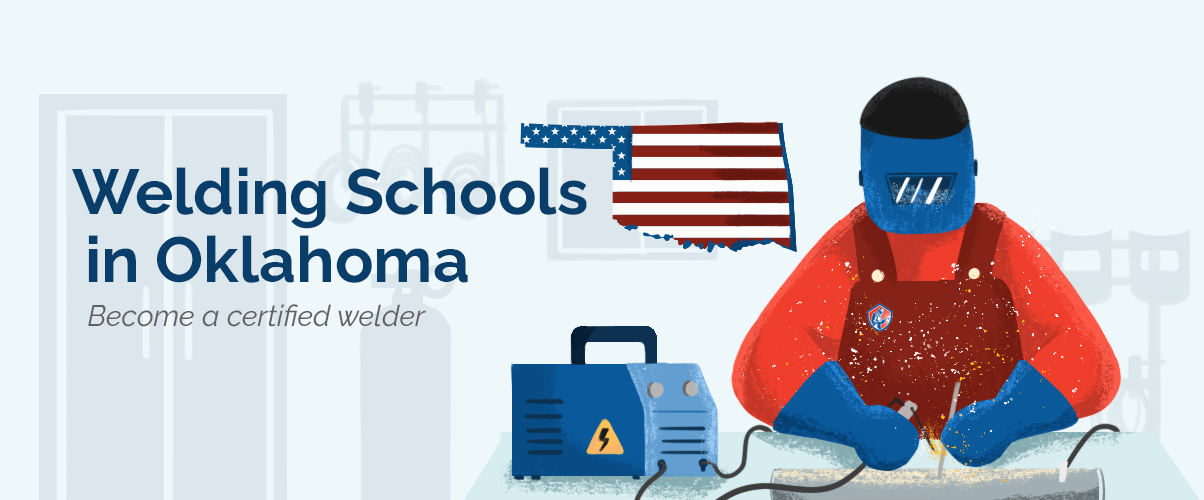 Oklahoma is home to many manufacturers of machinery and metal products and if you want to start a career as a welder you have plenty of educational and employment options.
On this page, you will find out more about salary expectations and training options that are available to prospective welders in the state of Oklahoma.
Job Description
If you're contemplating the idea of starting a career in this profession, you already know in broad lines at least what a welder does: he/she joins two pieces of metal together.
But, besides MIG and TIG welding, the two most frequent welding techniques, there are also other welding techniques, such as aircraft welding or thin alloy welding.
Usually, the more complex and delicate the weld, the more skills you need and the higher the pay.
There are also other welding techniques, such as pipe welding, that require a strong, error-free weld.
Any major project regarding infrastructure will require welders so it isn't a job that will go out of style in the near future.
Career Path
A high school diploma or equivalent is all you need to start your career as a welder.
If your high school offers some technical courses, it's a good idea to take them because this will teach you the basics of blueprint reading and other technical skills that are very useful in welding.
As you would expect, most employers prefer the candidate who has some formal training or experience in the field, although there are still some who will train you on the job.
As a beginner in this career, it's a good idea to apply for a certificate offered by the American Welding Society because this can help you earn a higher starting salary.
You can work as a welder but also as a welding inspector or supervisor once you have more experience.
From trade schools to community colleges, and apprenticeships: there are plenty of training opportunities for prospective welders in the state of Oklahoma.
Tuition usually varies between a few thousand and more than $15,000 depending on the duration and the type of the program but there are also schools that offer lower tuition rates for in-state students.
Before deciding where to enroll is best to visit the school's website and gather as much information as needed about all the factors that are relevant to you, including accreditation, tuition costs, curriculum, exams, and so on.
To help you in this process we have selected information about some of the top schools that offer welding classes in Oklahoma.
22 Welding Schools in Welding Schools In Oklahoma
Oklahoma School Of Welding
321 S Scott St, Del City, OK 73115
405-672-1841
Metro Technology Centers
1900 Springlake Dr, Oklahoma City, OK 73111
405-424-8324
Francis Tuttle Technology Center - Rockwell Campus
12777 N Rockwell Ave, Oklahoma City, OK 73142
405-717-7799
Francis Tuttle Technology Center - Reno Campus
7301 W Reno Ave, Oklahoma City, OK 73127
405-717-7799
Mid-Del Technology Center
1621 Maple Dr, Midwest City, OK 73110
405-739-1707
Francis Tuttle Technology Center - Portland Campus
3500 NW 150th St, Oklahoma City, OK 73134
405-717-7799
Metro Tech South Bryant Campus
4901 S Bryant Ave, Oklahoma City, OK 73129
405-595-2202
Moore Norman Tech - Norman Campus
4701 12th Ave NW, Norman, OK 73069
405-801-5000
EOC Tech Center
4601 N Choctaw Rd, Choctaw, OK 73020
405-390-9591
Canadian Valley Technology Center - Cowan Campus
1701 S Czech Hall Rd, Yukon, OK 73099
405-345-3333
Moore Norman Tech - OKC Campus
13301 S Pennsylvania Ave, Oklahoma City, OK 73170
405-801-5000
Canadian Valley Technology Center - El Reno Campus
6505 E U.S. Rte 66, El Reno, OK 73036
405-262-2629
Platt College
201 N Eastern Ave #6917, Moore, OK 73160
405-912-3260
Tulsa Welding School
2545 E 11th St, Tulsa, OK 74104
918-856-6416
Platt College
2727 W Memorial Rd, Oklahoma City, OK 73134
405-749-2433
Four M Welding School
4702 N Mingo Rd, Tulsa, OK 74117
918-834-0400
Gordon Cooper Technology Center
1 John C Bruton Dr, Shawnee, OK 74804
405-273-7493
Oklahoma City Community College
7777 S May Ave, Oklahoma City, OK 73159
405-682-1611
Plumbers and Pipefitters Training Center
5315 S Shartel Ave, Oklahoma City, OK 73109
405-632-5629
Oklahoma Technical College
4444 S Sheridan Rd, Tulsa, OK 74145
918-895-7500
Meridian Technology Center
1312 S Sangre Rd, Stillwater, OK 74074
405-377-3333
Rose State College
6420 SE 15th St, Midwest City, OK 73110
405-733-7673
Become a Welder, Find a School >
Welders in Oklahoma
According to the Bureau of Labor Statistics, the average wage in Oklahoma is $47,340 as of May 2020.
Manufacturers in Oklahoma account for approximately 9.4% of the total output of the state and employ around 7.8% of the total workforce.
The top manufacturing industry in this state is machinery manufacturing with an output of approximately $3.1 Billion.
Fabricated metal products are the second-highest manufacturer and contribute approximately $2.5 Billion to Oklahoma's economy.
These sectors are two of the biggest employers for welders.
According to salary.com, the median annual wage for Ohio welders with less than 3 years of experience is $40,729 as of April 2021- lower than the state average.
This means that half of all new-employed welders earn less than this amount while half earned more.
The same report calculates the median annual salary for welders with 3-5 years of experience at $47,041 with wages ranging between less than $37,000 and more than $58,000 depending on other factors, including the industry of employment and the level of education.
Welders with 5-7 years of experience reportedly earn $56,967 on average.
The lowest 10 percent of experienced welders reportedly made less than $43,480 while the highest 10 percent made more than $73,875.
Annual Salary Range:
Average Salary of Welders in Welding Schools In Oklahoma
| City Name | Salary |
| --- | --- |
| Oklahoma City | $45,293 |
| Tulsa | $47,569 |
| Norman | $44,995 |
| Lawton | $42,194 |
| Broken Arrow | $47,420 |
| Edmond | $45,144 |
| Enid | $44,847 |
| Stillwater | $44,847 |
| Altus | $42,045 |
| Bartlesville | $47,122 |
Welding Schools by City