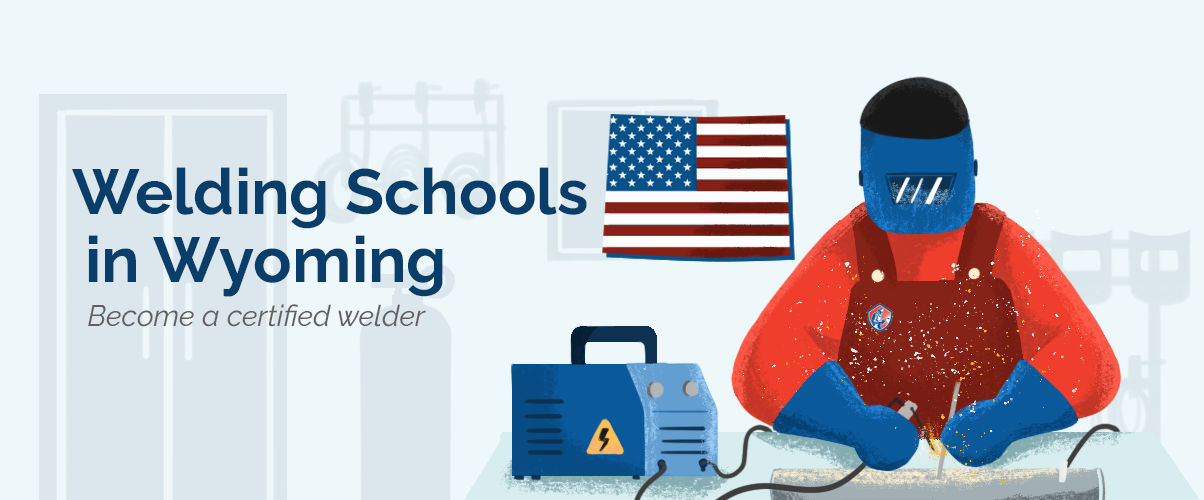 If you're located in Wyoming and you're contemplating a career as a welder, we invite you to read on in order to find out more about this profession and the best trade schools that are ready to prepare you for a career as a welder.
Job Description
Although job descriptions vary depending on the industry of employment and the specialty, as a welder, you will usually be responsible for:
Reading blueprints
Using the welding equipment
Starting power supplies
Monitoring the welding process
Maintaining equipment
Calculating the dimensions of the parts that will be welded together
Inspecting the final product and fixing any imperfections
According to the Bureau of Labor Statistics, the median hourly wage for welders was calculated at 21.25 as of May 2020.
Of course, if you are a top welder, you can earn twice as that if you are employed by top companies or you have a supervisory position.
In order to become a welder in Wyoming, you have a couple of options.
For example, you can enroll in a six months certification program where you will learn the trade in a systematic way.
Or, if you prefer the hands-on approach, you can enter an apprenticeship and you will learn to weld and solve welding problems on the spot.
Another option is to seek an associate's degree in the field- a credential that can be obtained after graduating from a 2-year program.
Career Path
The first step towards a welding career is finishing high school.
Taking some technical education classes such as blueprint reading or mathematics will prove very useful.
After earning your high school diploma or GED equivalent, the next step is to enroll at a trade school, apprenticeship, or community college that offers welding training classes.
To help you choose the program that best fits your schedule and needs, below we have compiled information about some schools that offer welding classes in the state of Wyoming.
17 Welding Schools in Welding Schools In Wyoming
Wyoming Welding Tech
323 E 3rd St, Cheyenne, WY 82007
307-632-3337
Western Welding Academy
26 Kinsey Lane, Gillette, WY 82716
307-282-0884
WCA Regional Training Center
2220 Bryan Stock Trail, Casper, WY 82601
307-237-4400
Gillette College Technical Education Center
3251 S 4-J Rd, Gillette, WY 82718
307-675-0781
Eastern Wyoming College
3200 W C St, Torrington, WY 82240
307-532-8200
WyoTech
1889 Venture Dr, Laramie, WY 82070
307-742-3776
Carbon County Higher Education Center
1650 Harshman St, Rawlins, WY 82301
307-328-9274
Wind River Job Corps
4200 Airport Rd, Riverton, WY 82501
307-857-9700
Western Wyoming Community College
2500 College Dr, Rock Springs, WY 82901
307-382-1600
Laramie County Community College Albany County Campus
1125 Boulder Dr, Laramie, WY 82070
307-721-5138
Eastern Wyoming College - Douglas Campus
800 S Wind River Dr, Douglas, WY 82633
307-624-7000
Central Wyoming College - Lander
120 Enterprise Blvd, Lander, WY 82520
307-332-3394
Sheridan College
1 Whitney Way, Sheridan, WY 82801
307-675-0505
Casper College
125 College Dr, Casper, WY 82601
307-268-2100
Laramie County Community College
1400 E College Dr, Cheyenne, WY 82007
307-778-5222
Central Wyoming College
Main Campus, 2660 Peck Ave, Riverton, WY 82501
307-855-2000
Northwest College
231 W 6th St, Powell, WY 82435
307-754-6000
Become a Welder, Find a School >
Welders in Wyoming
According to the Bureau of Labor Statistics, the industries with the highest employment level for welders are:
Manufacturers of fabricated metal products
Manufacturers of machinery
Fabricated metal products manufacturing
Motor vehicle body and trailer manufacturing
Foundation, structure, and building exterior contractors
The manufacturing industry accounts for 5.39% of the state's total output and employs 3.62% of the total workforce, according to the National Association of Manufacturers.
In 2019 the total output from manufacturing in Wyoming was $2.18 Billion.
The third biggest manufacturing industry in Wyoming is fabricated metal products manufacturing, which accounts for roughly $176 Million.
Machinery manufacturers contribute approximately $63 million to the state's economy.
According to salary.com, the median annual wage for Wyoming welders with less than 3 years of experience is $38,563 as of April 2021.
The median salary shows us that half of all workers in this profession earned less than this amount while half earned more.
According to the Bureau of Labor Statistics, the average salary in the state of Wyoming is $51,180.
The average salary for entry-level welders is lower than the state average but salaries increase as welders become more experienced and earn additional certifications.
As an entry-level welder in Wyoming, you can make anywhere between less than $31,000 and more than $49,000.
Earning a post-secondary degree or certificate and learning multiple welding techniques can improve your starting salary.
The same report calculates the median annual salary for welders with 3-5 years of experience at $44,539 but wages range from less than $35,000 and more than $55,000 depending on other factors, including the industry of employment and the level of education.
Welders with 5-7 years of experience reportedly earn $53,937 per year on average.
The lowest 10 percent of experienced welders reportedly made less than $41,167 while the highest 10 percent made more than $69,945.
As the table below shows, salaries for Wyoming welders also vary depending on the city of employment and the local economy.
Annual Salary Range:
Average Salary of Welders in Welding Schools In Wyoming
| City Name | Salary |
| --- | --- |
| Cheyenne | $44,981 |
| Casper | $46,190 |
| Laramie | $45,516 |
| Gillette | $43,867 |
| Rock Springs | $45,503 |
| Sheridan | $46,740 |
| Riverton | $45,447 |
| Cody | $46,740 |