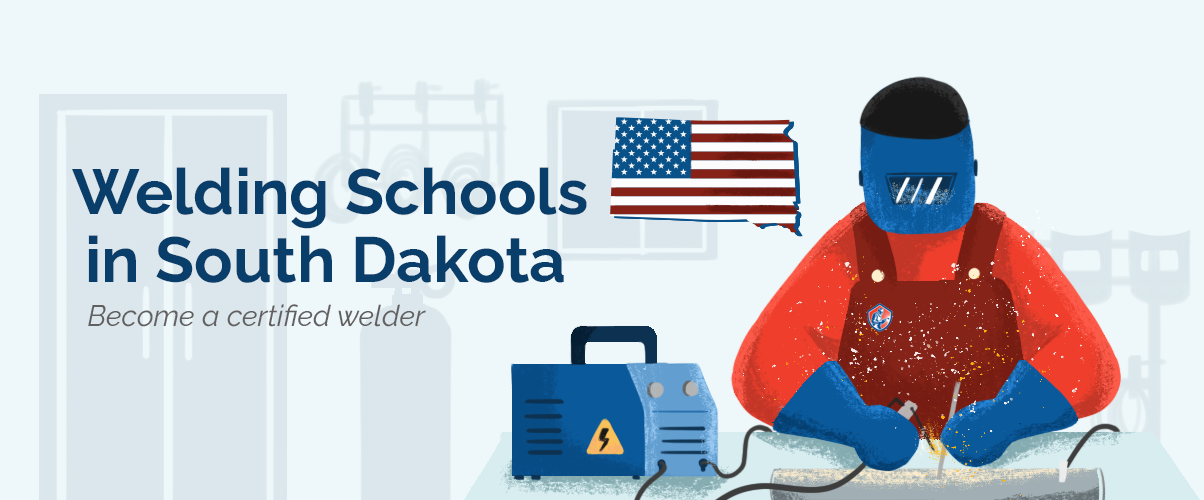 From manufacturing plants to shipbuilders and car manufacturers, many industries that manufacture things from mental need good welders.
If you are located in South Dakota and you'd like to start a career in welding, on this page we have compiled relevant information about this career path, education alternatives, and salary expectations.
What Does a Welder Do?
Although this profession is very complex, the short definition is that welders join pieces of metal using special machinery that emits high heat.
According to the Bureau of Labor Statistics, the biggest employer for welders, cutters, solderers, and brazers are metal manufacturers, specialty trade contractors, and businesses in the field of repair and maintenance.
Some experienced welders start their own business after spending a few years as employees in a factory or shop.
Read further to find out more about the welder's job description, employment prospects, and training options.
Job Prospects
Employment for these professions is projected to grow by 3 percent from 2019 to 2029, with most job openings occurring on infrastructure repair and rebuild projects, according to the Bureau of Labor Statistics.
Welders who have completed post-secondary training and/or hold a certificate offered by the American Welding Society will have the best employment prospects.
How to Become a Welder
If you want to become a certified welder in South Dakota, there are several steps you need to follow:
First, you have to finish high school or get your GED- a high school diploma or equivalent will usually be required before admission to a trade school
After graduation, you should start researching the schools that offer welder training in your region and apply to the one that best fits your needs.
Although this step is not always required you can take the welding certification testing offered by the American Welding Society.
10 Welding Schools in Welding Schools In South Dakota
Western Dakota Tech
800 Mickelson Dr, Rapid City, SD 57703
605-718-2400
Mitchell Technical College
1800 E Spruce St, Mitchell, SD 57301
605-995-3025
Southeast Technical College - George S. Mickelson Center
2320 N Career Ave, Sioux Falls, SD 57107
605-367-7624
Loenbro Technical Institute
2221 S Plaza Dr #15, Rapid City, SD 57702
605-716-0856
Regional Technical Education Center (RTEC)
1200 W 21st St, Yankton, SD 57078
605-668-5700
Lake Area Technical College
1201 Arrow Ave NE, Watertown, SD 57201
605-882-5284
Mid State Welding LLC
2152 Tumble Weed Trail, Spearfish, SD 57783
605-569-0166
Hot Rod Institute
2402 N Maple Ave, Rapid City, SD 57701
605-342-1195
Career and Technical Education Academy
4700 W Career Cir, Sioux Falls, SD 57107
605-367-5504
Career Learning Center
730 E Watertown St, Rapid City, SD 57701
605-394-5120
Become a Welder, Find a School >
Welders in South Dakota
According to the Bureau of Labor Statistics, the average annual wage in South Dakota was $44,960 as of May 2020, or $21.62 per hour.
South Dakota is, according to the same source, the state with the second-highest concentration of jobs and location quotients for welders, cutters, solderers, and brazers.
The average annual wage for these professions in South Dakota is $40,870, according to the same report.
Workers are reportedly remunerated with $19.65 per hour- lower than the state average.
Manufacturers account for 9.32% of the state's total output and employ 9.99% of the total workforce, according to the National Association of Manufacturers.
The total output for machinery manufacturers is $814 Million, according to the same report.
Manufacturers of fabricated metal products contribute $355.5 Million to the state's economy.
Salaries for Welders in South Dakota
Although the entry-level salary reported by welders in South Dakota is usually lower than the state average, wages gradually increase as workers become more experienced.
Salary.com reports that the median annual wage for South Dakota welders with less than 3 years of experience is $37,089 as of April 2021 but salaries also vary depending on the field of employment, certifications, and a variety of other factors.
As an entry-level welder, you can make anywhere between less than $30,000 and more than $47,000.
Earning a post-secondary degree or certificate can improve your starting salary.
The same report calculates the median annual salary for welders with 3-5 years of experience at $42,837 with wages ranging between less than $34,000 and more than $53,000.
Welders with 5-7 years of experience reportedly earn $51,876 on average.
The lowest 10 percent of experienced welders reportedly made less than $39,594 while the highest 10 percent made more than $67,273.
Salaries for South Dakota welders also vary depending on the city and the local economy, as the table below shows.
Annual Salary Range:
Average Salary of Welders in Welding Schools In South Dakota
| City Name | Salary |
| --- | --- |
| Sioux Falls | $44,509 |
| Rapid City | $43,032 |
| Aberdeen | $40,409 |
| Watertown | $43,766 |
| Brookings | $43,766 |
| Pierre | $41,153 |
| Deadwood | $42,288 |