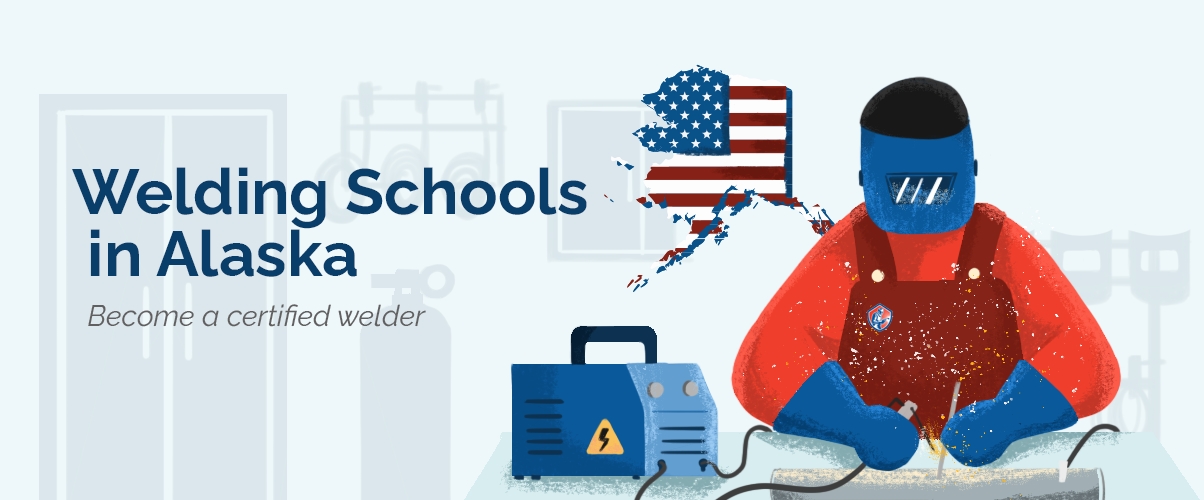 With a population of approximately 736,000, Alaska is home to more than a dozen colleges and universities, including many technical training opportunities.
If you want to start a career as a welder in Alaska, there are plenty of training opportunities in "The Last Frontier".
In order to help you find out more about this profession and the schools that will prepare you for a career as a welder, we have compiled essential information about a welder's job description and this career path.
Job Description
Welders join pieces of metal together and repair worn metal parts using heat.
They usually specialize in one type of material and welding technique.
Depending on the type of work they do and the field where they practice, welders can have multiple specializations:
Construction welders

Manufacturing welders

Sheet metal welders

Structural steel welders

Industrial welders

Rig welders
Job descriptions and earning prospects vary depending on the field in which welders specialize and their level of experience.

Usually, a welder is responsible for:
Joining pieces of metal together

Repairing metal components

Melting metal components

Reviewing blueprints

Cutting the metal into shape

Removing creases from molten metal
Occupational Hazards and Safety Issues
Another important thing you should know if you want to start a career as a welder is that following strict safety procedures is very important in order to avoid injury.
One of the most important risks welders face every day is the risk of burns.
To avoid burns welders use leather gloves and jackets with long sleeves.
The brightness of the weld may cause inflammation of the eye and in order to avoid this, welders use special helmets and/or goggles.
Depending on the materials they work with, welders may also be exposed to dangerous gases and there is also a risk of electrical shocks.
In order to avoid exposure to toxic gases, employers have to make sure that welders work in well-ventilated areas.
Educational Requirements
If you want to start a career as a welder, the first step is to finish high school.
Taking some technical education classes during high school is a good idea because blueprint reading and mathematics will prove very useful during welding school.
Welding training usually covers a variety of topics, such as mathematics, metallurgy, blueprint reading, pipe layout, and most programs also include a welding practicum.
The main welding techniques are:

Arc welding
MIG welding
TIG welding
Hyperbaric welding
Pipeline Welding
Pipe-Fitting
Depending on the school and the program you may learn only one basic technique or several welding methods.
Some programs also include advanced classes, such as underwater welding.
There are many trade schools that offer training opportunities for welders including Alaska's Institute of Technology which is operated by the Alaska Department of Labor and Workforce Development.
Costs vary depending on the school you choose but usually range between $5,000 and $15,000.
You will also have to pay an application fee and a testing fee.
If the school you choose is in another town you should also take into account housing costs that vary from less than $1000 to several thousand dollars depending on the location and the program duration.
Welding training usually lasts between 6-7 months and a few years.
Some employers may be willing to hire inexperienced workers and prepare them through on-the-job training or cover the costs of training but completing post-secondary training will improve your employment prospects.
To help you research the best training opportunities that are available in your region, we have compiled a list of schools that offer welding training in Alaska.
6 Welding Schools in Welding Schools In Alaska
Northern Industrial Training
1740 Terrilou Ct, Palmer, AK 99645, United States
907-357-6400
UAF Community and Technical College
604 Barnette St, Fairbanks, AK 99701, United States
907-455-2800
Iḷisaġvik College
100 Stevenson St, Utqiagvik, AK 99723, United States
907-852-3333
Alaska Career College
1415 E Tudor Rd, Anchorage, AK 99507, United States
907-563-7575
University of Alaska Anchorage
3211 Providence Dr, Anchorage, AK 99508, United States
907-786-1800
AVTEC, Alaska Vocational Technical Center - Main Campus
809 Second Avenue, Seward, AK 99664, United States
800-478-5389
Become a Welder, Find a School >
Employment Prospects
According to the Bureau of Labor Statistics, overall employment for welders is projected to grow 3 percent within the next 10 years.
This growth is close to the average for all professions.
Welders will be needed especially on projects that involve maintaining and rebuilding worn-out infrastructure projects.
Experienced welders who are up to date with the latest welding techniques will have the best employment prospects.
According to a report published by BLS, Alaska is one of the states with the lowest levels of employment for this profession but one of the top-paying states.
Becoming certified can improve your employment and earning prospects.
Employers usually prefer to hire welders who have a basic AWS Certified Welder certification- a credential offered by the American Welding Society.
This credential can be earned after passing an exam offered at one of AWS's accredited testing facilities.
This exam consists of a written and a practical part.
Salaries for Welders
The BLS report shows that the median annual wage reported by welders, cutters, solderers, and brazers in Alaska is $71,860 or $34.55 per hour.
This is higher than the average annual wage which was $44,190 as of May 2019.
According to the Bureau of Labor Statistics, wages for welders cutters, solderers, and brazers in the United States usually vary between less than $30,640 and more than $66,250 per year.
Salaries vary depending on a wide range of factors, including experience level, certifications, education, and the industry of employment.
The top-paying field for welders is the scheduled air transportation sector where welders were remunerated $92,230 per year.
Other fields where you may earn more than average as a welder is the natural gas distribution field, electric power generation, petroleum and coal products manufacturing, and the field of other pipeline transportation.
In the table below you will find more about mid-level welder salaries in the top cities of Alaska.
Annual Salary Range:
Average Salary of Welders in Welding Schools In Alaska
| City Name | Salary |
| --- | --- |
| Anchorage | $55,658 |
| Juneau | $55,163 |
| Fairbanks | $55,428 |
| Sitka | $54,412 |
| Ketchikan | $54,412 |
| Wasilla | $54,908 |
| Palmer | $54,908 |
Welding Schools by City