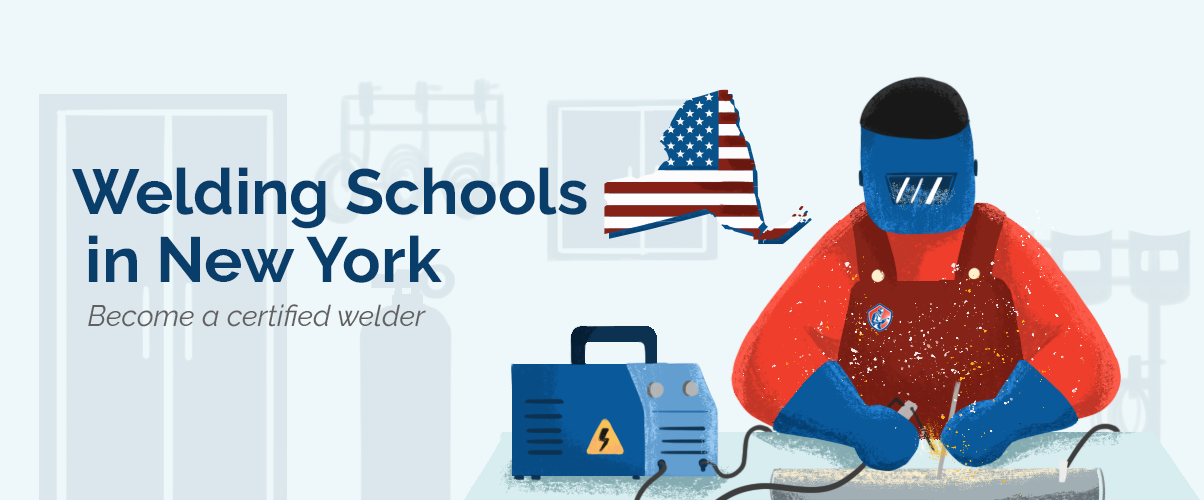 Good welders are in high demand in the United States and they will continue to be needed in the future.
The projected growth rate for this profession is 3 percent in the next 10 years, according to the Bureau of Labor Statistics.
Welding is needed in a variety of industries, from building construction to the automotive sector.
If you're located in New York and you want to start a career in this profession we invite you to read on for more information about this career path.
Job Description
Job descriptions for welders vary depending on the employer, the industry of employment, and their experience level.
Welders are usually responsible for:
Joining metals and other materials using welding equipment
Reading blueprints
Igniting torches
Starting power supplies
Monitoring the welding process
Maintaining equipment
Calculating the dimensions of the parts that will be welded together
Making sure that the end result follows the standards
Education Requirements
If you want to become a welder in the state of New York you first need to become certified by the American Welding Society.
This credential will prove to potential employers that you have the required skills and knowledge needed for this profession.
AWS offers different types and levels of certification:
Certified Welder- this is the basic certification
Certified Associate Welding Inspector
Certified Welding Inspector
Senior Certified Welding Inspector
Certified Welding Educator
Certified Resistance Welding Technician
Certified Radiographic Interpreter
Certified Welding Supervisor
Certified Welding Sales Representative
Certified Welding Engineer
Certified Robotic Arc Welding
The type of certification employers usually required is basic certification but you may need additional credentials for some industries or supervisory positions.
To earn the Certified Welder credential you will have to prove that you know the procedures used in welding across different industries: structural steel, sheet metal, chemical refinery welding, and petroleum pipelines.
The way to prove this is by taking the exam offered by AWS.
The application fee for the Certified Welder exam is $50.
Welding Schools
Before applying for certification you will need to learn the skills needed for this profession and this can be done through post-secondary education.
Welding classes are available at many trade schools in different regions of New York so it shouldn't be hard to find one near you.
Although costs vary widely depending on the type of program and the duration, on average, welding classes range from $5,000 to more than $10,000.
If you enroll at a school in another region then you should also take into account housing costs which can vary between $1000 and more than $10,000 depending on the region and the program duration.
Before choosing a school, you should first make sure that it is accredited by the appropriate institutions and covers all the topics that you need.
Some of the most common classes included in the welding training curriculum are:
Safety and Health Training
Blueprint Reading
Shield Metal Arc Welding (SMAW)
Gas Metal Arc Welding (GMAW)
Flux Cored Arc Welding (FCAW)
Gas Tungsten Arc Welding (GTAW)
Depending on the complexity of the program, you may also learn other techniques.
Welding training should also include a significant part of hands-on practice.
To help you research the school that best meets your schedule and educational needs, we have compiled a list of top schools that offer welding classes in the state of New York.
Many of the schools also offer online or hybrid classes to accommodate students who need to learn at their own pace, from the comfort of their homes.
There are different types of training programs with different complexity levels.
If you want to learn some basic welding skills or to decide if this profession is a good fit for you you can do so by enrolling in a workshop.
There are also diploma, certificate, and degree programs for those who want to start a career in this profession.
19 Welding Schools in Welding Schools In New York
Career School of NY
350 St Marks Pl, Staten Island, NY 10301
718-420-6440
Apex Technical School
24-02 Queens Plaza S, Queens, NY 11101
212-645-3300
School of Cooperative Technical Education
321 E 96th St, New York, NY 10128
212-369-8800
Metal Shop Fantasy Camp
175 Bogart St, Brooklyn, NY 11206
718-384-7818
NYCDCC Labor Technical College
395 Hudson St, New York, NY 10014
212-727-2224
Lincoln Technical Institute
1530 Petracca Pl, Queens, NY 11357
718-640-9800
Long Island Welding School
59a Urban Ave, Westbury, NY 11590
516-997-8586
Berk Trade & Business School
33-09 Queens Blvd, Queens, NY 11101
718-729-0909
NYADI The College of Automotive and Diesel Technology
178-18 Liberty Ave, Queens, NY 11433
718-658-0006
Brooklyn Job Corps
585 Dekalb Ave, Brooklyn, NY 11205
718-623-4000
NYC Carpenters Training Center
395 Hudson St # 2, New York, NY 10014
212-727-2224
Continuing Education - LaGuardia Community College
29-10 Thomson Ave, Long Island City, NY 11101
718-482-5125
Nassau BOCES Adult Career & Technical Education
Joseph M. Barry Career & Technical Education Center, 1196 Prospect Ave, Westbury, NY 11590
516-622-6950
Turner School
145 W 30th St # 6, New York, NY 10001
212-736-1507
Essex County Girls Vocational School
498-544 W Market St, Newark, NJ 07107
973-412-2203
Nassau BOCES Joseph M. Barry Career & Technical Education Center
1196 Prospect Ave, Westbury, NY 11590
516-622-6800
OSHA 10 NY
32 E 31st St, New York, NY 10016
646-524-5194
Manhattan College - School Of Engineering
3825 Corlear Ave, Bronx, NY 10463
718-862-7281
Asa College: Pearl Street Building
383 Pearl St, Brooklyn, NY 11201
877-679-8768
Become a Welder, Find a School >
Employment Prospects
According to the Bureau of Labor Statistics, the welder profession is projected to grow 3 percent from 2019 to 2029- about as fast as the average of all occupations.
Welding services will be in demand, especially on infrastructure projects such as rebuilding bridges, buildings, and highways.
Job prospects are determined by the worker's skill level and experienced welders who are up-to-date with the new technologies are expected to have the best job prospects.
Workers may find employment in a variety of industries, from car manufacturing to construction.
BLS reports that welders held approximately 438,900 jobs in the United States in 2019, most of them in the manufacturing field.
Welders are also employed by specialty trade contractors or in the repair and maintenance field.
The same report states that 5 percent of all welders are self-employed.
Welders in New York
According to the Bureau of Labor Statistics, New York-Newark-Jersey City, NY-NJ-PA is one of the metropolitan areas with the highest level of employment for welders, cutters, solderers, and brazers.
The average salary for workers in these professions who were employed in this region was $55,330 as of May 2020- more than $10,000 over the median average across the U.S.
The manufacturing industry accounts for approximately 4% of New York's total output, according to the National Association of Manufacturers.
Machinery manufacturers- one of the top employers for welders- summed up to approximately $5.9 Billion while fabricators of metal products are estimated at around $5.5 Billion.
Salaries in New York
According to the Bureau of Labor Statistics, the average wage in the state of New York is $67,850 per year.
Salaries for welders who are employed in the state of New York vary depending on many factors, including the level of experience, education, and industry of employment.
According to salary.com, welders with 5-7 years of experience reportedly earned $65,027 per year on average with salaries ranging from less than $50,000 to more than $84,000.
The median annual wage for welders who have between 3-5 years of experience was $53,697.
The lowest 10 percent of all welders with this level of experience earned less than $41,994 while the top 10 percent made more than $66,815.
As an entry-level employee, your salary can be anywhere between less than $37,000 and more than $59,000.
The median salary for entry-level welders was $46,492 which means that half of all welders with this experience level earned less than this while half earned more.
Wages also vary depending on the city and the local economy, as the table shows:
Annual Salary Range:
Average Salary of Welders in Welding Schools In New York
| City Name | Salary |
| --- | --- |
| New York | $59,647 |
| Buffalo | $47,416 |
| Rochester | $48,877 |
| Yonkers | $57,151 |
| Syracuse | $48,870 |
| Albany | $50,167 |
| New Rochelle | $56,914 |
| Mount Vernon | $57,126 |
| Schenectady | $50,193 |
| Utica | $47,479 |
Welding Schools by City