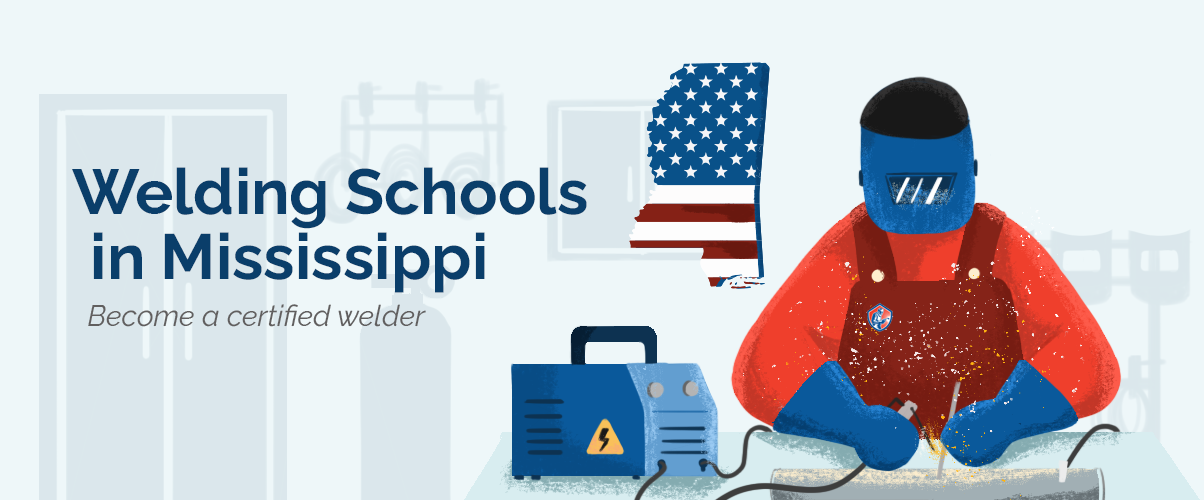 From car to aerospace manufacturers, in Mississippi, there are many factories that build things from mental and need good welders.
If you are located in this state and you're contemplating the idea of starting a career in welding, on this page we have compiled relevant information about this career path and what you should expect in your future profession.
What Does a Welder Do?
Although this profession is very complex, the short definition is that welders join pieces of metal together using special machinery that emits high heat.
According to the Bureau of Labor Statistics, the biggest employer for welders, cutters, solderers, and brazers were metal manufacturers, specialty trade contractors, and in the field of repair and maintenance.
Some experienced welders start their own business after spending a few years as employees in a factory or shop.
Read further to find out more about a welder's job description, employment prospects, and training options.
Job Prospects
Employment for these professions is projected to grow by 3 percent from 2019 to 2029, with most job openings occurring on infrastructure repair and rebuild projects, according to the Bureau of Labor Statistics.
Welders who have completed post-secondary training and/or hold a certificate offered by the American Welding Society(AWS) will have the best employment prospects.
The AWS certification can be earned after passing a written and practical test at one of their accredited centers.
How to Become a Welder
If you want to become a certified welder in Mississippi, there are several steps you need to follow:
Finish high school or get your GED- a high school diploma or equivalent will usually be required before admission to a trade school
Find the right training program
Learn and practice for the welding certification testing offered by the American Welding Society
From trade schools to community colleges, there are many places where you can learn how to weld in Mississippi.
Although curriculum varies depending on the institution, a good welding school will usually teach you all the important skills you need for entry-level employment as a welder, such as:
Reading and understanding blueprints
How to weld metal parts, fill holes using specialized equipment- depending on the school you choose you may learn one or more welding techniques.
Calculating the dimensions of objects that will be welded together
Making sure that the welding is correctly done
Equipment usage and maintenance
Following safety procedures
Depending on the type of program and its complexity, welding programs can last between several months and 2 years.
Costs vary between less than $5,000 and more than $15,000 depending on the duration of the program and the type of credential it offers.
For example, diploma programs usually are shorter and less expensive than programs that offer an associate's or a bachelor's degree.
Before choosing where to enroll there are several factors you should take into account, such as the program duration, cost, and location.
Depending on the field and technique in which they specialize, there are different types of welders:
Aluminum welders
Fabrication welders
Maintenance welders
In Mississippi there are many schools that offer programs designed specifically for a welding career, covering a variety of useful topics, such as:
Cutting
Arc welding
Blueprint reading
Brazing
Equipment setup and operation
Below we have compiled information about trade schools and community colleges that offer welder training programs in Mississippi.
We encourage you to continue your research and gain as much information as possible about the programs, costs, schedule, accreditation, and all the other relevant factors before signing up for a course.
27 Welding Schools in Welding Schools In Mississippi
Delta Technical College
113 Marketridge Dr, Ridgeland, MS 39157
601-206-5200
Mississippi Gulf Coast Community College - AMTC Campus
10298 Express Dr, Gulfport, MS 39503
228-897-4360
EMCC West Point-Clay County Center
3861 TVA Rd, West Point, MS 39773
662-243-2647
College & Career Technical Institute
2602 Market St, Pascagoula, MS 39567
228-938-6579
Harrison County Career & Technical Center
15600 School Rd, Gulfport, MS 39503
228-832-6652
Jackson County Technology Center
12425 MS-57, Vancleave, MS 39565
228-826-5944
Oxford Lafayette School-Tech
134 MS-7, Oxford, MS 38655
662-234-9469
Lowery A. Woodall Advanced Technology Center
906 Sullivan Dr, Hattiesburg, MS 39401
601-554-4646
Mississippi Gulf Coast Community College (Keesler Center)
500 Fisher St, Biloxi, MS 39534
228-897-3891
Tupelo Career-Technical Center
4125 Golden Wave Dr, Tupelo, MS 38801
662-841-8799
Antonelli College
2323 Lakeland Dr, Flowood, MS 39232
601-362-9991
Greene County Vocational Technical School
173 Vo Tech Rd, Leakesville, MS 39451
601-394-2973
Career Development Center
2703 1st Ave, Jackson, MS 39209
601-960-5322
Greenville Technical Center
350 S Raceway Rd, Greenville, MS 38703
662-334-7171
DeSoto County Career Technology Center West
1005 Kuykendall Ln, Horn Lake, MS 38637
662-996-5268
Southwest Mississippi Community College
1156 College Dr, Summit, MS 39666
601-276-2000
Pearl River Community College
101 US-11, Poplarville, MS 39470
601-403-1000
Hinds Community College CAREER AND TECHNICAL BUILDING
11 Community College Blvd, Pearl, MS 39208
601-936-1851
Coahoma Community College
3240 Friars Point Rd, Clarksdale, MS 38614
662-627-2571
Wayne County Career & Technical Education Center
100 Collins St, Waynesboro, MS 39367
601-735-5036
Alcorn Career & Technology Center
2101 Norman Rd, Corinth, MS 38834
662-286-7727
Jones College
900 S Court St, Ellisville, MS 39437
601-477-4000
Holmes Community College
1 Hill St, Goodman, MS 39079
662-472-2312
Mississippi Gulf Coast Community College - Harrison County Campus
2226 Switzer Rd, Gulfport, MS 39507
228-896-2536
East Central Community College
275 W Broad St, Decatur, MS 39327
601-635-2111
Moss Point Career & Technical Center/Education
4924 Church St, Moss Point, MS 39563
228-474-1455
Hinds Community College - Vicksburg Campus
755 MS-27, Vicksburg, MS 39180
601-629-6881
Become a Welder, Find a School >
Welders in Mississippi
Manufacturers, in general, play an important part in Mississippi's economy, accounting for 16.11% of the state's total output, according to the National Association of Manufacturers.
This sector employs approximately 12.8$ of the workforce.
The same report estimates an 11.5% job growth for Mississippi's aerospace product and parts manufacturers and a 4.9% growth for manufacturers of motor vehicles.
The field of car and trailer manufacturing is one of the fields with the highest levels of employment for welders, cutters, solderers, and brazers.
According to the Bureau of Labor Statistics, the median annual wage reported in Mississippi was $41,600 as of May 2020.
Wages for welders vary between less than $30,000 and more than $70,000 depending on a wide range of factors, such as experience level, education, the industry of employment, and city.
According to salary.com, entry-level welders reportedly earned $37,696 per year on average but wages for this experience level vary between less than $30,000 and more than $48,000.
The median annual wage for welders who have between 3-5 years of experience was $43,538 with salaries ranging from less than $34,000 to more than $54,000.
The median annual wage for welders with more than 5 years of experience is $52,725.
The lowest 10 percent of experienced welders in Mississippi were remunerated with less than $40,242 per year while the top 10 percent earned more than $68,374.
In conclusion as an entry-level welder, you will most likely earn less than the state average but your salary will gradually increase as you become more experienced and earn additional certifications.
Salaries also vary depending on the city of employment and below we have compiled salary information provided by salary.com for the month of May 2021 about 10 top cities in Mississippi.
Annual Salary Range:
Average Salary of Welders in Welding Schools In Mississippi
| City Name | Salary |
| --- | --- |
| Jackson | $44,379 |
| Gulfport | $43,597 |
| Biloxi | $43,944 |
| Hattiesburg | $43,324 |
| Greenville | $44,078 |
| Meridian | $43,949 |
| Tupelo | $41,827 |
| Southaven | $45,878 |
| Pascagoula | $43,592 |
| Columbus | $42,273 |
Welding Schools by City