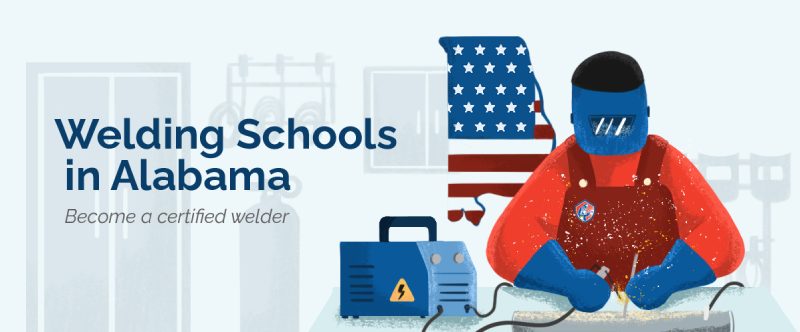 If you're an Alabama resident looking to start a career as a professional welder, this article will provide you with essential information about this occupation.
You will learn more about your salary prospects as a welder in Alabama, licensing requirements, employment opportunities, and the schools that are offering training opportunities for future welders.
Job Description
Welders are trained professionals who join metal parts using a hand-held or sophisticated remote equipment.
Depending on his/her experience, position, and education level, a welder's job description may include:
Studying blueprints and specifications
Inspecting the materials that will be welded
Starting power supplies
Monitoring the welding process
Performing maintenance tasks on the equipment
According to the Bureau of Labor Statistics, this profession is projected to grow 3 percent from 2019 to 2029.
New job openings stemming from the need to replace aging infrastructure in some regions will be open especially for welders who are familiar with new technologies.
The report published by BLS shows that most welders work in the manufacturing sector.
Welders also hold jobs with specialty trade contractors, in the repair and maintenance sector, and some work as self-employed contractors.
Job prospects are looking good for certified welders who have up-to-date training and some years of experience in the field.
Career Path
Before enrolling in a training program, you need to finish high school because welding schools usually require a high school diploma or equivalent.
Taking technical education classes during high school can teach you things that will be very useful in this profession.
Courses such as blueprint reading, mechanical drawing, chemistry, physics, and metallurgy will look good on your resume and will teach you skills that are very important in this line of work.
Community colleges, trade schools, technical schools, and other post-secondary education institutions also offer formal training for those who want to start a career in this profession.
Good training is very important and you should make sure the school you choose is accredited and the curriculum covers all the topics that are relevant for this profession.
Formal training is not always a requirement and there are some employers who prefer to hire entry-level workers and train them on the job.
However, many employers prefer to hire welders who are certified or hold a diploma or degree in the field.
If you want to work as an independent contractor, on the other hand, special licensing and education requirements may apply.
Licensing Requirements
Although licensing is not usually a requirement, some employers may require general certification in welding or certification in a specific welding method.
By becoming certified you prove that you are able to work with specific types of metals and welds while following codes and regulations.
If you want to work as an independent contractor you may need to hold a license, depending on the region where you want to practice.
Licensing requirements for contractors in the State of Alabama vary depending on the size of the project and the type of project.
If you work on industrial projects that are below $50,000 in value or on residential projects that are below $10,000 you won't need a license but if you want to work on larger projects you will need a General Contractor license.
Professional Hazards
Welders may be exposed to different hazards such as very hot materials and the intense light created by the arc.
In order to avoid injuries, welders need good skills and they must wear protective equipment, such as safety shoes, goggles, and masks.
Employers are required by the Occupational Safety and Health Administration to ensure that welders work in well-ventilated areas and follow strict safety procedures to avoid injuries.
Welding Schools
If you want to learn welding in the state of Alabama, there are many schools that are ready to teach you various welding techniques, such as:
Combination Pipe Welding
GTAW Pipe Welding
SMAW Pipe Welding
MIG Pipe Welding
Pipeline Welding
Pipe-Fitting
Courses can be completed in several weeks or a few months depending on the type of class you choose.
Tuition ranges between less than $5,000 and more than $15,000 depending on the school and the program you choose.
There are many different types of programs and before deciding where to enroll, be sure to do your research and find out all you need to know about costs, schedule, curriculum, accreditation, and all the other relevant information.
20 Welding Schools in Welding Schools In Alabama
Alabama Pipe Welders Academy
715 Saint Emanuel St, Mobile, Alabama 36603, United States
(251) 222-9799
ArcPro Pipe Welding School
6738 Bayou Isle Ln, Theodore, AL 36582, United States
+12512721580
AIDT Alabama Workforce Training Center
3500 6th Ave S, Birmingham, AL 35222, United States
205-719-3220
Gulf Coast Welding Inc
20589 Co Rd 24, Foley, AL 36535, United States
(251) 962-7000
Southern Alabama Welding
811 N E 7th St, Summerdale, AL 36580, United States
(251) 989-6587
Global Tech Institute
1213 24th Ave SW, Decatur, AL 35601, United States
(256) 822-2135
Reid State Technical College
100 AL-83, Evergreen, AL 36401, United States
(251) 578-1313
AIDT Maritime Training Center
360 Addsco Rd, Mobile, AL 36603, United States
(251) 405-8698
Cleburne County Career Technical School
11200 AL-46, Heflin, AL 36264, United States
(256) 748-2961
Le Croy Career Tech Center
2829 4th Ave N, Clanton, AL 35045, United States
(205) 280-2920
ESD School, LLC
2919 Fairground Rd, Decatur, AL 35603, United States
(256) 432-0430
Northeast Alabama Community College
138 AL-35, Rainsville, AL 35986, United States
(256) 638-4418
J K Weaver Technical Center
1515 Campbell Ave, Gadsden, AL 35903, United States
(256) 492-1801
Lawson State Community College
Lawson State, Birmingham, AL 35211, United States
(205) 925-2515
Blount County Career Technical
61500 US-231, Cleveland, AL 35049, United States
(205) 775-2080
Fortis College
200 E Laurel Ave, Foley, AL 36535, United States
(251) 970-1460
Tuscaloosa Career & Technology Academy
2800 Martin Luther King Jr Blvd, Tuscaloosa, AL 35401, United States
(205) 759-3649
Limestone County Career Technical Center
505 E Sanderfer Rd, Athens, AL 35611, United States
(256) 233-6463
South Baldwin Center for Technology
19200 Carolina St, Robertsdale, AL 36567, United States
(251) 947-5041
Lawrence County Career Technical Center
179 College St, Moulton, AL 35650, United States
(256) 905-2425
Become a Welder, Find a School >
Salary
According to the Bureau of Labor Statistics, the median annual wage for this profession in the United States was $44,190 as of May 2020, but salaries range between less than $30,640 and more than $66,250 depending on a number of factors, including region, experience level, and industry.
The top-paying industry for this profession is the scheduled air transportation field- an industry that hires very few welders but pays them, on average, $92,230 per year.
Above-average salaries were also reported by welders who worked in natural gas distribution, in the sector of electrical power generation, transmission, and distribution, or for manufacturers of petroleum and coal products.
However, job openings in these top-paying industries don't occur very often and you may need special skills and certifications to be eligible for employment in these sectors.
Salaries for welders are also influenced by the region and the local economy.
In the State of Alabama, welders were remunerated $40,599 per year, on average.
Wages vary depending on experience level, city, and a variety of other factors but if you're an experienced worker who's willing to keep up with the latest technological advancements in the field, you can make a decent living by practicing this profession.
The table below will provide you with more information about salary prospects for welders in the top 10 Alabama cities.
Annual Salary Range:
Average Salary of Welders in Welding Schools In Alabama
| City Name | Salary |
| --- | --- |
| Birmingham | $41,024 |
| Montgomery | $38,857 |
| Mobile | $40,109 |
| Huntsville | $40,989 |
| Tuscaloosa | $40,622 |
| Dothan | $38,281 |
| Decatur | $39,736 |
| Auburn | $39,103 |
| Gadsden | $40,660 |
| Madison | $40,989 |
Welding Schools by City