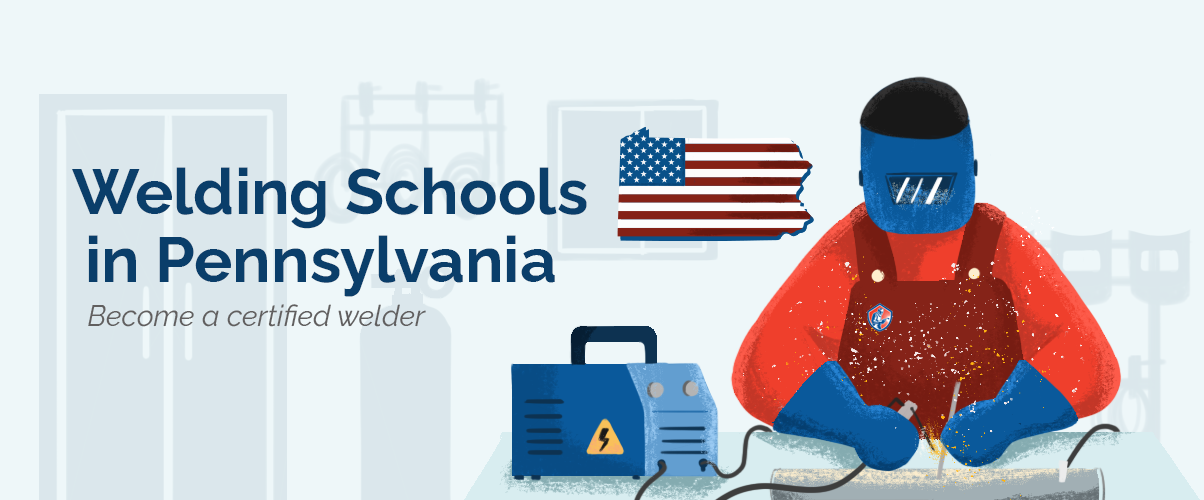 One of the U.S. states with the highest employment level for welders and plenty of welding schools, Pennsylvania is a good place to start a welding career.
If you're passionate about building and fixing things made of metal, learning how to correctly weld can help you start a lucrative and rewarding career.
What Does a Welder Do?
The short definition is that welder assemble pieces of metal together and repair damaged objects that are made of metal using machinery that emits high heat.
According to the Bureau of Labor Statistics(BLS), the biggest employer for welders, cutters, solderers, and brazers were metal manufacturers, specialty trade contractors, and repair and maintenance businesses.
Some welders start their own businesses after getting a few years of experience working in a shop or factory.
Read further to find out more about the welder's job description, employment prospects, and training options.
Job Prospects
Employment for this profession is projected to grow by 3 percent from 2019 to 2029, with most job openings occurring on infrastructure repair and rebuild projects, according to BLS.
Welders who have completed post-secondary training and/or hold a certificate offered by the American Welding Society are expected to have the best employment prospects.
How to Become a Welder
Although some employers may hire welders with no formal education in the field and train them on the job, a diploma or certificate in the field will give you better prospects.
If you want to become a certified welder, there are several steps you need to follow:
Get your high-school diploma or GED- many trade schools accept only candidates who have a high school diploma or equivalent but it's best to double-check.
Find the right training program
Learn and practice for the welding certification testing offered by the American Welding Society
From trade schools to community colleges, there are many places where you can learn how to weld in Pennsylvania.
Although curriculum varies depending on the institution, a good welding school or apprenticeship program will usually teach you all the important skills you need in this career, such as:
Reading and understanding blueprints
How to weld metal parts, fix things, and fill holes using specialized equipment- depending on the school you choose you may learn one or more welding techniques.
How to calculate the dimensions of the parts that will be welded together
How to make sure that the welding is correctly done
How to maintain the equipment
How to follow safety procedures
Training programs last between 7 months and 2 years depending on the type of program and the curriculum.
Costs vary between less than $5,000 and more than $15,000 depending on the duration of the program and the type of credential it offers.
Some schools charge lower tuition rates for in-state students and it's best to check all your options before deciding where to enroll.
In the table below we have compiled information about welding programs that are available in Pennsylvania.
To make sure that the program is recognized by employers in your area, you should also make sure that the program includes a significant portion of hands-on training and is accredited by government institutes.
40 Welding Schools in Welding Schools In Pennsylvania
Welder Training & Testing Institute
729 E Highland St, Allentown, PA 18109
610-437-9720
Institute of Welding
5739 W 26th St, Erie, PA 16506
855-773-0758
Industrial Training & Testing Institute
2251 Fraley St, Philadelphia, PA 19137
215-744-1008
Triangle Tech
3184 Airport Rd, Bethlehem, PA 18017
610-266-2910
New Castle School of Trades
4117 Pulaski Rd, New Castle, PA 16101
724-964-8811
Triangle Tech
1940 Perrysville Ave, Pittsburgh, PA 15214
412-359-1000
Precision Manufacturing Institute
764 Bessemer St # 105, Meadville, PA 16335
814-333-2415
New Castle School of Trades - Satellite Location
4164 US-422, Pulaski, PA 16143
800-837-8299
Rosedale Technical College
215 Beecham Dr, Pittsburgh, PA 15205
800-521-6262
Lancaster County Career & Technology Center
1730 Hans Herr Dr, Willow Street, PA 17584
717-464-7050
Regional Career & Technical Center
8500 Oliver Rd, Erie, PA 16509
814-464-8601
Berks Career and Technology Center West Campus
1057 County Rd, Leesport, PA 19533
610-374-4073
Greater Altoona Career & Technology Center
1500 4th Ave, Altoona, PA 16602
814-946-8450
Lincoln Technical Institute
9191 Torresdale Ave, Philadelphia, PA 19136
215-335-0800
Erie Institute of Technology
940 Millcreek Mall, Erie, PA 16565
814-868-9900
Middle Bucks Institute of Technology
2740 York Rd., Jamison, PA 18929
215-343-2480
Penn Commercial Business/Technical School
242 Oak Spring Rd, Washington, PA 15301
724-222-5330
Johnson College
3427 N Main Ave, Scranton, PA 18508
800-293-9675
Philadelphia Technician Training Institute - Main Campus
1901 W Girard Ave, Philadelphia, PA 19130
215-381-9403
Carbon Career & Technical Institute
150 W 13th St, Jim Thorpe, PA 18229
570-325-3682
Northern Tier Career Center
120 Career Center Ln, Towanda, PA 18848
570-265-8111
Monroe Career & Technical Institute
194 Laurel Lake Rd, Bartonsville, PA 18321
570-629-2001
Somerset County Technology Center
281 Technology Dr, Somerset, PA 15501
814-443-3651
Laurel Business Institute
11 E Penn St, Uniontown, PA 15401
724-439-4900
Greater Johnstown Career and Technology Center
445 Schoolhouse Rd, Johnstown, PA 15904
814-266-6073
Laurel Technical Institute Sharon Satellite
200 Sterling Ave, Sharon, PA 16146
724-983-0700
Upper Bucks County Technical School
3115 Ridge Rd, Perkasie, PA 18944
215-795-2911
Lebanon County Career & Tech
833 Metro Dr, Lebanon, PA 17042
717-273-8551
Dauphin County Technical School
6001 Locust Ln, Harrisburg, PA 17109
717-652-3170
Mon Valley Career & Technology Center
5 Guttman Ave, Charleroi, PA 15022
724-489-9581
Philadelphia Technician Training Institute
7446 Ogontz Ave, Philadelphia, PA 19138
215-381-9403
York County School-Technology
8 W King St, York, PA 17401
717-650-2894
Cumberland-Perry Area Vocational Technical School
110 Old Willow Mill Rd, Mechanicsburg, PA 17050
717-697-0354
Bethlehem Area Vocational-Technical School
3300 Chester Ave, Bethlehem, PA 18020
610-866-8013
Eastern Westmoreland CTC
4904 PA-982, Latrobe, PA 15650
724-539-9788
Western Area Career & Technology Center
688 Western Ave, Canonsburg, PA 15317
724-746-2890
Susquehanna County Career & Technology Center
2380 Elk Lake School Rd, Springville, PA 18844
570-278-9229
Berks Career & Technology Center - East Campus
3307 Friedensburg Rd, Oley, PA 19547
610-374-4073
Steel Center for Career and Technical Education
565 N Lewis Run Rd, Jefferson Hills, PA 15025
412-469-3200
Pennco Tech
3815 Otter St, Bristol, PA 19007
215-785-0111
Become a Welder, Find a School >
Employment Opportunities for Welders
As a welder in Pennsylvania, you can find employment in a variety of different fields, such as:
Fabricated metal manufacturing
Machinery manufacturing
Fabricated metal product manufacturing
Motor vehicle body and trailer manufacturing
Foundation, structure, and building exterior contractors
Ship and boat building
Railroad rolling stock manufacturing
Welders in Pennsylvania
According to the Bureau of Labor Statistics, Pennsylvania is the state with the third-highest employment levels for welders, cutters, solderers, and brazers.
The average annual wage for workers in these professions in Pennsylvania was $46,870- a little higher than the national average.
The same source estimates the average annual wage reported across all occupations in Pennsylvania at $53,950.
Salaries for welders are also determined by their experience level, education, skills, the industry of employment, among other factors.
According to salary.com, the median annual wage for Pennsylvania welders with less than 3 years of experience is $43,242 as of April 2021- lower than the state average but salaries increase as welders become more experienced and earn additional certifications.
As an entry-level welder, you can make anywhere between less than $34,000 and more than $55,000.
Earning a post-secondary degree or certificate can help improve your starting salary.
The same report calculates the median annual salary for welders with 3-5 years of experience at $49,943 with wages ranging between less than $39,000 and more than $62,000 depending on other factors, including the industry of employment and the level of education.
Welders with 5-7 years of experience reportedly earn $60,482 on average.
The lowest 10 percent of experienced welders reportedly made less than $46,163 while the highest 10 percent made more than $78,433.
Salaries for welders vary widely depending on the city of employment and the local economy.
Salary.com estimates the annual salary reported by mid-level welders in Erie at less than $46,000 while those in Philadelphia made more than $53,000.
In conclusion, relocating to a different city may improve your earning prospects.
Annual Salary Range:
Average Salary of Welders in Welding Schools In Pennsylvania
| City Name | Salary |
| --- | --- |
| Philadelphia | $53,112 |
| Pittsburgh | $48,838 |
| Allentown | $49,968 |
| Erie | $45,799 |
| Reading | $49,322 |
| Scranton | $45,764 |
| Bethlehem | $49,968 |
| State College | $46,408 |
| Williamsport | $47,164 |
| York | $48,357 |
Welding Schools by City