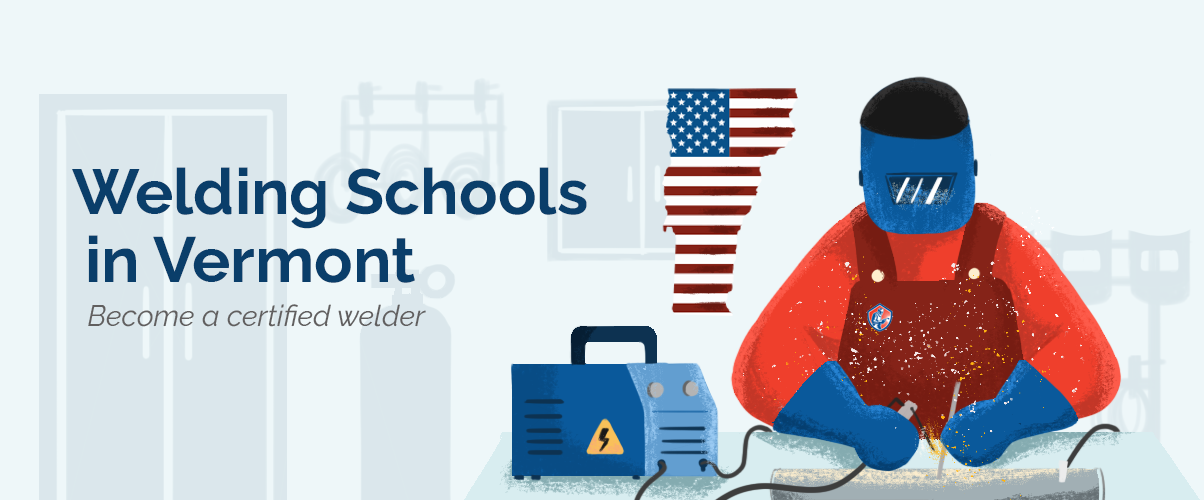 Good welders are in high demand in the United States in construction, factories, as well as infrastructure projects.
The projected growth rate for this profession is 3 percent in the next 10 years, according to the Bureau of Labor Statistics.
If you're located in Vermont and you want to start a career in welding, we invite your read-on for more information about how to get there.
Job Description
Job descriptions for welders vary depending on the employer, the industry of employment, and their experience level.
Welders are usually responsible for:
Joining metals and other materials using welding equipment
Reading blueprints
Starting power supplies
Monitoring the welding process
Maintaining equipment
Calculating the dimensions of the parts that will be welded together
Evaluating the final product to make sure the welding is correctly done
Education Requirements
If you want to become a welder in the state of Vermont, in order to improve your employment prospects the first step is to become certified by the American Welding Society.
This credential will prove to potential employers that you have the required skills and knowledge needed for this profession.
AWS offers different types and levels of certification.
Certified Welder- this is the basic certification
Certified Associate Welding Inspector
Certified Welding Inspector
Senior Certified Welding Inspector
Certified Welding Educator
Certified Resistance Welding Technician
Certified Radiographic Interpreter
Certified Welding Supervisor
Certified Welding Sales Representative
Certified Welding Engineer
Certified Robotic Arc Welding
The type of certification employers usually required is basic certification.
To earn this credential you will have to prove that you know the procedures used in welding across different industries: structural steel, sheet metal, chemical refinery welding, and petroleum pipelines.
The way to prove this is by taking a test at a facility accredited by the American Welders Society.
The application fee for the Certified Welder exam is $50.
Welding Schools Vermont
Before applying for certification you will need to learn the skills needed for this profession through post-secondary education.
Welding classes are available at many trade schools in different regions of Vermont so it shouldn't be hard to find one near you.
Tuition costs vary between several thousand and more than $15,000 but many schools offer lower costs for in-state students so it's best to check all your options before signing up for a course.
11 Welding Schools in Welding Schools In Vermont
Advanced Welding Institute
2 Green Tree Dr #03, South Burlington, VT 05403
802-660-0600
Stafford Technical Center
22 Stratton Rd, Rutland, VT 05701
802-770-1033
Green Mountain Tech & Career
738 VT-15, Hyde Park, VT 05655
802-888-4447
Burlington Technical Center
52 Institute Rd, Burlington, VT 05408
802-864-8426
Center for Technology, Essex
2 Educational Dr, Essex Junction, VT 05452
802-879-5558
Hartford Area Career and Technology Center
1 Gifford Rd, White River Junction, VT 05001
802-295-8630
River Valley Technical Center
307 South St, Springfield, VT 05156
802-885-8300
Central Vermont Career Center
155 Ayers St #2, Barre, VT 05641
802-476-6237
Windham Regional Career Center
80 Atwood St, Brattleboro, VT 05301
802-257-7335
Vermont Technical College
124 Admin Dr, Randolph Center, VT 05061
802-728-1000
Vermont Adult Career & Technical Ed
80 Atwood St, Guilford, VT 05301
802-451-3965
Become a Welder, Find a School >
Welder in Vermont
According to the Bureau of Labor Statistics, the average annual wage in Vermont is $53,420 as of May 2020.
The median annual wage for Vermont welders, cutters, solderers, and brazers is $44,610.
Manufacturers are one of the biggest employers for welders.
In Vermont, manufacturers account for 9.24 percent of the state's total output and employ approximately 9.91 of the state's total workforce, according to the National Association of Manufacturers
The total output for all manufacturers was approximately $3.14 Billion in 2019.
The industry of fabricated metal products manufacturing accounts for approximately $364 Million of the state's total output.
The total output was $161.7 Million for manufacturers of metal products.
According to the Bureau of Labor Statistics, manufacturers of metal products, motor vehicle, and parts manufacturers, and machinery manufacturers are some of the biggest employers for welders.
Salaries for Welders in Vermont
According to salary.com, the median annual wage for Vermont welders with less than 3 years of experience is $41,726 as of April 2021.
The median salary shows us that half of all workers in this profession earned less than this amount while half earned more.
This is lower than the state average but salaries increase as welders become more experienced and earn additional certifications.
As an entry-level welder, you can make anywhere between less than $34,000 and more than $53,000.
Earning a post-secondary degree or certificate and learning multiple welding techniques can improve your starting salary.
The same report calculates the median annual salary for welders with 3-5 years of experience at $48,192 with wages ranging between less than $38,000 and more than $60,000 depending on other factors, including the industry of employment and the level of education.
Welders with 5-7 years of experience reportedly earn $58,361 per year on average.
The lowest 10 percent of experienced welders reportedly made less than $44,544 while the highest 10 percent made more than $75,682.
Annual Salary Range:
Average Salary of Welders in Welding Schools In Vermont
| City Name | Salary |
| --- | --- |
| Burlington | $48,823 |
| Essex | $48,823 |
| Rutland | $49,262 |
| Colchester | $48,823 |
| South Burlington | $48,823 |
| Bennington | $50,110 |
| Barre | $48,376 |
| Essex Junction | $48,823 |
| Williston | $48,823 |
| Montpelier | $48,376 |