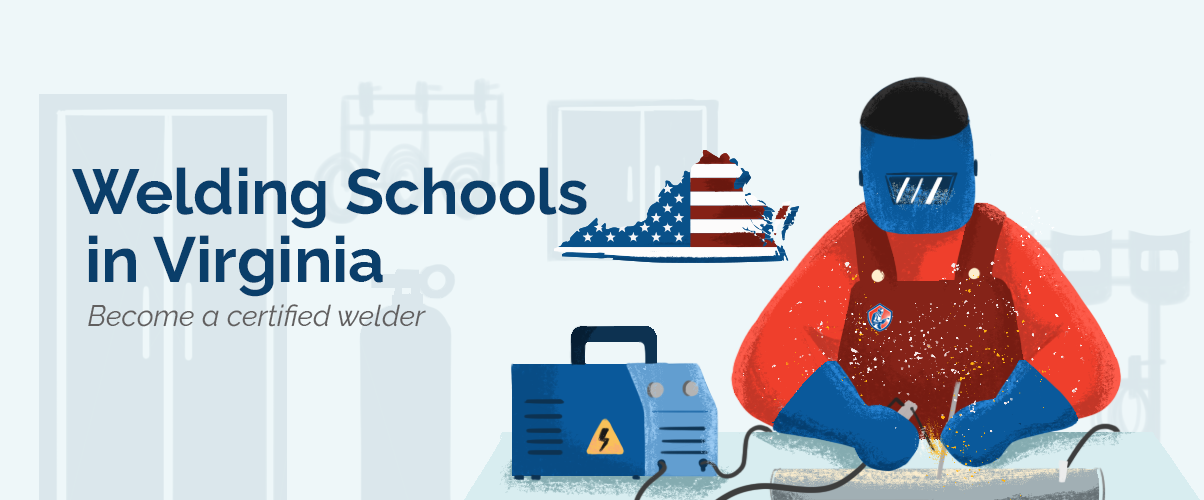 From manufacturing plants to shipbuilders and car manufacturers, many industries use pieces that are made out of metal and need good welders to join these pieces together.
If you are located in Virginia and you're contemplating the idea of starting a career in welding, on this page we have compiled relevant information about this career path and what you should expect on your journey and future profession.
How to Become a Welder
If you want to become a certified welder, there are several steps you need to follow:
Finish high school or get your GED- a high school diploma or equivalent will usually be required before admission to a trade school
Find the right training program
Learn and practice for the welding certification testing offered by the American Welding Society- this is not always a requirement but it can improve your earning prospects.
From trade schools to community colleges, there are many places where you can learn how to weld in Virginia.
Although curriculum varies depending on the institution, a good welding school will usually teach you all the important skills you need for entry-level employment as a welder, such as:
Cutting
Arc welding
Blueprint reading
Brazing
Equipment setup and operation
Safety procedures
To help you research the programs that are available in your region, in the table below we have compiled information about schools that offer welding training programs in Virginia.
47 Welding Schools in Welding Schools In Virginia
Dennis Welding School
172 Butler Ln, White Post, VA 22663
540-535-5170
Byers Technical Institute
2694 Glasgow Hwy, Buena Vista, VA 24416
540-258-1028
Advanced Technology Institute (ATI)
5700 Southern Blvd, Virginia Beach, VA 23462
757-490-1241
Tidewater Tech
4535 E Princess Anne Rd, Norfolk, VA 23502
757-858-8324
Molagik Welding Experts, LLC
5900 Thurston Ave suite c, Virginia Beach, VA 23455
757-708-2407
Virginia Technical Institute
201 Ogden Rd, Altavista, VA 24517
434-369-8200
Virginia School of Metal
102-A Industrial Dr, Troy, VA 22974
434-531-3517
Blue Ridge Technical Center
280 Luray Ave, Front Royal, VA 22630
540-635-7123
Richmond Technical Center
2020 Westwood Ave, Richmond, VA 23230
804-780-6272
Advanced Technology Institute
994 Scott St, Norfolk, VA 23502
757-490-1241
Center for Employment Training - CET Alexandria
6295 Edsall Rd #220, Alexandria, VA 22312
703-461-9767
College and Career Academy at Pruden
4169 Pruden Blvd, Suffolk, VA 23434
757-923-5254
Blue Ridge Community College Welding And Machining Lab
4915 Crowe Dr, Mt Crawford, VA 22841
540-453-0270
Virginia Beach Technical and Career Education Center
2925 N Landing Rd, Virginia Beach, VA 23456
757-648-5850
The Hanover Center for Trades and Technology
10002 Learning Ln, Mechanicsville, VA 23116
804-723-2020
Apprentice School Newport News
3101 Washington Ave, Newport News, VA 23607
757-380-3809
Job Corps Outreach & Admissions Office
10304 Spotsylvania Ave #100, Fredericksburg, VA 22408
540-322-5781
Virginia Institute of Blacksmithing
200 W 12th St, Waynesboro, VA 22980
434-960-9718
Norfolk Technical Center
1330 N Military Hwy, Norfolk, VA 23502
757-892-3300
Virginia Western Community College
3094 Colonial Ave SW, Roanoke, VA 24015
540-857-8922
Richmond Technical Center
2015 Seddon Way, Richmond, VA 23230
804-780-6272
Botetourt Technical Ed Center
253 Poor Farm Rd, Fincastle, VA 24090
540-473-8216
Centura College
7914 Midlothian Turnpike, North Chesterfield, VA 23235
804-330-0111
LFCC Workforce Solutions
173 Skirmisher Ln, Middletown, VA 22645
540-868-7021
Rowanty Technical Center
20000 Rowanty Rd, Carson, VA 23830
434-246-5741
Charlottesville Technical Center
1000 Rio Rd E, Charlottesville, VA 22901
434-973-4461
Massanutten Technical Center
325 Pleasant Valley Rd, Harrisonburg, VA 22801
540-434-5961
Northern Neck Technical Center
13946 History Land Hwy, Warsaw, VA 22572
804-333-4940
Roanoke Technical Education
220 Grandin Rd SW, Roanoke, VA 24011
540-853-2803
Chesapeake Career Center
1617 Cedar Rd, Chesapeake, VA 23322
757-547-0134
Smyth Career & Technology Center
147 Fox Valley Rd, Marion, VA 24354
276-646-8117
Central Virginia Community College
3506 Wards Rd, Lynchburg, VA 24502
434-832-7600
Thomas Nelson Community College - Hampton III Building
525 Butler Farm Rd, Hampton, VA 23666
757-825-2800
Valley Career and Technical Center
49 Hornet Rd, Fishersville, VA 22939
540-943-5511
Southside Virginia Community College
200 Daniel Rd, Keysville, VA 23947
434-736-2000
Germanna Community College
18121 Technology Dr, Culpeper, VA 22701
540-937-2900
Reynolds Community College (Goochland Campus)
1851 Dickinson Rd, Goochland, VA 23063
804-371-3000
John Tyler Community College
Nicholas Student Center, 13101 Jefferson Davis Hwy, Chester, VA 23831
804-796-4000
Virginia Highlands Community College
100 VHCC Dr, Abingdon, VA 24210
276-739-2400
Germanna Community College Fredericksburg Center for Advanced Technology
1325 Central Park Blvd, Fredericksburg, VA 22401
540-891-3012
Centura College
7020 N Military Hwy, Norfolk, VA 23518
757-853-2121
PVCC Workforce Services
600 College Dr, Charlottesville, VA 22902
434-961-5354
Adult and Community Education
6815 Edsall Rd, Springfield, VA 22151
703-658-1201
Aviation Institute of Maintenance
2329 E Little Creek Rd, Norfolk, VA 23518
757-363-2121
Neff Vocational Center
255 Stanley St, Abingdon, VA 24210
276-739-3100
Aviation Institute of Maintenance
10640 Davidson Pl, Manassas, VA 20109
703-257-5515
Tidewater Community College Regional Automotive Center
600 Innovation Dr, Chesapeake, VA 23320
757-822-5000
Become a Welder, Find a School >
Welders in Virginia
According to the Bureau of Labor Statistics, the average annual wage in Virginia is $60,160 as of May 2020.
The median wage for Virginia welders, cutters, solderers, and brazers is $48,720 per year.
Manufacturers are one of the biggest employers for welders and in Virginia, there are many manufacturers who can offer you a job.
Manufacturers in Virginia account for $8.21 percent of the state's total output and employs approximately 5.97% of the state's total workforce, according to the National Association of Manufacturers
The total output for all manufacturers was approximately $45.72 Billion in 2019.
The industry of fabricated metal products manufacturing accounts for approximately $2.4 Billion of the state's total output.
The total output was $1.8 Billion for manufacturers of motor vehicles and parts and $1.8 Billion for machinery manufacturers.
According to the Bureau of Labor Statistics, manufacturers of metal products, motor vehicle, and parts manufacturers, and machinery manufacturers are some of the biggest employers for welders.
As a welder in Virginia, your job prospects are looking good especially if you an experienced welder who has completed some post-secondary training.
Salaries for Welders in Virginia
According to salary.com, the median annual wage for Virginia welders with less than 3 years of experience is $43,069 as of April 2021, which means that half of all entry-level welders earned less than this amount while half earned more.
This is lower than the state average but salaries increase as welders become more experienced and earn additional certifications.
As an entry-level welder, you can make anywhere between less than $35,000 and more than $55,000.
Earning a post-secondary degree or certificate and learning multiple welding techniques can improve your starting salary.
The same report calculates the median annual salary for welders with 3-5 years of experience at $49,743 with wages ranging between less than $39,000 and more than $61,000 depending on other factors, including the industry of employment and the level of education.
Welders with 5-7 years of experience reportedly earn $60,240 per year on average.
The lowest 10 percent of experienced welders reportedly made less than $45,978 while the highest 10 percent made more than $78,119.
Annual Salary Range:
Average Salary of Welders in Welding Schools In Virginia
| City Name | Salary |
| --- | --- |
| Virginia Beach | $47,400 |
| Norfolk | $46,686 |
| Chesapeake | $46,627 |
| Richmond | $49,473 |
| Newport News | $46,448 |
| Hampton | $46,448 |
| Alexandria | $55,194 |
| Portsmouth | $46,686 |
| Roanoke | $45,839 |
| Lynchburg | $45,669 |
Welding Schools by City