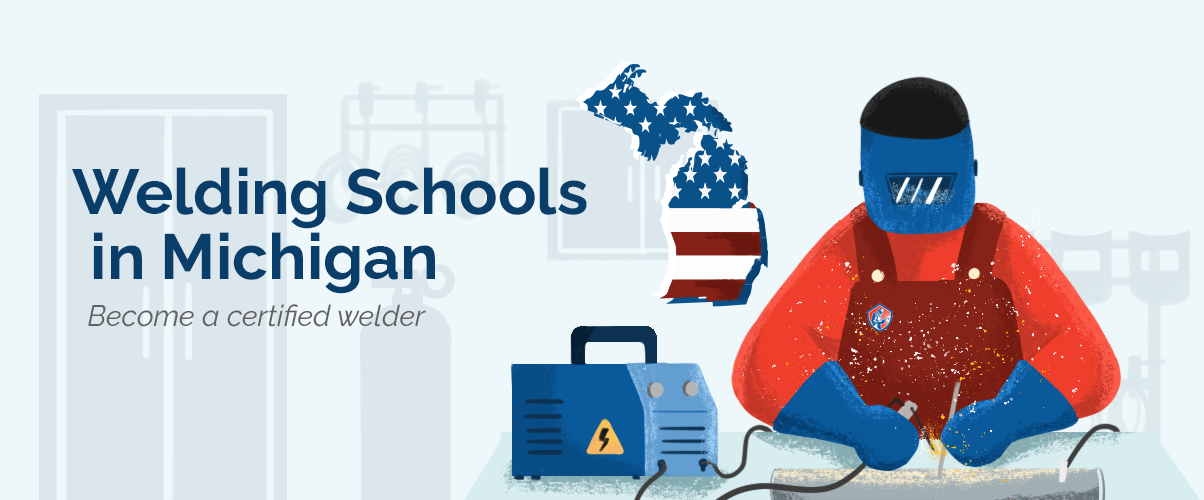 Welders join pieces of metal together and repair broken objects that are made of metal.
Because many industries use metals in their manufacturing process, this profession will continue to be needed in the future.
If you are located in Michigan and you want to explore a career in welding, on this page we have compiled information about educational alternatives, salary prospects, and what you should expect in your future profession.
What Do Welders Do?
Although this profession is very complex, a broad definition is that welders use machinery that emits high heat to join pieces of metal and repair damaged parts
The biggest employer for welders, cutters, solderers and brazers in the United States are metal manufacturers, specialty trade contractors, and businesses in the field of repair and maintenance, according to the United States Bureau of Labor Statistics.
According to the same report, approximately 5 percent of all welders were self-employed.
Before being ready to venture into your own welding business you will need to gain some experience in a factory or welding shop.
Read further to find out more about a welder's job description, employment prospects, and training options.
Job Prospects
Employment for this profession is projected to grow by 3 percent from 2019 to 2029, with most job openings occurring on infrastructure repair and rebuild projects, according to BLS.
Welders who have completed post-secondary training and have a certificate offered by the American Welding Society will have the best employment prospects.
How to Become a Welder
If you want to become a certified welder in Michigan, the first step is to finish high school because most employers, trade schools, and community colleges that offer welding training programs require a high school diploma or GED equivalent for admission.
After graduating from high school the next step is to do your research and find the right training program for you.
Most post-secondary programs are designed to prepare students for a career in welding right after graduation, covering a variety of useful topics, such as:
Cutting
Arc welding
Blueprint reading
Brazing
Equipment setup and operation
Safety procedures
Depending on the type of program and its complexity, welding programs can last between 7 months and 2 years.
Some offer only in-person classes while others combine online education with classroom training and practicum.
Costs vary between a few thousand and more than $15,000 depending on the duration of the program and the type of credential it offers.
Diploma programs usually are shorter and less expensive than programs that offer an associate's degree.
In the table below we have compiled information about educational programs for welders that are available in Michigan.
You can use this as a starting point in your research.
40 Welding Schools in Welding Schools In Michigan
Industrial Arts Institute - Northern Michigan's Premier Welding School
20902 Washington St, Onaway, MI 49765
989-733-4369
Merrill Institute
520 Republic Ave, Alma, MI 48801
989-462-0322
Detroit Training Center Inc
5151 Loraine St, Detroit, MI 48208
313-221-5876
Gratiot Technical Education
327 E Center St, Alma, MI 48801
989-466-4832
Detroit Training Institute of Technology
14701 Harper Ave, Detroit, MI 48224
313-527-9740
Greater Michigan Construction Academy
7730 W Wackerly St, Midland, MI 48642
989-832-8879
Livingston MTEC
1240 Packard Dr, Howell, MI 48843
517-548-4589
Oakland Schools Technical Campus Southeast
5055 Delemere Ave, Royal Oak, MI 48073
248-288-4020
Mott Community College
1240 Packard Dr, Howell, MI 48843
517-552-2163
MIAT College of Technology Canton
2955 Haggerty Rd, Canton, MI 48188
800-447-1310
Muskegon Area Career Tech Center
200 Harvey St, Muskegon, MI 49442
231-767-3600
RMTC
405 Hill Brady Rd, Battle Creek, MI 49037
269-965-3931
Greater Michigan Construction Academy
2775 Shattuck Rd, Saginaw, MI 48603
989-832-8879
Iron Workers Training Center
50490 Pontiac Trail, Wixom, MI 48393
248-960-2130
Allegan County Area Technical & Education Center
2891 116th Ave, Allegan, MI 49010
269-512-7800
GRCC Leslie E. Tassell M-TEC
622 Godfrey Ave SW, Grand Rapids, MI 49503
616-234-3800
Oakland Schools Technical Campuses (OSTC), Southwest
1000 Beck Rd, Wixom, MI 48393
248-668-5600
William D. Ford Career-Technical Center
36455 Marquette St, Westland, MI 48185
734-419-2100
LISD Tech Center
1372 N Main St, Adrian, MI 49221
517-263-2108
SEMCA South East Michigan Construction Academy
31800 Sherman Ave, Madison Heights, MI 48071
248-298-3600
Oakland Schools Technical Campus Northeast
1371 N Perry St, Pontiac, MI 48340
248-451-2700
Newaygo County Career Tech Center
4645 W 48th St, Fremont, MI 49412
231-924-0380
Genesee Career Institute
5081 Torrey Rd, Flint, MI 48507
810-591-4462
Jackson Area Career Center
6800 Browns Lake Rd, Jackson, MI 49201
517-768-5200
Technical Skills Institute
7900 Beech Daly Rd, Taylor, MI 48180
313-357-2456
Kent Career Technical Center
1655 E Beltline Ave NE, Grand Rapids, MI 49525
616-364-8421
Pipefitters Industry Training Center
636 Executive Dr, Troy, MI 48083
248-585-0636
Northwestern Technological Institute
24800 Northwestern Hwy, Southfield, MI 48075
248-358-4006
Tuscola Technology Center
1401 Cleaver Rd, Caro, MI 48723
989-673-5300
American Welding Society - Detroit Section
34209 Grove Dr, Livonia, MI 48154
586-276-7491
Michigan Laborers Training and Apprenticeship Institute
11155 Beardslee Rd, Perry, MI 48872
517-625-4919
Careerline Tech Center
13663 Port Sheldon St, Holland, MI 49424
616-738-8950
Oakland Schools Technical Campus Northwest
8211 Big Lake Rd, Village of Clarkston, MI 48346
248-922-5800
Kellogg Community College Tech Center
540 Hill Brady Rd, Battle Creek, MI 49037
269-565-2828
Michigan Laborers Training (MLTAI)
211 Hilltop Rd, St Joseph, MI 49085
517-625-4919
A. Philip Randolph Career and Technical Center
17101 Hubbell Ave, Detroit, MI 48235
313-494-7100
Kirtland Community College - Gaylord
80 Livingston Blvd, Gaylord, MI 49735
989-705-3600
Michigan Career & Technical Institute
11611 W Pine Lake Rd, Plainwell, MI 49080
269-664-4461
Thompson M-TEC
6364 136th Ave, Holland, MI 49424
616-738-8935
Saginaw Career Complex
2102 Weiss St, Saginaw, MI 48602
989-399-6150
Become a Welder, Find a School >
After earning your diploma or degree, a thing that will help you in your career is to sit for the welding certification testing offered by the American Welding Society.
Welders in Michigan
According to the Bureau of Labor Statistics, the biggest employer for welders is the field of fabricated metal product manufacturing, machinery manufacturers, and manufacturers of fabricated metal products.
The manufacturing industry in Michigan accounts for 18.55% percent of the state's total output, according to the National Association of Manufacturers, and employs 14.32% of Michigan's total workforce.
Fabricators of motor vehicle parts are the biggest manufacturers in Michigan, followed by machinery manufacturers, and fabricators of metal products.
BLS lists Detroit-Warren-Dearborn, MI as one of the metropolitan areas with the highest employment level for welders, cutters, solderers, and brazers.
In this region, the average hourly wage for workers in these professions was $21.34 summing up to $44,490 per year.
Salaries for welders in Michigan vary widely depending on experience level.
The median annual wage for entry-level welders is $43,363 as of April 2021, according to salary.com
Salaries for welders with less than three years of experience vary between less than $35,000 and more than $55,000.
Mid-level welders in Michigan reported salaries that averaged at $50,084, with salaries ranging between less than $40,000 and more than $62,000.
Most experienced welders earned between $46,000 and $78,000 with the median calculated at $60,652.
Salaries also vary depending on the city and the local economy and below we have compiled salary information from some of the top Michigan cities as reported by salary.com for the month of May 2021.
Annual Salary Range:
Average Salary of Welders in Welding Schools In Michigan
| City Name | Salary |
| --- | --- |
| Detroit | $50,430 |
| Grand Rapids | $48,084 |
| Warren | $50,430 |
| Flint | $46,217 |
| Sterling Heights | $50,271 |
| Lansing | $47,995 |
| Ann Arbor | $51,163 |
| Livonia | $50,271 |
| Dearborn | $50,430 |
| Westland | $50,598 |
Welding Schools by City