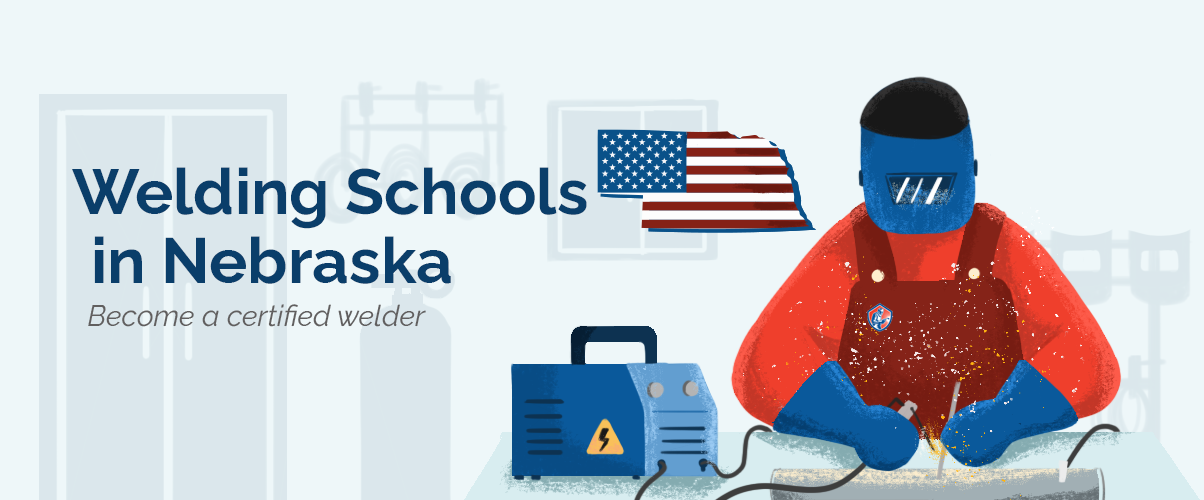 On this page, you will find out more about the welding profession and its future in the state of Nebraska.
This page is designed for recent high school graduates who are contemplating a career in welding but also for those who want to change jobs or to learn a new skill.
According to the United States Bureau of Labor Statistics, the welding profession is projected to grow in the future.
If you want to start a career in trades and you are willing to find out more about different types of metals and welding techniques, this profession can both financially and professionally rewarding.
What Does a Welder Do?
In our day and age, welding is becoming increasingly complex but the short definition is that welders assemble and fix pieces of metal using high heat.
In their work welders use specialized machinery and protective equipment.
Welding is needed on a variety of different projects and welders may specialize in a specific type of materials or welding method.
Some welders assemble small pipes while other work on large construction projects, some work underwater while other work on building construction sites.
For this reason, it's important to know what industry you're targeting before starting to train for this profession.
Job Description and Educational Requirements
A welder's job description varies depending on the type of project but a welder's duties often include:
Reading blueprints before starting a welding project
Choose the materials for the project
Cutting materials according to specifications
Welding the materials
Making sure that the final product follows the specifications.
Welders who have a supervisory position will have additional project management responsibilities.
To be able to perform all of the above tasks welders need some personal skills, such as:
The ability to read blueprints
Knowledge of different types of metals and their properties
Knowledge of various welding techniques
Communication skills
Dexterity
The ability to follow strict safety procedures
Attention to detail
Some of the above skills can be learned through post-secondary education or by taking some technical education classes in high school.
Many employers also offer on-the-job training to their new employees but graduating from a trade school will improve your employment prospects.
It's important to mention that before starting welding classes, you will usually need a high school diploma or equivalent.
Welding Schools in Nebraska
In Nebraska, there are many trade schools and community colleges that offer education programs for those who want to start a career in welding, and in order to help you choose the program that best meets your schedule, budget, and educational needs we have compiled a list below.
18 Welding Schools in Welding Schools In Nebraska
Nebraska College-Technical
404 E 7th St, Curtis, NE 69025
308-367-5207
Southeast Community College
600 S State St, Milford, NE 68405
402-761-2131
Metropolitan Community College - Applied Technology Center
10407 State St, Omaha, NE 68122
531-622-2400
Central Community College - Grand Island
3134 US-34, Grand Island, NE 68801
308-398-4222
Mid Plains Community College
601 W State Farm Rd, North Platte, NE 69101
308-535-3600
Central Community College - Hastings
550 S Technical Blvd, Hastings, NE 68901
402-463-9811
The Career Academy
8800 O St, Lincoln, NE 68520
402-325-4700
Central Community College
1501 Plum Creek Pkwy Suite 1, Lexington, NE 68850
308-324-8480
Western Nebraska Community College
1601 E 27th St, Scottsbluff, NE 69361
308-635-6700
Central Community College
1308 2nd St, Holdrege, NE 68949
308-995-8133
Mid-Plains Community College
715 US-20, Valentine, NE 69201
402-376-8033
Northeast Community College
801 E Benjamin Ave, Norfolk, NE 68701
402-371-2020
Lifelong Learning Center
601 E Benjamin Ave, Norfolk, NE 68701
800-348-9033
Central Community College
North Education Center, 4500 63rd St, Columbus, NE 68601
402-564-7132
McCook Community College
1205 E 3rd St, McCook, NE 69001
308-345-8100
Student Center
Norfolk, NE 68701
402-844-4357
Nebraska Indian Community College
1111 U.S. 75, Macy, NE 68039
402-494-2311
University of Nebraska Kearney
2504 9th Ave, Kearney, NE 68849
308-865-8441
Become a Welder, Find a School >
Before deciding where to enroll is best to check the school's curriculum and make sure that the school is accredited by the appropriate institutions and covers the topics that are relevant to the industry where you want to find employment.
Your location is another important factor that you should take into account when choosing the welding school.
There are great welding schools at various locations across Nebraska- such as Omaha, Curtis, Milford, and Grand Island- so it shouldn't be hard to find one near you.
Salaries in Nebraska
According to a report by salary.com, in April 2021 the median annual wage reported by welders with between 3 and 5 years of experience was $45,890.
The median wage is the number that splits the salary distribution in half, meaning that half of all workers in this profession with this level of experience earned less than this amount and half earned more.
How much you will make a welder in Nebraska will depend on your experience level, education, skills, region, and industry of employment.
The lowest 10 percent of all medium-level welders made less than $35,889 while the top 10 percent made more than $57,101.
The median annual wage reported by entry-level welders in Nebraska was $39,732 with salaries ranging between less than $32,000 and more than $50,000, according to salary.com
The median annual wage for experienced welders was $55,573 but the lowest 10 percent made less than $42,416 while the highest 10 percent made more than $72,067.
Salaries for Nebraska welders also vary depending on the city where you are located.
Mid-level welders in Bellevue were remunerated with $47,313, on average while those in Norfolk made $42,142 on average.
In the table below we have selected salary information for some of the biggest Nebraska cities.
Annual Salary Range:
Average Salary of Welders in Welding Schools In Nebraska
| City Name | Salary |
| --- | --- |
| Omaha | $46,877 |
| Lincoln | $46,650 |
| Bellevue | $46,877 |
| Grand Island | $46,006 |
| Kearney | $46,006 |
| Fremont | $46,178 |
| Hastings | $46,006 |
| North Platte | $44,606 |
| Norfolk | $41,753 |
Welding Schools by City