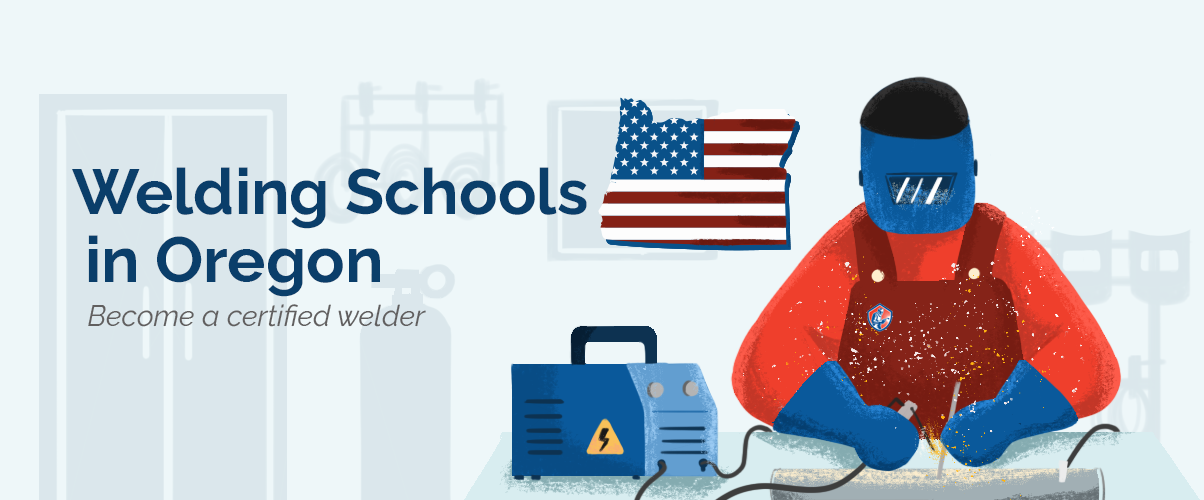 If you're located in Oregon and you're contemplating a career as a welder, we invite you to read on in order to find out more about this career path and the best trade schools that are ready to prepare you for a career as a welder.
Job Description
Although job descriptions vary depending on the industry of employment and the specialty, as a welder, you will usually be responsible for:
Reading blueprints
Igniting torches
Starting power supplies
Monitoring the welding process
Maintaining equipment
Calculating the dimensions of the parts that will be welded together
Inspecting the final product and fixing any imperfections
As a welder, you will earn around $20 an hour.
Of course, if you are a top welder who works for a big company, you can earn twice as that.
If you want to become a welder in Oregon, you have a couple of options.
You can enroll in a certification program where you will learn the trade in a systematic way, or, if you prefer the hands-on approach, you can enter an apprenticeship and you will learn to weld and solve welding problems under the supervision of an experienced welder.
Occupational Hazards and Safety Issues
Welding can be dangerous and welders need to follow very strict safety procedures to avoid injury.
One of the most important risks welders face every day is the risk of burns.
To avoid them, welders use leather gloves and jackets with long sleeves.
The brightness of the weld may cause inflammation of the eye and in order to avoid this, welders use special helmets.
Depending on the materials they work with, welders may also be exposed to dangerous gases and there is also a risk of electrical shocks.
Career Path
The first step towards a welding career is finishing high school.
Taking some technical education classes such as blueprint reading, shop classes, or technical drawing will prove very useful.
After earning your high school diploma or GED equivalent, the next step is to enroll at a trade school or community college that offers welding training classes.
Welding training usually covers a variety of topics, such as mathematics, metallurgy, blueprint reading, pipe layout, and most programs also include a welding practicum where you learn a variety of welding techniques, such as:
Arc welding
MIG welding
TIG welding
Hyperbaric welding
Pipeline Welding
Pipe-Fitting
Depending on the school and the program you may learn only one basic technique or several advanced welding techniques.
Costs also vary depending on the school you choose but usually range between a few thousand and more than $15,000.
You will also have to pay an application fee and a testing fee.
If the school you choose is located in a different part of Oregon you should also take into account housing and travel costs.
Some employers may be willing to hire inexperienced workers and prepare them through on-the-job training or cover the costs of training.
Even if you graduate from a welding program, once you get a job you will also complete an on-the-job training period to learn the specifics of the industry and the position.
There are also certification programs available for welders.
Becoming certified can improve your employment and earning prospects.
Employers usually prefer to hire welders who have a basic AWS Certified Welder certification.
This credential can be earned after passing an exam offered at one of AWS's accredited testing facilities.
Certified welders need to participate in continuing education classes in order to keep this credential.
19 Welding Schools in Welding Schools In Oregon
R&S Welding Mentors LLC
1750 Oxford St SE, Salem, OR 97302
503-884-3277
Northwest College of Construction
8111 NE Holman St, Portland, OR 97218
503-256-7300
Chemeketa Applied Technology Building
20, 4000 Lancaster Dr NE, Salem, OR 97305
503-399-5000
Central Oregon Community College - Redmond Campus
2030 SE College Loop, Redmond, OR 97756
541-504-2900
PCC Swan Island Trades Center
6400 N Cutter Cir, Portland, OR 97217
971-722-5650
Institute of Technology - Salem
4700 Silverton Rd NE, Salem, OR 97305
503-363-9001
Blue Mountain Community College
2411 NW Carden Ave, Pendleton, OR 97801
541-276-1260
Oregon Coast Community College
3788 SE High School Dr, Lincoln City, OR 97367
541-867-8501
Southwestern Oregon Community College
1988 Newmark Ave, Coos Bay, OR 97420
541-888-2525
Clatsop Community College
1651 Lexington Ave, Astoria, OR 97103
503-338-2411
Oregon Coast Community College
400 SE College Way, Newport, OR 97366
541-867-8501
Career and Technical Education Center (CTEC)
3501 Portland Rd NE, Salem, OR 97301
503-399-5511
Treasure Valley Community College
650 College Blvd, Ontario, OR 97914
541-881-8822
Southwestern Oregon Community College: Port Orford
1320 Oregon St d, Port Orford, OR 97465
541-247-2741
Linn Benton Community College
6500 Pacific Blvd SW, Albany, OR 97321
541-917-4999
Central Oregon Community College
2600 NW College Way, Bend, OR 97703
541-383-7700
Oregon Tradeswomen Inc
454 SE 187th Ave, Portland, OR 97233
503-335-8200 ext. 21
Sheet Metal Institute
2379 NE 178th Ave, Portland, OR 97230
503-257-1022
Rogue Community College - Table Rock Campus
7800 Pacific Ave, White City, OR 97503
541-956-7500
Become a Welder, Find a School >
Welders in Oregon
According to the National Association of Manufacturers, manufacturers account for 13.55% of the total output of Oregon and employ 10.10% of the total workforce.
The Bureau of Labor Statistics reports that welders, cutters, solderers, and brazers held approximately 438,900 jobs in the United States in 2019.
The biggest employers for welders, cutters, solderers, and brazers are specialty trade contractors, manufacturers, and the repair and maintenance field, according to BLS.
Machinery manufacturers contribute $2.1 Billion to Oregon's economy while manufacturers of fabricated metal products contribute approximately $1.7 Billion.
The estimated average annual wage across all professions for the state of Oregon was $56,880 as of May 2020, according to BLS.
According to salary.com, the median annual wage for Oregon welders with less than 3 years of experience is $43,155 as of April 2021- lower than the state average but salaries increase as welders become more experienced and earn additional certifications.
The same report calculates the median annual salary for welders with 3-5 years of experience at $49,843 with wages ranging between less than $39,000 and more than $62,000 depending on other factors, including the industry of employment and the level of education.
Welders with 5-7 years of experience reportedly earn $60,361 on average.
The lowest 10 percent of experienced welders reportedly made less than $46,070 while the highest 10 percent made more than $78,276.
As the below table shows, salaries for welders also vary depending on the city and you can improve your earning prospects by relocating to an area that offers higher salaries.
Annual Salary Range:
Average Salary of Welders in Welding Schools In Oregon
| City Name | Salary |
| --- | --- |
| Portland | $51,475 |
| Eugene | $48,352 |
| Salem | $48,822 |
| Gresham | $51,409 |
| Beaverton | $51,475 |
| Hillsboro | $51,310 |
| Medford | $47,311 |
| Springfield | $48,243 |
| Bend | $47,802 |
| Corvallis | $48,120 |
Welding Schools by City