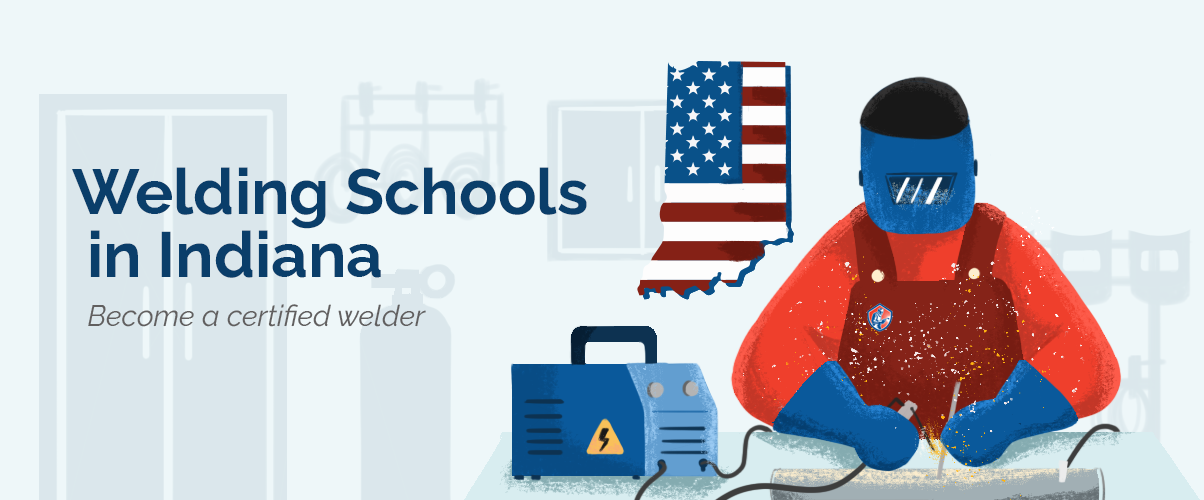 From manufacturing plants to shipbuilders and car manufacturers, many industries need good welders.
If you are located in Indiana and you're contemplating the idea of starting a career in welding, on this page we have compiled relevant information about this profession and what you should expect on your journey towards becoming a certified welder.
What Does a Welder Do?
Although this profession is very complex, the short answer is that welders assemble pieces of metal together and repair damaged objects that are made of metal using machinery that emits high heat.
According to the Bureau of Labor Statistics, the biggest employer for welders, cutters, solderers, and brazers were metal manufacturers, specialty trade contractors, and the field of repair and maintenance.
Some experienced welders start their own business after spending a few years as employees in a factory or shop.
Read further to find out more about what it means to be a welder, employment prospects in the state of Indiana, and training options.
Job Prospects
Employment for these professions is projected to grow by 3 percent from 2019 to 2029, with many job openings expected to occur on infrastructure repair and rebuild projects, according to the Bureau of Labor Statistics.
Welders who have completed post-secondary training and/or hold a certificate offered by the American Welding Society are expected to have the best employment prospects.
How to Become a Welder
If you want to become a certified welder in Indiana, there are several steps you need to follow:
Many trade schools accept only candidates who have a high school diploma so before enrolling at a trade school you should finish high school or get your GED.
Find the right training program
Take welding certification testing offered by the American Welding Society- many employers prefer to hire certified welders.
From trade schools to community colleges, there are many places where you can learn how to weld in Indiana.
A good welding school will usually teach you all the important skills you need for entry-level employment as a welder:
Reading and understanding blueprints
Welding techniques
How to calculate the dimensions that will be weld
How to make sure that the welding is correctly done
How to maintain the equipment
Safety procedures
Depending on the type of program and its complexity, welding programs can last between 7 months and 2 years.
Costs vary between less than $5,000 and more than $15,000 but some schools also scholarships for students who qualify.
In the table below we have compiled information about welding programs that are available in Indiana.
Before choosing where to enroll there are several factors you should take into account the program duration, cost, location but also your schedule and how much time you can dedicate to your studies.
To make sure that the program is recognized by employers in your area, you should also make sure that the program includes a significant portion of hands-on training and is accredited by government institutes.
20 Welding Schools in Welding Schools In Indiana
Calumet Welding Center
1947 Griffith Blvd, Griffith, IN 46319
219-923-9353
Lincoln College of Technology
7225 Winton Dr Building 128, Indianapolis, IN 46268
317-632-5553
Knight School Of Welding
2017 S 39th St, Louisville, KY 40211
502-778-9767
Starke County Initiative for Lifelong Learning (SCILL)
1300 Kloeckner Dr, Knox, IN 46534
574-772-8001
J Everett Light Career Center
1901 E 86th St, Indianapolis, IN 46240
317-259-5265
Central Nine Career Center
1999 US-31, Greenwood, IN 46143
317-888-4401
Kokomo Area Career Center
2415 S Berkley Rd, Kokomo, IN 46902
765-455-8021
Porter County Career Center
1005 Franklin St, Valparaiso, IN 46383
219-531-3170
Elkhart Area Career Center
2424 California Rd, Elkhart, IN 46514
574-262-5650
Area 30 Career Center
1 N Calbert Way Suite A, Greencastle, IN 46135
765-653-3515
Anthis Career Center
1200 S Barr St, Fort Wayne, IN 46802
260-467-1010
Impact Institute
1607 Dowling St, Kendallville, IN 46755
888-349-0250
Southern Indiana Career & Technical Center
1901 Lynch Rd, Evansville, IN 47711
812-435-8438
Ivy Tech Community College Lafayette
3101 S Creasy Ln, Lafayette, IN 47905
765-269-5000
Prosser Career Education Cente
4202 Charlestown Rd, New Albany, IN 47150
812-542-8508
Southeastern Career Center
901 US-50, Versailles, IN 47042
812-689-6730
Blue River Career Programs
801 St Joseph St, Shelbyville, IN 46176
317-392-4191
Heartland Career Center Inc
79 S 200 W, Wabash, IN 46992
260-563-7481
Hammond Area Career Center
5727 Sohl Ave, Hammond, IN 46320
219-933-2428
Illinois Welding School
1315 Enterprise Dr, Romeoville, IL 60446
630-679-0566
Become a Welder, Find a School >
Salaries in Indiana
According to the Bureau of Labor Statistics, the Elkhart-Goshen area in Indiana is the metropolitan area with the highest concentration of jobs for welders, cutters, solderers, and brazers.
In this region, the median annual wage reported by welders was $40,160.
Salaries for Indiana welders vary widely depending on experience level and a variety of other factors.
According to salary.com, the median annual wage reported by welders with less than 3 years of experience was $43,329- lower than the average for this state.
Salaries for this level of experience vary between less than $35,000 and more than $55,000 depending on many other factors.
The same report states that the median annual wage reported by welders with between 3-5 years of experience was $50,043 with salaries ranging between less than $40,000 and more than $62,000.
Salaries grow after earning a few years of experience and as a welder with more than 5 years of experience, you can make anywhere between less than $47,000 and more than $78,000.
The median salary for experienced welders was calculated at $60,603 which means that half of all workers in this profession made less than this amount while half earned more.
The Bureau of Labor Statistics reports that in Indiana, the median wage across all occupations was $48,650.
In conclusion, as an entry-level welder, your earnings will most likely be lower than the state average but your salary with increase gradually as you earn more experience.
Wages also vary depending on the city and the local economy and below we have compiled information about the average salaries reported by mid-level welders in the top 10 cities in Indiana.
Annual Salary Range:
Average Salary of Welders in Welding Schools In Indiana
| City Name | Salary |
| --- | --- |
| Indianapolis | $48,692 |
| Fort Wayne | $46,686 |
| Evansville | $47,300 |
| South Bend | $47,186 |
| Gary | $50,380 |
| Hammond | $50,380 |
| Bloomington | $46,097 |
| Muncie | $46,160 |
| Anderson | $46,340 |
| Terre Haute | $45,945 |
Welding Schools by City