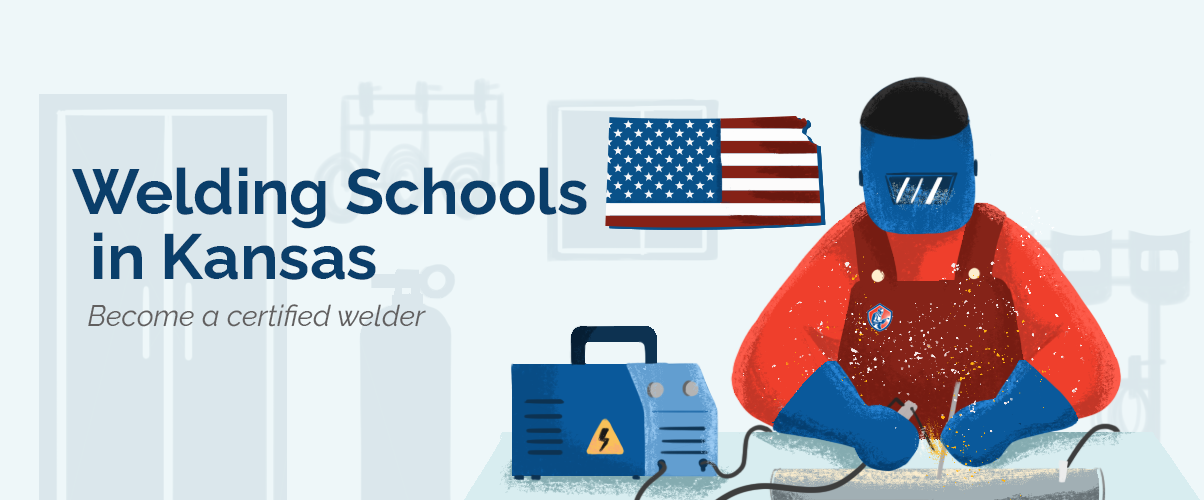 From manufacturing plants to shipbuilders, car factories, and repair shops, many industries use pieces that are made out of metal in their manufacturing process and need good welders to join these pieces together.
If you are located in Kansas and you're contemplating the idea of starting a career in welding, on this page we have compiled relevant information about what you will expect in your future profession.
What Does a Welder Do?
Welders join pieces of metal and repair damaged objects that are made of metal using special machinery that emits high heat.
The biggest employer for welders, cutters, solderers and brazers are metal manufacturers, specialty trade contractors, and in the field of repair and maintenance, according to the Bureau of Labor Statistics.
After spending a few years as employees in a factory or shop some welders go on to start their own business.
The Bureau of Labor Statistics estimates the level of self-employment among welders at 5 percent.
However, before venturing on your own it's best to gain some experience in a factory or welding shop.
Read further to find out more about the welder's job description, employment prospects, and training options.
Job Prospects
Employment welders, cutters, solderers, and brazers are projected to grow by 3 percent from 2019 to 2029, according to BLS.
As the nation's infrastructure is aging, many new job openings are expected to occur on infrastructure repair and rebuild projects.
Competition for some well-paid positions is expected to be strong and welders who have completed post-secondary training and/or hold a certificate offered by the American Welding Society will have the best employment prospects.
How to Become a Welder
If you want to become a certified welder in Kansas, there are several steps you need to follow:
Finish high school or get your GED- a high school diploma or equivalent will usually be required before admission to a trade school
Research the training programs that are available in your region and apply for the program that suits you best
Learn and practice for the welding certification testing offered by the American Welding Society
From trade schools to community colleges, there are many places where you can learn how to weld in Kansas.
These programs are usually designed to teach you all the basic things you need to know, covering a variety of useful topics, such as:
Cutting
Arc welding
Blueprint reading
Brazing
Equipment setup and operation
Safety procedures
Welding programs can last between 7 months and 2 years depending on the type of program and the curriculum.
Some offer only in-person classes while others combine online education with classroom training and practicum.
Costs vary between less than $5,000 and more than $15,000 depending on the duration of the program and the type of credential it offers.
For example, diploma programs usually are shorter and less expensive than programs that offer an associate's degree.
Many schools offer lower tuition rates for in-state students.
In the table below we have compiled information about educational programs that are available in Kansas.
Before choosing where to enroll there are several factors you should take into account, including the program duration, cost, and location.
23 Welding Schools in Welding Schools In Kansas
Heartland Welding Academy
338 S Ida St, Wichita, KS 67211
316-776-5246
Kansas City Kansas Community College Technical Education Center
6565 State Ave, Kansas City, KS 66102
913-288-7800
Olathe Advanced Technical Center
611 N Nelson Rd, Olathe, KS 66061
913-780-7026
Wichita Technical Institute
2051 S Meridian Ave, Wichita, KS 67213
316-347-8707
Plumbers & Pipefitters Apprenticeship Training of Kansas
1330 E 1st St N # 110, Wichita, KS 67214
316-267-8508
The Dwayne Peaslee Technical Training Center
2920 Haskell Ave STE 100, Lawrence, KS 66046
785-856-1801
NCK Technical College
2205 Wheatland Ave, Hays, KS 67601
785-625-2437
WSU Tech
4004 N Webb Rd, Wichita, KS 67226
316-677-9400
Washburn Institute of Technology
5724 SW Huntoon St, Topeka, KS 66604
785-670-2010
Manual Career Tech Center
1215 E Truman Rd, Kansas City, MO 64106
816-418-5200
NCK Technical College
3033 US-24, Beloit, KS 67420
785-738-2276
Northland Career Center
1801 Branch St, Platte City, MO 64079
816-858-5505
WTI - Topeka
3712 SW Burlingame Rd, Topeka, KS 66609
785-414-9733
Kansas City Kansas Community College
7250 State Ave, Kansas City, KS 66112
913-334-1100
Southeast Kansas Career and Technical Education Center of Crawford County
1301 E 27th Terrace, Pittsburg, KS 66762
620-232-5644
WTI - Wichita East Campus
6130 E Central Ave #202, Wichita, KS 67208
316-226-8302
Manhattan Area Technical College
3136 Dickens Ave #2499, Manhattan, KS 66503
785-587-2800
Pinnacle Career Institute - North Kansas City
11500 N Ambassador Dr Suite 221, Kansas City, MO 64153
800-676-7912
Hutchinson Career & Technical
800 15th Cir, Hutchinson, KS 67501
620-615-4121
Salina Area Technical College
2562 Centennial Rd, Salina, KS 67401
785-309-3100
Mulvane Campus - Technical Education Center - Cowley College
201 Industrial Dr, Mulvane, KS 67110
316-777-4314
WSU Tech Old Town
213 N Mead, Wichita, KS 67202
316-677-9400
Flint Hills Technical College
3301 W 18th Ave, Emporia, KS 66801
620-343-4600
Become a Welder, Find a School >
Salary Prospects for Kansas Welders
According to the Bureau of Labor Statistics, the field with the highest level of employment for welders is manufacturers of fabricated metal products.
The same source calculates the average annual wage reported by Kansas welders is $48,610.
In Kansas, this industry is one of the top 10 manufacturing industries.
Salaries for welders in Kansas are influenced by their level of experience and the region of employment, among other factors.
Entry-level workers reportedly made $41,119 per year, on average, with salaries for this experience level ranging from less than $33,000 and more than $52,000.
This group includes welders who have between 1 and 3 years of experience and welders who have completed post-secondary education but have no experience in the field.
Even if as a beginner your salary will be lower than the state average, your wage will gradually increase after earning a few years of experience.
One way to improve your starting salary as a welder in Kansas is by earning a certificate from the American Welding Society.
This credential can be earned after passing a written and practical exam at one of the institute's accredited facilities.
Welders with between 3 and 5 years of experience reportedly made $47,491 per year, on average.
Salaries for mid-level welders vary on many other factors, including the industry of employment, the region, and the local economy.
The lowest 10 percent reportedly made less than $37,141 per year, while the top 10 percent made more than $59,094.
The median annual wage was $57,510 for welders with 5-7 years of experience with salaries ranging from less than $44,000 and more than $74,000.
Salaries for welders also vary depending on the city and the local economy and in the table below we have compiled salary information from the top 10 Kansas cities.
Annual Salary Range:
Average Salary of Welders in Welding Schools In Kansas
| City Name | Salary |
| --- | --- |
| Wichita | $48,192 |
| Overland Park | $48,953 |
| Kansas City | $49,128 |
| Topeka | $46,786 |
| Olathe | $48,819 |
| Lawrence | $47,528 |
| Shawnee | $48,953 |
| Salina | $47,691 |
| Manhattan | $46,285 |
| Hutchinson | $47,691 |
Welding Schools by City