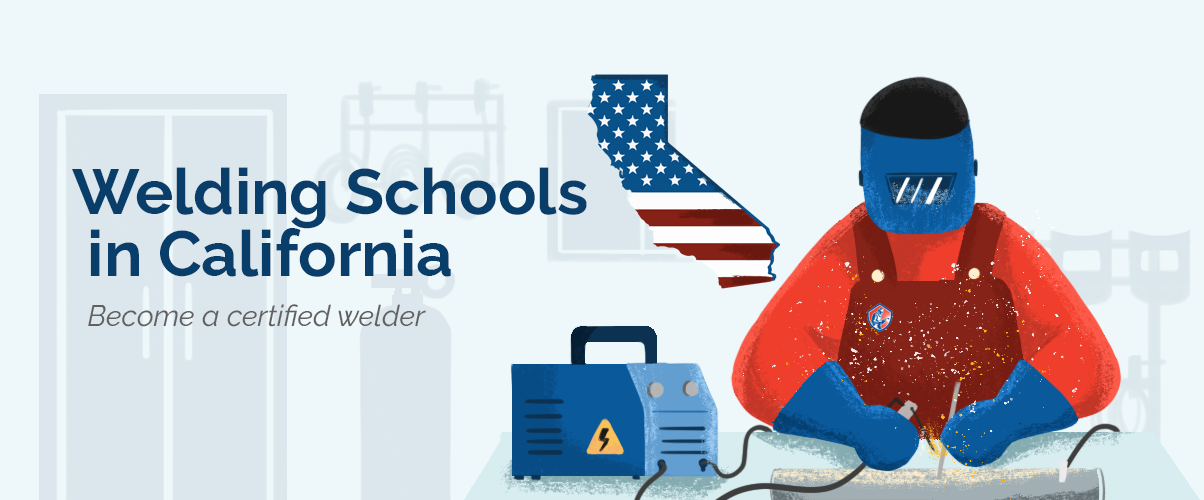 According to the Bureau of Labor Statistics, California is the U.S. state with the second-highest employment level for welders, cutters, solderers, and brazers.
If you're located in California and you're contemplating a career as a welder, we invite you to read on in order to find out more about this career path and the best trade schools that are ready to prepare you for a career as a welder.
Job Description
Although job descriptions vary depending on the industry of employment and the specialty, as a welder, you will usually be responsible for:
Reading blueprints
Igniting torches
Starting power supplies
Monitoring the welding process
Maintaining equipment
Calculating the dimensions of the parts that will be joined together
Inspecting the final product and fixing imperfections
Following safety procedures
Occupational Hazards and Safety Issues
Welding can be dangerous and welders need to follow very strict safety procedures to avoid injury.
One of the most important risks welders face every day is the risk of burns.
To avoid them, welders use leather gloves and jackets with long sleeves.
The brightness of the weld may cause inflammation of the eye and in order to avoid this, welders use special helmets.
Depending on the materials they work with, welders may also be exposed to dangerous gases and there is also a risk of electrical shocks.
Career Path
In order to become a welder in California, you have a couple of options.
You can enroll in a six-month certification program where you will learn the trade in a systematic way.
Or, if you prefer the hands-on approach, you can enter an apprenticeship and you will learn to weld and solve welding problems while working under the supervision of an experienced welder.
Regardless of the path you want to take, the first step towards a welding career is finishing high school.
Taking some technical education classes such as blueprint reading or mathematics will prove very useful.
After earning your high school diploma or GED equivalent, the next step is to enroll at a trade school or community college that offers welding training classes.
Welding training usually covers a variety of topics, such as mathematics, metallurgy, blueprint reading, pipe layout, and most programs also include a welding practicum.
The main welding techniques programs cover are:
Arc welding
MIG welding
TIG welding
Hyperbaric welding
Pipeline Welding
Pipe-Fitting
Depending on the school and the program you may learn only one basic technique or several advanced welding techniques, such as underwater welding.
Costs also vary depending on the school you choose but usually range between $5,000 and $15,000.
You will also have to pay an application fee and a testing fee.
If the school you choose is located in a different part of California you should also take into account housing costs that can vary between less than $1000 and more than $10,000 depending on the location and the program duration.
Scholarships are also available for qualifying students and apprenticeships are sometimes funded by businesses or unions so it's best to check your financial options before applying for a training program.
Welding training usually lasts between 6 months and 2 years, depending on the program you choose.
Some employers may be willing to hire inexperienced workers and prepare them through on-the-job training or cover the costs of training.
Even if you graduate from a welding program, once you get a job you will also complete an on-the-job training period to learn the specifics of the industry.
There are also certification programs available for welders.
Becoming certified can improve your employment and earning prospects.
Employers usually prefer to hire welders who have a basic AWS Certified Welder certification.
This credential can be earned after passing an exam offered at one of AWS's accredited testing facilities.
This exam consists of a written and a practical part.
In the table below we have compiled information about schools that offer training programs for future welders in the state of California.
25 Welding Schools in Welding Schools In California
Cal-Trade Welding Schools
424 Kansas Ave, Modesto, CA 95351
(209) 523-0753
Welding Skills Test & Training Center, Inc.
9216 Center Ave, Rancho Cucamonga, CA 91730
(909) 476-4149
Southern California Welding Training and Testing Center
1641 Pacific Ave #94, Oxnard, CA 93033
(805) 486-8700
California Welding Institute
32081 Corydon Rd STE A, Lake Elsinore, CA 92530
(951) 536-3809
Weld Tech Welding School
9395 Jackson Rd, Sacramento, CA 95826
(866) 452-6024
Welding Certification Center
2701 N Towne Ave unit c, Pomona, CA 91767
(909) 334-2378
CTM Welding, LLC
1345 N Dynamics St suite a, Anaheim, CA 92806
(714) 577-9353
The Fab School
9571 Pittsburgh Ave, Rancho Cucamonga, CA 91730
(877) 411-9353
CVOC Merced Welding
1741 Miles Ct, Merced, CA 95348
(209) 383-7975
Welding Training
1300 N 9th St, Modesto, CA 95350
(209) 524-7037
NCCT
10150 Missile Way, Sacramento, CA 95826
(916) 387-1564
Tulare Adult School Welding
1450 Sunset Ave, Tulare, CA 93274
(559) 687-7455
American Fabrication Academy
1781 Capital St Suite H & I, Corona, CA 92880
(951) 279-9353
Advanced Weldtec, Inc. & California Welding Institute
32081 Corydon Rd, Lake Elsinore, CA 92530
(951) 536-3809
Harbor Occupational Center
740 N Pacific Ave, San Pedro, CA 90731
(310) 241-4800
Summit College
1639 E Edinger Ave, Santa Ana, CA 92705
(855) 970-4151
Southern California Regional Occupational Center
2300 Crenshaw Blvd, Torrance, CA 90501
(310) 224-4200
Universal Technical Institute
9494 Haven Ave, Rancho Cucamonga, CA 91730
(909) 484-1929
Advanced Career Institute
1728 N Kelsey St, Visalia, CA 93291
(559) 651-1978
Center for Employment Training - CET Colton
1099 N Pepper Ave, Colton, CA 92324
(909) 478-3818
Center for Employment Training - CET San Diego
4153 Market St c, San Diego, CA 92102
(619) 527-4895
Center for Employment Training - CET Coachella
49-111 CA-111 #5, Coachella, CA 92236
(760) 398-8889
Modesto Technical College
1300 N 9th St D, Modesto, CA 95350
(209) 524-7037
Universal Technical Institute
4175 E Conant St, Long Beach, CA 90808
(562) 541-7000
Advanced Career Institute
2925 Mosasco St B, Bakersfield, CA 93312
(661) 588-3525
Become a Welder, Find a School >
Salary
The median annual wage reported by the Bureau of Labor Statistics for welding professions in the United States was $44,190 as of May 2020.
BLS has grouped welders with brazers, cutters, and solderers.
The median wage tells us that half of all workers in these professions earned less than this amount while half earned more.
An entry-level worker will earn a salary that is close to the minimum for this profession, which is in the $30,000 range but the wage will increase after earning a few years of experience in the field and additional certifications.
You can also improve your entry-level salary if you graduate from a trade school and earn a certification in the welding field in which you want to specialize.
The industry of employment plays an important part in determining how much a welder takes home each year.
According to the report published by BLS, the top-paying industry for this profession is the field of scheduled air transportation- a field that hires less than 100 welders but pays them on average with $92,230.
Among the industries with higher levels of employment, foundation, structure, and building exterior contractors offered the highest salary for welders.
In this sector, the median annual wage reported by welders was $49,520.
The sector with the highest level of employment for this profession are manufacturers of fabricated metal products- a sector where the median wage reported by welders was $43,780- lower than the national average for this profession.
Salaries also vary depending on the state and the region of employment.
As a  medium-level welder, you will earn around $20 an hour but you can earn more than twice as much if you are an experienced welder or you are employed by top companies like Toyota or Bechtel.
According to salary.com, the median annual wage reported by mid-level welders in California is $55,899.
In this group are included welders with 3-5 years of experience.
According to the same report, wages also vary depending on the city and region.
Below you will find a table that includes salary information from the top 10 cities of California.
Annual Salary Range:
Average Salary of Welders in Welding Schools In California
| City Name | Salary |
| --- | --- |
| Los Angeles | $56,598 |
| San Diego | $54,005 |
| San Jose | $62,805 |
| San Francisco | $62,554 |
| Long Beach | $55,798 |
| Fresno | $49,783 |
| Sacramento | $54,092 |
| Oakland | $59,552 |
| Santa Ana | $55,849 |
| Anaheim | $55,925 |
Welding Schools by City