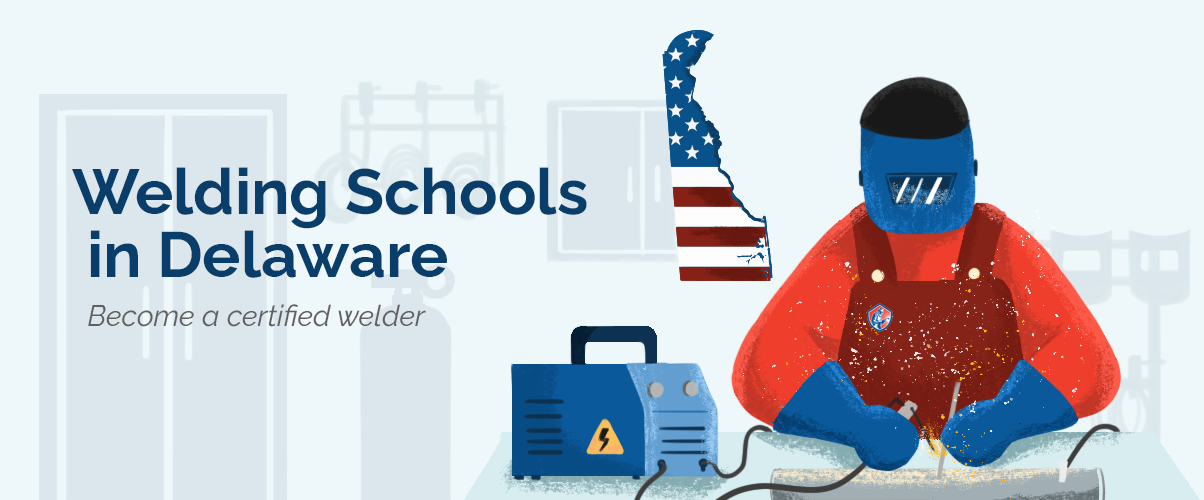 In our day and age, good welders are in great demand especially on projects that include rebuilding the aging infrastructure.
If you're passionate about building things, a career as a welder may be the right choice for you.
On this page, we will offer you useful information about this career path.
Job Description
Welders are trained professionals who join metal parts using hand-held sophisticated equipment.
Depending on his/her experience, position, and education level, a welder's job description may include:
Studying blueprints and specifications
Inspecting the materials that will be welded
Starting power supplies
Monitoring the welding process
Performing maintenance tasks on the equipment
According to the Bureau of Labor Statistics, this profession is projected to grow 3 percent from 2019 to 2029.
New job openings stemming from the need to replace aging infrastructure in some regions and sectors will be open especially for welders who are familiar with new technologies.
The same report shows that most welders work in the manufacturing sector.
Welders also work for specialty trade contractors, in the repair and maintenance sector or as self-employed contractors.
Job prospects are looking good especially for those who have up-to-date training and know how to use the latest technology.
Education Requirements
If you want to become a welder in the state of Delaware you first need to become certified by the American Welding Society.
This credential will prove to potential employers that you have the required skills and knowledge needed for this profession.
AWS offers different types of certification:
Certified Welder- this is the basic certification
Certified Associate Welding Inspector
Certified Welding Inspector
Senior Certified Welding Inspector
Certified Welding Educator
Certified Resistance Welding Technician
Certified Radiographic Interpreter
Certified Welding Supervisor
Certified Welding Sales Representative
Certified Welding Engineer
Certified Robotic Arc Welding
Most employers prefer to hire welders who have the Certified Welder basic certification.
To earn this credential you will have to prove that you know the procedures used in welding across different industries, from structural steel to chemical refinery welding.
Before taking this exam you will also have to pay a $50 application fee.
A good way to prepare for the certification exam and for an entry-level job in this profession is through post-secondary education.
Welding classes are available at many trade schools in different regions of Delaware.
Although costs vary widely depending on the type of program and the duration, on average, welding classes range from several thousands of dollars to more than $10,000.
The table below compiles information about some of the best trade schools that offer welding programs in the state of Delaware.
21 Welding Schools in Welding Schools In Delaware
Delaware Skills Center
500 Ship's Landing Way, New Castle, DE 19720
(302) 654-5392
POLYTECH Adult Education
823 Walnut Shade Rd, Dover, DE 19901
(302) 697-4545
Delaware Tech - Innovation and Technology Center
97 Parkway Cir, New Castle, DE 19720
(302) 266-3300
Cecil County School of Technology
912 Appleton Rd, Elkton, MD 21921
(410) 392-8879
Delaware Technical Community College - Charles L. Terry Jr. Campus - Dover
100 Campus Dr, Dover, DE 19904
(302) 857-1000
Dawn Career Institute - Delaware Career Education
252 Chapman Rd, Newark, DE 19702
(302) 273-3560
Adult Education Division - New Castle County Vo-Tech School District
1703 School Ln, Wilmington, DE 19808
(302) 683-3642
Delcastle Technical High School
1417 Newport Rd, Wilmington, DE 19804
(302) 995-8100
Sussex Tech High School
17099 County Seat Hwy, Georgetown, DE 19947
(302) 856-0961
New Castle County Vocational Technical School District
1417 Newport Rd, Wilmington, DE 19804
(302) 995-8000
Del Tech. University Wilmington Campus
530 E 4th St, Wilmington, DE 19801
(302) 571-5300
Atlantic County Institute of Technology
5080 Atlantic Ave, Mays Landing, NJ 08330
(609) 625-2249
North American Trade Schools
6901 Security Blvd #16, Baltimore, MD 21244
(410) 298-4844
Industrial Training & Testing Institute
2251 Fraley St, Philadelphia, PA 19137
(215) 744-1008
Pennco Tech
99 Erial Rd, Blackwood, NJ 08012
(856) 232-0310
Cumberland County Technical Education Center
3400 College Dr, Vineland, NJ 08360
(856) 451-9000
Employment & Training Division
DE-896, Newark, DE 19713
(302) 451-3469
Delaware Technical Community College - Stanton Campus - Newark
400 Stanton Christiana Rd, Newark, DE 19713
(302) 454-3900
James H Groves Adult High School
1621 Telegraph Rd, Wilmington, DE 19804
(302) 651-2709
Camden County Technical High School-Gloucester Township Campus
343 Berlin - Cross Keys Rd, Sicklerville, NJ 08081
(856) 767-7000
Ocean County Vocational Technical School system
423 Wells Mills Road (Route 532), Waretown, NJ 08758
(732) 286-5660
Become a Welder, Find a School >
Welder Salary
Delaware's economy is heavily based on chemical manufacturing but this state is also home to some primary metals manufacturers.
The estimated job growth for the state of Delaware is 1.3%, according to USA news.
The average annual wage for the state of Delaware is $56,700 as of May 2020, according to the Bureau of Labor Statistics.
Salaries for welders vary widely depending on their level of experience and education, among other factors.
Salary.com estimates the median annual wage for mid-level welders in Delaware at $52,546- lower than the state average, which means that half of all welders with this level of experience reported salaries that were below this threshold while half earned more than this.
This is higher than the median annual wage reported by the Bureau of Labor Statistics for welders, cutters, solderers, and brazers- which was $44,190 as of May 2019.
As an entry-level employee, your starting salary will be close to $35,000-$36,000 per year but after earning more than 5-6 years of experience you can easily earn more than $60,000 annually.
However, there are many other factors that can influence your wage, including the local economy and the industries that are developed in your region.
According to the Bureau of Labor Statistics, the industry with the highest level of employment for workers in this field is manufacturers of metal products.
As the name suggests, this sector includes factories that manufacture products that are made out of metal.
According to Delaware Prosperity Partnership, Delaware's manufactured goods are worth around $5 billion- being the state's second-largest sector.
The same source lists the field of other general-purpose machinery manufacturing as one of the top-5 manufacturing sectors in the state.
This industry includes manufacturers of machinery that are used in a variety of sectors, from agriculture to weighing machinery.
One of the top manufacturing companies in Delaware is Miller Metal Fabrication- a company that also offers in-house welding for applications made out of a variety of metals.
Other metal manufacturers in the region are Smucker Laser Cutting & Metal Fabrication, R/J Florig Industrial CO., Wilke Enginuity, Inc., Hofmann Industries, The Chesapeake Machine Company, and more.
According to the National Association of Manufacturers, manufacturers in Delaware employ 5.86% of the workforce.
The industry of fabricated metal products is one of the top 10 industries in Delaware netting $144.6 million dollars in 2017.
The same report estimates expected job growth of 4.9 percent for the field of other general-purpose machinery manufacturing and a 3% growth for other miscellaneous manufacturing.
Job growth with manufacturers of motor vehicles is estimated at 2.6% and at 2.2% for manufacturers of commercial and service industry machinery.
However, your employment and earning prospects as a welder in the state of Delaware will also depend on your city of employment and the local economy.
The table below compiles information about the median wage reported by welders in 10 of the biggest cities in Delaware.
Annual Salary Range:
Average Salary of Welders in Welding Schools In Delaware
| City Name | Salary |
| --- | --- |
| Wilmington | $53,346 |
| Dover | $53,259 |
| Newark | $53,306 |
| Milford | $53,386 |
| Seaford | $52,290 |
| Middletown | $53,164 |
| Smyrna | $53,201 |
| New Castle | $53,346 |
| Bear | $53,286 |
| Lewes | $53,386 |
Welding Schools by City