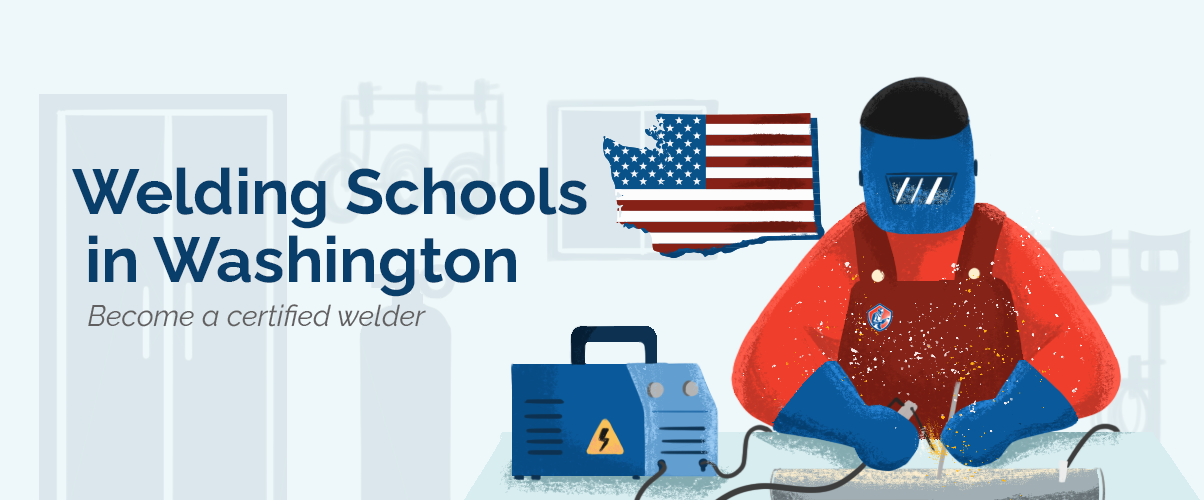 If you're living in Washington and you want to become a welder in this article you will find relevant information about this career path and what to expect.
You will learn about types of welding, welding certificates, job prospects, schools that offer training in this profession.
Job Description
Although job descriptions vary depending on the industry of employment and the welder's level of experience, as a welder, your main task will be to join pieces of metal together using specialized equipment.
Because all major projects regarding infrastructure require welders, this profession will remain in demand in the future.
The Bureau of Labor Statistics estimates that this profession will grow 3 percent from 2019 to 2029 with most new job openings stemming from the need to replace and repair worn-out infrastructure.
As a beginner in this profession, you can improve your chances of finding a good job by becoming a certified welder.
Career Path
A high school diploma or equivalent is all that you need to start a career as a welder but having some post-secondary education will help you get a higher starting salary.
If your high school offers some technical courses or shop classes, it's a good idea to take them because this will teach you the basics of blueprint reading and other technical skills that are very useful in welding.
As you would expect, most employers prefer candidates who have a diploma or degree in the field but there are still some who will train you on the job.
As mentioned earlier, it's a good idea to apply for a certificate offered by the American Welding Society because this will give you an advantage over your competitors on the job market and help you earn a higher starting salary.
There are many places where you can learn welding in the state of Washington.
From trade schools to community colleges, and apprenticeships: there are plenty of training opportunities and you should thoroughly research all your options before enrolling in a specific program.
Tuition varies between a few thousand and more than $15,000 depending on the duration and the type of the program but scholarships are also available to qualifying students.
Before deciding where to enroll it's best to visit the school's website and to gather as much information as needed about accreditation, tuition costs, curriculum, exams, and all the other factors that will be relevant in your choice.
Below we have compiled contact information for the schools that offer welding programs in Washington.
26 Welding Schools in Welding Schools In Washington
Anvil Welding Instruction
4227 E Trent Ave, Spokane, WA 99202
509-891-5914
Lake Washington Technical College: Continuing Education
11605 132nd Ave NE, Kirkland, WA 98034
425-739-8112
Divers Institute of Technology
1341 N Northlake Way Suite 150, Seattle, WA 98103
206-783-5542
HVAC School
23024 Brier Rd, Brier, WA 98036
425-778-2510
Bates Technical College - South Campus
2201 S 78th St, Tacoma, WA 98409
253-680-7000
Clover Park Technical College (CPTC)
4500 Steilacoom Blvd SW, Lakewood, WA 98499
253-589-5800
Perry Technical Institute
2011 W Washington Ave, Yakima, WA 98903
509-453-0374
Yakima Valley Technical Skills Center
1120 S 18th St, Yakima, WA 98901
509-573-5500
Renton Technical College
3000 NE 4th St, Renton, WA 98056
425-235-2352
Tri Tech
5929 W Metaline Ave, Kennewick, WA 99336
509-222-7300
Career & Tech Academy
2205 W Campus Pl, Mt Vernon, WA 98273
360-848-0706
Kent Learning Center -Renton Technical College
515 W Harrison St, Kent, WA 98032
253-852-7461
Newtech Skill Center
4141 N Regal St, Spokane, WA 99207
509-354-7470
Bates Technical College: Adult Education
1101 S Yakima Ave, Tacoma, WA 98405
253-680-7260
Columbia Basin Technical Skills Center
900 Yonezawa Blvd, Moses Lake, WA 98837
509-793-7000
Pierce County Skills Center
16117 Canyon Rd E, Puyallup, WA 98375
253-683-5950
Aerospace Joint Apprenticeship Committee (AJAC)
8605 S 212th St, Kent, WA 98031
206-764-7940
Bellingham Technical College
3028 Lindbergh Ave, Bellingham, WA 98225
360-752-7000
Cascadia Technical Academy
12200 NE 28th St, Vancouver, WA 98682
360-604-1050
Fremont Maritime Services
1900 W Nickerson St #200, Seattle, WA 98119
206-782-4308
South Puget Sound Community College
2011 Mottman Rd SW, Olympia, WA 98512
360-596-5200
Wenatchee Valley Technical
327 Penny Rd # D, Wenatchee, WA 98801
509-662-8827
Big Bend Community College
7662 Chanute St NE, Moses Lake, WA 98837
509-793-2222
EvCC Advanced Manufacturing Training & Education Center
909 N Broadway Ave, Everett, WA 98201
425-388-9570
Corporate & Continuing Education Center
2333 Seaway Blvd, Everett, WA 98203
425-267-0150
Sno-Isle TECH Skills Center
9001 Airport Rd, Everett, WA 98204
425-348-2220
Become a Welder, Find a School >
Welders in Washington
According to the Bureau of Labor Statistics, the average salary in the state of Washington is $66,870 as of May 2020.
The manufacturing industry accounts for 11.21% of the state's total output and employs 8.45% of the total workforce, according to the National Association of Manufacturers.
In 2018 the total output from manufacturing was $63.13 Billion.
The biggest manufacturing industry in Washington is aerospace and other transportation equipment, which accounts for $32.4 Billion to the state's output.
The output from manufacturers of fabricated metal products was roughly $1.9 Billion, while machinery manufacturers contribute approximately $1.6 million to the state's total output.
According to the Bureau of Labor Statistics, the industries with the highest employment level for this profession are:
Manufacturers of fabricated metal products
Manufacturers of machinery
Fabricated metal products manufacturing
Motor vehicle body and trailer manufacturing
Foundation, structure, and building exterior contractors
According to salary.com, the median annual wage for Washington welders with less than 3 years of experience is $46,275 as of April 2021.
The median salary shows us that half of all workers in this profession earned less than this amount while half earned more.
This is lower than the state average but salaries increase as welders become more experienced and earn additional certifications.
As an entry-level welder, you can make anywhere between less than $37,000 and more than $59,000.
Earning a post-secondary degree or certificate and learning multiple welding techniques can improve your starting salary.
The same report calculates the median annual salary for welders with 3-5 years of experience at $53,446 but wages range from less than $41,799 and more than $66,504 depending on other factors, including the industry of employment and the level of education.
Welders with 5-7 years of experience reportedly earn $64,724 per year on average.
The lowest 10 percent of experienced welders reportedly made less than $49,401 while the highest 10 percent made more than $83,934.
As the table below shows, salaries in Washington also vary from city to city.
Annual Salary Range:
Average Salary of Welders in Welding Schools In Washington
| City Name | Salary |
| --- | --- |
| Seattle | $54,213 |
| Spokane | $47,797 |
| Tacoma | $52,577 |
| Vancouver | $51,343 |
| Bellevue | $54,213 |
| Everett | $53,052 |
| Federal Way | $52,577 |
| Kent | $52,471 |
| Yakima | $49,074 |
| Bellingham | $50,623 |
Welding Schools by City