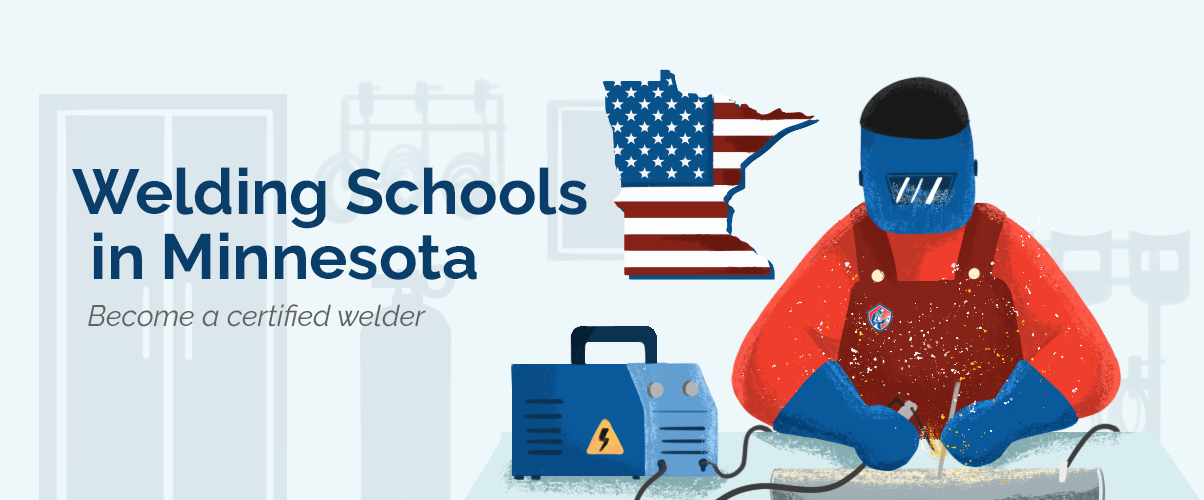 Minnesota offers a variety of employment opportunities for welders and if you're contemplating a career in this trade, there are many educational programs you can choose from.
On this page, we have compiled useful information about salary prospects and educational alternatives so before deciding where to start your training, we invite you to read further.
Job Description
Welders usually specialize in one or several types of materials and welding techniques.
Depending on the type of work they do and the field where they practice, welders can have multiple specializations:
Construction welders
Manufacturing welders
Sheet metal welders
Structural steel welders
Sheet metal workers
Industrial welders
Rig welders
Job descriptions and earning prospects vary depending on the field in which they specialize but also depending on the level of experience.
Usually, a welder is responsible for:
Joining pieces of metal together
Repairing metal components
Melting metal components
Reviewing blueprints
Cutting the metal into shape
Removing creases from molten metal
Occupational Hazards and Safety Issues
An important thing you should know if you want to start a career as a welder is that following strict safety procedures is very important in order to avoid injury.
Welders use leather gloves and jackets with long sleeves to avoid burns and helmets to avoid inflammation of the eye.
Depending on the materials they work with, welders may also be exposed to dangerous gases and there is also a risk of electrical shocks.
To avoid exposure to toxic gases, employers have to make sure that welders work in well-ventilated areas.
Education Requirements
If you want to start a career as a welder, the first step is to finish high school.
Taking some technical education classes during high school is a very good idea because blueprint reading, technical drawing, and mathematics will prove very useful.
Welding training usually covers a variety of topics, such as mathematics, metallurgy, blueprint reading, pipe layout, and most programs also include a welding practicum.
By attending a post-secondary program you will learn various welding techniques:
Arc welding
MIG welding
TIG welding
Hyperbaric welding
Pipeline Welding
Pipe-Fitting
Costs also vary depending on the school you choose and the complexity of the program but usually range between $5,000 and $15,000.
You will also have to pay an application fee and a testing fee.
If the school you choose is in another town you should also take into account housing and travel costs.
22 Welding Schools in Welding Schools In Minnesota
Anoka Technical College
1355 US-10, Anoka, MN 55303
763-576-4700
Lynnes Welding Training. - Ramsey, MN
9459 US-10, Ramsey, MN 55303
763-270-0512
LSC Welding And Machining
120 N 2nd Ave W, Duluth, MN 55802
218-733-6800
Dakota County Technical College
1300 145th St E, Rosemount, MN 55068
651-423-8300
Hennepin Technical College
13100 College View Dr, Eden Prairie, MN 55347
952-995-1300
Dunwoody College of Technology
818 Dunwoody Blvd, Minneapolis, MN 55403
612-374-5800
Pine Technical & Community College
900 4th St SE, Pine City, MN 55063
320-629-5100
Summit Academy OIC
935 Olson Memorial Hwy, Minneapolis, MN 55405
612-377-0150
Alexandria Technical & Community College
1601 Jefferson St, Alexandria, MN 56308
320-762-0221
Saint Paul College
235 Marshall Ave, St Paul, MN 55102
651-846-1600
Minneapolis College
1501 Hennepin Ave, Minneapolis, MN 55403
612-659-6000
Minnesota State College Southeast, Red Wing Campus
308 Pioneer Rd, Red Wing, MN 55066
651-385-6300
SCTCC Customized Training
1215 15th St N, St Cloud, MN 56303
320-308-5682
Ridgewater College
2101 15th Ave NW, Willmar, MN 56201
320-222-5200
Mesabi Range College - Eveleth Campus
1100 Industrial Pkwy, Eveleth, MN 55734
218-741-3095
MCTC Continuing Education and Workforce Development
1501 Hennepin Ave, Minneapolis, MN 55403
612-659-6500
Hibbing Community College
1515 E 25th St, Hibbing, MN 55746
218-262-7200
Minneapolis Pipefitters
6200 Lakeland Ave N, Minneapolis, MN 55428
763-533-5514
Northwest Technical College
905 Grant Ave SE, Bemidji, MN 56601
218-333-6600
Lake Superior College
2101 Trinity Rd, Duluth, MN 55811
218-733-7600
FREE Welding Classes
1215 1st Ave NE, Glenwood, MN 56334
320-281-1530
EPTAC Corporation Minnesota Training Center
1300 145th St E East, Rosemount, MN 55068
651-344-0187
Become a Welder, Find a School >
Welding training usually lasts between 6-7 months and a few years.
Some employers may be willing to hire inexperienced workers and prepare them through on-the-job training or cover the costs of training so you should first research the opportunities that are available in your region.
There are also certification programs available for welders.
Becoming certified can improve your employment and earning prospects.
Employers usually prefer to hire welders who have a basic AWS Certified Welder certification.
This credential can be earned after passing a written and practical exam offered at one of AWS's accredited testing facilities.
Welders in Minnesota
The manufacturing industry accounts for approximately 13.5 percent of Minnesota's total output, according to the National Association of Manufacturers, and hires around 11.4% of the state's workforce.
The top manufacturing field in Minnesota is the field of computer and electronic products, followed by manufacturers of food, beverage, and tobacco products, miscellaneous manufacturing, machinery manufacturing, and metal products manufacturers.
According to a report published by BLS, the industries with the highest level of employment for welders are manufacturers of metal products and manufacturers of machinery- industries that in Minnesota sum up to almost $9.5 billion.
BLS reports that the Minneapolis-St. Paul-Bloomington, MN-WI metropolitan area is one of the metropolitan areas with one of the highest employment levels for welders, cutters, solderers, and brazers.
In this region workers in this profession were reportedly remunerated $24.33 per hour summing up to $50,610 per year.
According to the Bureau of Labor Statistics, the average wage in Minnesota was $58,720 as of May 2020.
Wages for Minnesota welders vary widely depending on experience level and education, among other factors.
Your starting salary as a recent graduate from a welding school will most likely be in the $35,000-$56,000 depending on many other factors, including the industry of employment and the local economy.
According to salary.com, the median wage for entry-level welders was $44,325 as of April 2021- lower than the state average.
The lowest 10 percent of entry-level welders make less than $35,346 while the top 10 percent make more than $56,570.
Gaining experience in this profession surely pays off because a few years after hire, welders can double their starting salary.
The median annual wage reported by welders with 3-5 years of experience was $51,194 with wages ranging between less than $40,000 and more than $64,000.
Experienced welders, usually earn more than the state average with the median calculated at $61,997.
However, there are also sectors that offer lower salaries and the lowest 10 percent of welders with more than 5 years of experience earned less than $47,319, according to salary.com
Salaries also vary depending on the city of employment.
Below you will find information about average salaries reported in May of 2021 by welders in nine cities located in different parts of Minnesota.
Annual Salary Range:
Average Salary of Welders in Welding Schools In Minnesota
| City Name | Salary |
| --- | --- |
| Minneapolis | $52,824 |
| Saint Paul | $52,824 |
| Duluth | $47,028 |
| Rochester | $48,020 |
| Burnsville | $52,676 |
| Eden Prairie | $52,735 |
| Lakeville | $52,497 |
| Minnetonka | $52,824 |
| Saint Cloud | $47,058 |
Welding Schools by City