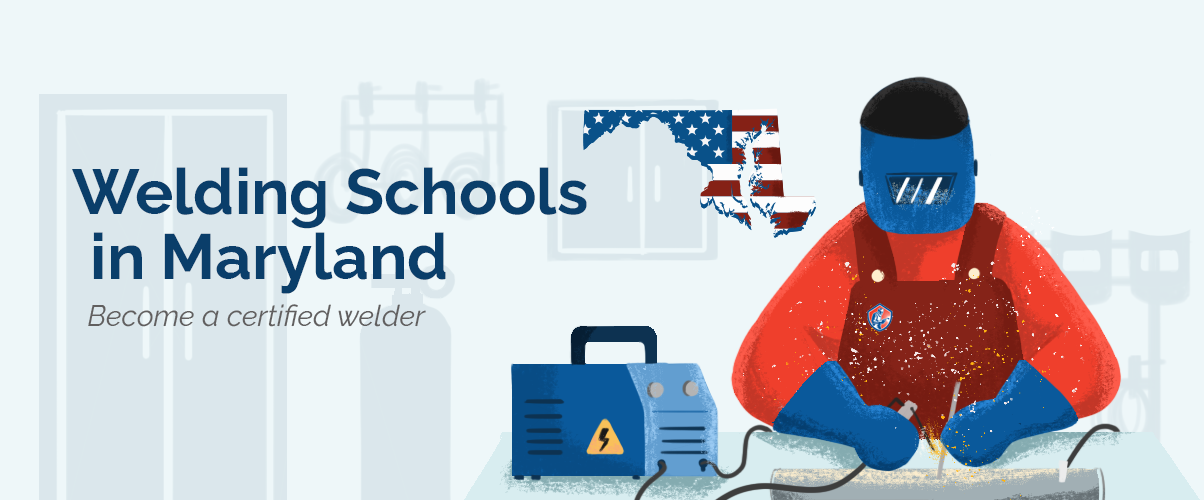 Home to some of the nation's top aerospace and defense firms and thousands of manufacturing companies, Maryland is a good place to start a career as a welder.
If you're a Maryland resident looking to start a career as a professional welder, this article is a good read for you.
You will learn more about your earning opportunities, licensing requirements, employment opportunities, and the schools that are offering training opportunities for future welders.
Job Description
Welders are trained professionals who join metal parts using a hand-held or sophisticated remote equipment.
Depending on his/her experience, position, and education level, a welder's job description may include:
Studying blueprints and specifications
Inspecting the materials that will be welded
Starting power supplies
Monitoring the welding process
Performing maintenance on the equipment
According to the Bureau of Labor Statistics, this profession is projected to grow 3 percent from 2019 to 2029.
New job openings stemming from the need to replace aging infrastructure will be open especially for welders who are familiar with new technologies.
The same report shows that most welders work in the manufacturing sector.
Welders may also work for specialty trade contractors, in the repair and maintenance sector or as self-employed contractors.
In 2019 about 5 percent of all welders were self-employed, according to BLS.
Job prospects are looking good especially for those who have up-to-date training and know how to use the latest technology.
Career Path
Before enrolling in welding school you need to finish high school because many welding schools require a high school diploma or equivalent.
Taking technical education classes during high school can teach you the basics of this profession.
Courses such as blueprint reading, mechanical drawing, chemistry, physics, and metallurgy are very helpful.
Community colleges, trade schools, technical schools, and other post-secondary education institutions also offer formal training for those who want to start a career in this profession.
Good training is very important if you want to start a career in this field and to ensure that you get the best education you should first check if the school is accredited and the curriculum covers all the topics that are relevant for this profession.
Formal training is not always a requirement and there are still some employers who prefer to hire entry-level workers and train them on the job.
However, many employers prefer to hire welders who are certified or hold a diploma or degree in the field.
If you want to become an independent contractor, on the other hand, additional licensing and education requirements may apply.
Licensing Requirements
Although licensing is not usually a requirement, some employers may require general certification in welding.
By becoming certified you prove that you are able to work with different types of metals and welds while following codes and regulations.
Professional Hazards
Welders may be exposed to different hazards and, in order to avoid injuries, welders need good skills and they must wear protective equipment, such as safety shoes, goggles, and masks.
Employers are required by the Occupational Safety and Health Administration to ensure that welders work in well-ventilated areas and follow strict safety procedures to avoid injuries.
Welding Schools
As the table below shows, Maryland is home to many schools that are ready to teach you various welding techniques, such as:
Combination Pipe Welding
GTAW Pipe Welding
SMAW Pipe Welding
MIG Pipe Welding
Pipeline Welding
Pipe-Fitting
Courses can be completed in several weeks or a few months depending on the type of class you choose.
Tuition ranges between less than $5,000 and more than $15,000 depending on the school and the program you choose.
There are many different types of programs and before deciding where to enroll, do your research and find out all you need to know about costs, schedule, curriculum, accreditation, and other factors that are relevant to you.
15 Welding Schools in Welding Schools In Maryland
North American Trade Schools
6901 Security Blvd #16, Baltimore, MD 21244,
410-298-4844
Cecil County School of Technology
912 Appleton Rd, Elkton, MD 21921
410-392-8879
Parkside Career Technology Center
1015 Beaglin Park Dr, Salisbury, MD 21804
410-677-5144
Frederick County Career And Technology Center
7922 Opossumtown Pike, Frederick, MD 21702
240-236-8500
Washington County Technical
50 W Oak Ridge Dr, Hagerstown, MD 21740
301-766-8050
Anne Arundel Community College
101 College Pkwy, Arnold, MD 21012
410-777-2222
Hagerstown Community College
11400 Robinwood Dr, Hagerstown, MD 21742
240-500-2000
Hagerstown Community College - Valley Mall Campus
17301 Valley Mall Rd, Hagerstown, MD 21740
240-500-2000
Lincoln College of Technology
9325 Snowden River Pkwy, Columbia, MD 21046
410-290-7100
Center of Applied Technologies North
800 Stevenson Rd, Severn, MD 21144
410-969-3100
Prince George's Community College Westphalia Training Center
9109 Westphalia Rd, Upper Marlboro, MD 20774
301-546-0964
Magna Baltimore Technical
4910 Park Heights Ave, Baltimore, MD 21215
410-664-2226
UA Mechanical Trade School
8421 Ardwick Ardmore Rd, Landover, MD 20785
301-341-1555
Associated Builders and Contractors Inc.-Barr Construction Institute
530 N Locust St, Hagerstown, MD 21740
301-739-1190
Carroll County Career & Technology Center
1229 Washington Rd, Westminster, MD 21157
410-751-3669
Become a Welder, Find a School >
Welders in Maryland
According to open.maryland.com, there are thousands of manufacturing companies in Maryland, the majority of them being advanced manufacturing companies.
Maryland is home to some top aerospace companies.
Salaries for welders vary depending on a wide range of factors, such as experience level, education, and the region of employment.
According to a report published by salary.com, the median annual wage reported by entry-level welders was $43,551 which means that half of all welders with less than 3 years of experience earned less than this amount while half earn more.
However, as mentioned above, there are many other factors that can determine your salary as an entry-level employee, and salaries for this experience level usually range between less than $36,000 and more than $57,000.
As the report shows, wages increase gradually after earning a few years of experience.
The median wage for welders who have between 3-5 years of experience is $51,122 as of  May 2021 with salaries ranging between less than $41,000 and more than $64,000.
Experienced welders earned, on average, $62,479, according to the same report.
The lowest 10 percent of all experienced welders in Maryland earned less than $47,546 while the top 10 percent made more than $81,491.
Salaries also vary depending on the city of employment and the local economy.
Welders with more than 5 years of experience in Baltimore, for example, earned $62,300 per year on average while those who worked in Rockville made $67,382.
Annual Salary Range:
Average Salary of Welders in Welding Schools In Maryland
| City Name | Salary |
| --- | --- |
| Baltimore | $50,970 |
| Frederick | $53,257 |
| Gaithersburg | $55,046 |
| Bowie | $55,078 |
| Rockville | $55,128 |
| Waldorf | $55,046 |
| Columbia | $50,887 |
| Germantown | $53,571 |
| Ellicott City | $50,937 |
| Glen Burnie | $50,970 |