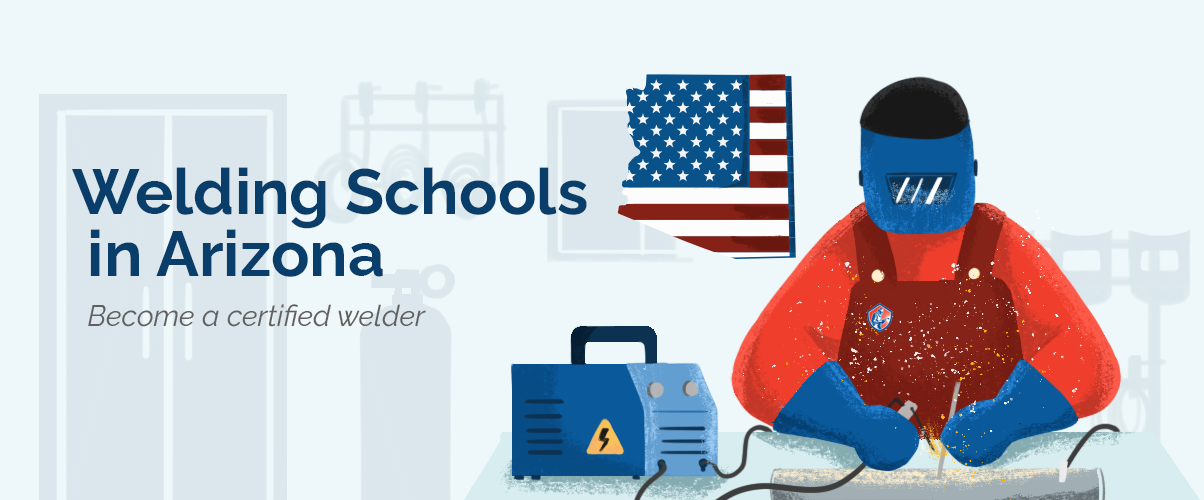 On this page, you will find out more about the welding profession and its prospects in the state of Arizona.
This page is designed for recent high school graduates who are contemplating a career in welding but also for those who want to change jobs or to learn a new skill.
According to the United States Bureau of Labor Statistics, the welding profession is projected to grow in the future.
If you want to start a career in trades and you are willing to find out more about different types of metals and welding techniques, this profession can both financially and professionally rewarding.
In our day and age, welding is becoming increasingly complex but the short definition is that welders assemble and fix pieces of metal using high heat.
In their work, welders use specialized machinery and protective equipment.
Welding is needed on a variety of different projects and often welders specialize in a specific type of materials or welding method.
Some welders assemble small pipes while other work on large construction projects, some work underwater while other work on building construction sites.
For this reason, it's important to know what industry you're targeting before starting to train for this trade.
Job Description and Educational Requirements
A welder's job description varies depending on the type of project but your duties as a welder will often include:
Reading blueprints before starting a welding project
Deciding what materials are needed for the project
Cutting materials according to specifications
Welding the materials
Making sure that the final product follows the specifications.
Welders who have a supervisory position will have additional project management responsibilities.
To be able to perform all of the above tasks welders need some personal skills, such as:
The ability to read blueprints
Knowledge of different types of metals and their properties
Knowledge of various welding techniques
Communication skills
Dexterity
The ability to follow strict safety procedures
Attention to detail
Some of the above skills can be learned through post-secondary education or by taking some technical education classes in high school.
Many employers also offer on-the-job training to their new employees but graduating from a trade school will improve your employment prospects.
Before applying for a welding school, you will need a high school diploma or equivalent.
Welding Schools In Arizona
In Arizona, there are many trade schools and community colleges that offer education programs for those who want to start a career in welding, and in order to help you choose the program that best meets your schedule, budget, and educational needs we have compiled a list of the top schools that offer welding classes.
Before deciding where to enroll is best to check the school's curriculum and make sure that the school is accredited by the appropriate institutions and that it covers the topics that are relevant to the industry where you want to find employment.
Your location is another important factor that you should take into account when choosing the welding school.
There are great welding schools at various locations across Arizona- such as in Phoenix, Glendale, Mesa, Goodyear, Avondale- so it shouldn't be hard to find one near you.
Program duration is also important and some schools offer programs that can be completed in 7 months while others are two years long.
Some schools train you for a career in the automotive industry, while others prepare you for a career in marine construction- so you should also take into account your professional aspirations before choosing a welding school.
12 Welding Schools in Welding Schools In Arizona
Arizona Automotive Institute
6829 N46th Avenue, Glendale, AZ 85301, United States
623-934-7273
The Refrigeration School, Inc.
4210 E Washington St, Phoenix, AZ 85034, United States
480-676-5843
Northern Arizona Vocational Institute of Technology
1320 Thornton, Show Low, AZ 85901, United States
928-532-0269
East Valley Institute of Technology
1601 W Main St, Mesa, AZ 85201, United States
480-461-4000
GateWay Community College-Central City
1245 E Buckeye Rd #4101, Phoenix, AZ 85034, United States
602-238-4350
Universal Technical Institute
10695 W Pierce St, Avondale, AZ 85323, United States
623-245-4600
Arizona Automotive Industry
6829 N 46th Ave, Glendale, AZ 85301, United States
480-281-1823
West-MEC
5487 N 99th Ave, Glendale, AZ 85305, United States
623-738-0022
Mountain Institute JTED
9114, 220 Ruger Rd #2, Prescott, AZ 86301, United States
928-771-0791
Vocational Training Institute
2101 W Alice Ave, Phoenix, AZ 85021, United States
602-243-9926
West-MEC (Northeast Campus)
1617 W Williams Dr, Phoenix, AZ 85027, United States
623-435-4920
SouthWest Skill Center (SWSC)
3000 N Dysart Rd, Avondale, AZ 85392, United States
602-392-5401
Become a Welder, Find a School >
Welder Salary
How much a welder makes depends on a variety of factors, including the level of experience, educations, skills, certification, and the industry of employment.
According to the Bureau of Labor Statistics, the median annual wage reported by welders, cutters, solderers, and brazers in the United States was $44,190 as of May 2020.
This shows us only that half of all workers in these professions earned less than this amount while half earned more.
Wages vary between less than $30,000 and more than $66,000, depending on the job description, experience level, specialty, industry, and a variety of other factors.
An entry-level worker will earn a salary that is close to the minimum for this profession but his/her wage will increase after earning a few years of experience in the field.
Being promoted to a supervisory position is another way of improving your earning prospects but this will also imply additional responsibility and training.
The average annual salary for medium-level welders in Arizona was $49,476 according to salary.com- which is around $600 lower than the national average- which according to the same report is $50,043.
Salaries also vary depending on the city, local economy, and the type of industries that are developed in your region.
According to BLS, the median annual wage reported by welders, cutters, solderers, and brazers, who worked for foundation, structure, and building exterior contractors was $49,520 and those work worked for manufacturers of metal products earned $43,780- on average.
In the table below we have compiled salary information about welders in the top 10 cities in Arizona.
The numbers included in the table are only averages and wages vary depending on a variety of different factors.
One way to improve your earning prospects as a welder in Arizona is by becoming certified or by learning advanced welding techniques.
Keeping up with the latest technological advances and equipment is also important.
There are several institutions that offer certification for welders, and these credentials can often be used anywhere in the United States.
One of the most reputable credentialing institutions for this profession is the American Welding Society.
Employers usually prefer to hire welders who have a basic AWS Certified Welder certification.
This credential can be earned after passing a written exam and practical test offered at one of AWS's accredited testing facilities.
Annual Salary Range:
Average Salary of Welders in Welding Schools In Arizona
| City Name | Salary |
| --- | --- |
| Phoenix | $49,435 |
| Tucson | $47,021 |
| Mesa | $49,443 |
| Glendale | $49,435 |
| Scottsdale | $49,443 |
| Chandler | $49,443 |
| Tempe | $49,443 |
| Gilbert | $49,443 |
| Peoria | $49,335 |
| Yuma | $51,320 |
Welding Schools by City