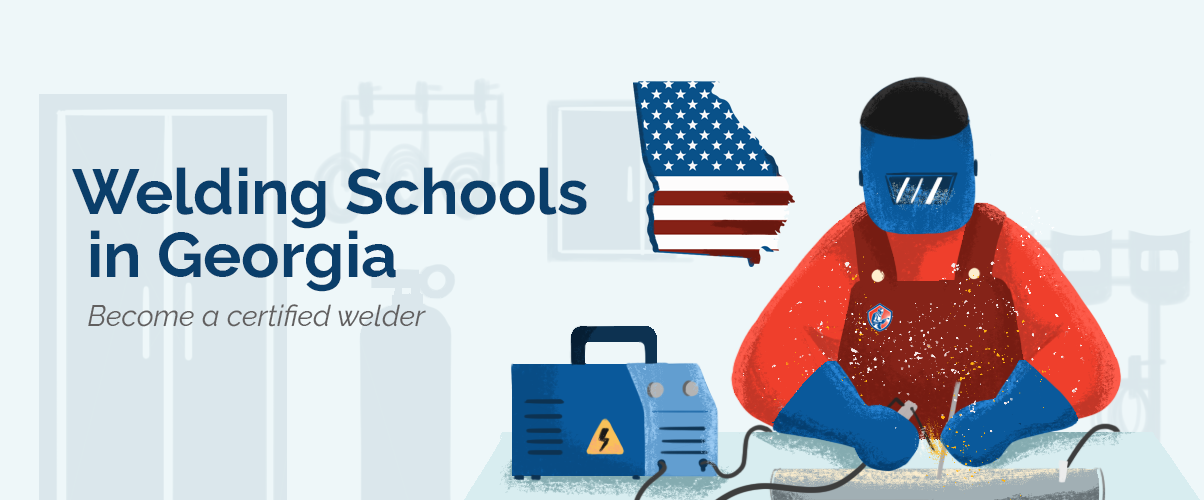 Georgia offers plenty of employment opportunities for welders and if you're contemplating a career in this trade, there are many educational programs you can choose from.
The manufacturing industry accounts for roughly 11 percent of Georgia's total output.
Although manufacturers of food, beverage, and tobacco products are the biggest manufacturer in this state there are many other factories that produce a variety of products, from chemicals to machinery.
Machinery manufacturers- one of the biggest employers for welders- contribute $3.7 Billion to Georgia's economy.
Job Description
Welders usually specialize in one or several types of materials and welding techniques.
Depending on the type of work they do and the field where they practice, welders can have multiple specializations:
Construction welders
Manufacturing welders
Sheet metal welders
Structural steel welders
Sheet metal workers
Industrial welders
Rig welders
Job descriptions and earning prospects for welders vary depending on the field in which they specialize but also depending on the level of experience.
Usually, a welder is responsible for:
Joining pieces of metal together
Repairing metal components
Melting metal components
Reviewing blueprints
Cutting the metal into shape
Removing creases from molten metal
Occupational Hazards and Safety Issues
Another important thing you should know if you want to start a career as a welder is that following strict safety procedures is very important in order to avoid injury.
One of the most important risks welders face every day is the risk of burns.
To avoid them, welders use leather gloves and jackets with long sleeves.
The brightness of the weld may cause inflammation of the eye and in order to avoid this, welders use special helmets.
Depending on the materials they work with, welders may also be exposed to dangerous gases and there is also a risk of electrical shocks.
Employers have to make sure that welders work in well-ventilated areas.
Education Requirements
If you want to start a career as a welder, the first step is to finish high school.
Taking some technical education classes during high school is a very good idea and knowing math and how to read blueprints will prove very useful.
Welding training usually covers a variety of topics, such as mathematics, metallurgy, blueprint reading, pipe layout, and most programs also include a welding practicum.
The main welding techniques included in training programs are:

Arc welding
MIG welding
TIG welding
Hyperbaric welding
Pipeline Welding
Pipe-Fitting
Depending on the school and the program you may learn only one basic technique or several advanced welding techniques, such as underwater welding.
Costs also vary depending on the school you choose but usually range between $5,000 and $15,000.
You will also have to pay an application fee and a testing fee.
If the school you choose is in another town you should also take into account housing costs that can vary between less than $1000 and more than $10,000 depending on the location and the program duration.
Welding training usually lasts between 6-7 months and a few years.
In the table below we have compiled information about welding schools in Georgia.
39 Welding Schools in Welding Schools In Georgia
Georgia Trade School
4231 Southside Dr, Acworth, GA 30101
(770) 590-9353
Georgia Piedmont Technical College
8100 Bob Williams Pkwy, Covington, GA 30014
(770) 786-9522
Georgia Piedmont Technical College Regional Transportation Training Center
6720 Marbut Rd, Lithonia, GA 30058
(404) 297-9522
West Georgia Technical College
4600 Timber Ridge Dr, Douglasville, GA 30135
(706) 845-4323
Georgia Northwestern Technical College
2310 Maddox Chapel Rd NE, Dalton, GA 30721
(866) 983-4682
Georgia Piedmont Technical College
1085 Montreal Rd E, Clarkston, GA 30021
(404) 297-9522
Savannah Technical College
2890 GA-21 S, Rincon, GA 31326
(912) 754-2880
Lanier Technical College
2535 Lanier Tech Dr, Gainesville, GA 30507
(770) 533-7000
Technical College System of Georgia
System Main Office, 1800 Century Pl NE #400, Atlanta, GA 30345
(404) 679-1600
Albany Technical College - Randolph County Learning Center
241 GA-50, Cuthbert, GA 39840
(229) 732-5280
Georgia Piedmont Technical College
16200 Alcovy Rd, Covington, GA 30014
(770) 786-9522
West Georgia Technical College
13017 GA-34, Franklin, GA 30217
(706) 948-0250
North Georgia Technical College
8989 GA-17, Toccoa, GA 30577
(706) 779-8100
Savannah Technical College
5717 White Bluff Rd, Savannah, GA 31405
(912) 443-5700
Georgia Piedmont Technical College
495 N Indian Creek Dr, Clarkston, GA 30021
(404) 297-9522
Athens Technical College Greene County Campus
1051 Athens Tech Dr, Greensboro, GA 30642
(706) 552-0924
Central Georgia Tech College
54 GA-22, Milledgeville, GA 31061
(478) 445-2300
Oconee Fall Line Technical College Hancock County Center
10571 GA-15, Sparta, GA 31087
(706) 444-1253
Augusta Technical College
3200 Augusta Tech Dr, Augusta, GA 30906
(706) 771-4000
Mechanical Trades Institute
6120 Purdue Dr SW, Atlanta, GA 30336
(404) 696-7121
Athens Technical College
800 US-29, Athens, GA 30601
(706) 355-5000
Mechanical Trade Institute
1445 Trae Ln, Lithia Springs, GA 30122
(678) 486-7600
Lanier Technical College - Jackson Campus
631 S Elm St, Commerce, GA 30529
(706) 335-1931
Central Georgia Technical College
80 Cohen Walker Dr, Warner Robins, GA 31088
(478) 988-6800
Columbus Area Vocational Technical School
Columbus, GA 31904
(706) 649-1113
Sims Academy of Innovation and Technology
985 Austin Rd, Winder, GA 30680
(770) 867-7467
Central Georgia Technical College
3300 Macon Tech Dr, Macon, GA 31206
(478) 757-3400
Middle Georgia Technical Clg
243 Warner Robins Hwy, Hawkinsville, GA 31036
(478) 783-3017
Fortis College
2140 S Cobb Dr, Smyrna, GA 30080
(770) 980-0002
West Georgia Technical College - Carroll Campus
997 Newnan Rd, Carrollton, GA 30116
(706) 845-4323
Aviation Institute of Maintenance
2025 Satellite Pointe, Duluth, GA 30096
(678) 377-5600
South Georgia Technical College
900 S Ga Tech Pkwy, Americus, GA 31709
(229) 931-2394
Athens Tech
20 Lexington Rd, Washington, GA 30673
(706) 678-4875
Gwinnett Technical College Alpharetta-North Fulton Campus
2875 Old Milton Pkwy, Alpharetta, GA 30009
(470) 282-5400
Roy H. "Sonny" Watson Health Science Building
80 Cohen Walker Dr, Warner Robins, GA 31088
(478) 988-6800
Atlanta Technical College South
485 Atlanta S Pkwy, Forest Park, GA 30297
(404) 225-4400
West Georgia Technical College Central Educational Center
200 Campus Dr, Newnan, GA 30263
(678) 821-3800
Southern Regional Technical College
52 Tech Dr, Tifton, GA 31794
(229) 391-2600
Gwinnett Technical College
5150 Sugarloaf Pkwy, Lawrenceville, GA 30043
(770) 962-7580
Become a Welder, Find a School >
Some employers may be willing to hire inexperienced workers and prepare them through on-the-job training or cover the costs of training.
There are also certification programs available for welders.
Becoming certified is not always a requirement but it can improve your employment and earning prospects.
Employers usually prefer to hire welders who have a basic AWS Certified Welder certification.
This credential can be earned after passing an exam offered at one of AWS's accredited testing facilities.
This exam consists of a written and a practical part.
Welder Salary in Georgia
According to the National Association of Manufacturers, manufacturers in Georgia employ 8.54% of the workforce, as of 2021.
According to salary.com, the median annual wage reported by entry-level welders in Georgia was $41,921.
This is lower than the average salary in Georgia calculated across all professions, which is $51,940 as of May 2020.
According to the report, this group included welders who have between 1-3 years of experience and those who don't have any experience but have a degree or additional certification.
However, your salary as an entry-level welder in Georgia varies depending on many other factors, including the city and the local economy.
The lowest 10 percent of beginners reportedly earned less than $33,500 per year while the highest 10 percent make more than $53,000.
After earning a few years of experience you will be able to work independently, your skills will be perfected, and your salary will increase.
The same report calculated the median annual salary reported by welders with between 3-5 years of experience at $48,417 but welders with this level of experience can make anywhere between less than $38,000 and more than $60,000 depending on a variety of other factors.
Experienced welders reported salaries that averaged at $58,634, according to salary.com- with wages ranging between less than $45,000 and more than $76,000 per year.
Salaries for welders in Georgia also vary depending on the city.
Experienced welders in Albany reportedly made $55,708 per year while those in Savannah made $56,946.
Mid-level welders in Savannah earned $47,023 per year on average while those in Albany made $46,001.
The table below includes information about the average salary for mid-level welders in 10 major Georgia cities.
Annual Salary Range:
Average Salary of Welders in Welding Schools In Georgia
| City Name | Salary |
| --- | --- |
| Atlanta | $49,503 |
| Augusta | $46,831 |
| Columbus | $45,513 |
| Savannah | $47,023 |
| Athens | $49,152 |
| Macon | $46,692 |
| Roswell | $49,315 |
| Albany | $46,001 |
| Marietta | $49,362 |
| Valdosta | $45,089 |
Welding Schools by City