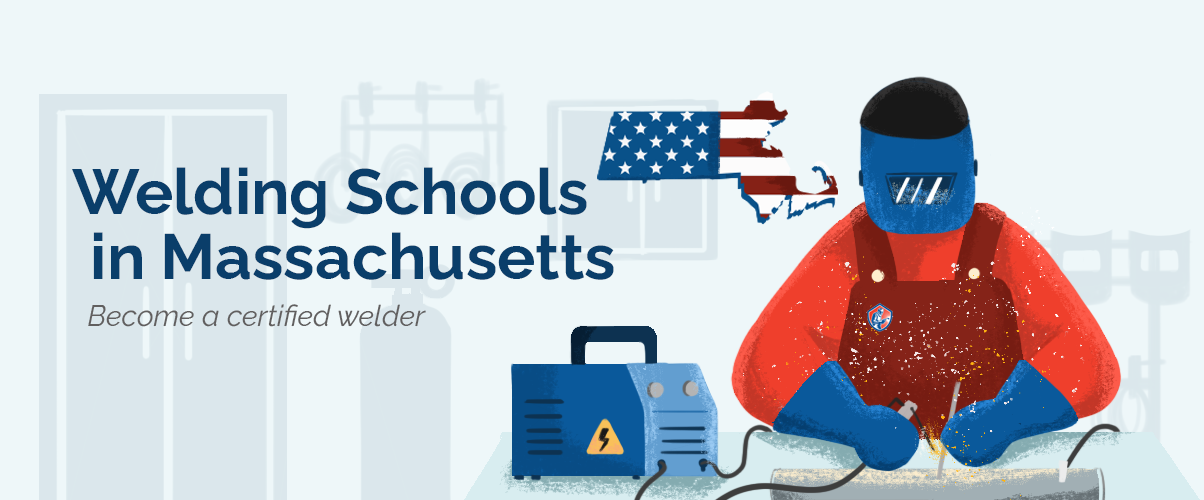 If you're living in Massachusetts and you want to become a welder on this page you will find relevant information about this career path and what to expect.
You will learn about types of welding, welding certificates, job prospects, salary estimates, and schools that offer training in this profession.
Job Description
Although job descriptions vary depending on the industry of employment and the welder's level of experience, as a welder, your main task will be to join two pieces of metal together.
The two most frequently-used welding techniques are MIG and TIG welding, but besides these, there are also other welding types, such as aircraft welding or thin alloy welding.
The more complex and delicate the weld, the more skills you need and the higher the pay but salaries also increase after the welder earns a few years of experience.
Because all major projects regarding infrastructure require welders, this profession will continue to remain in demand in the future.
Career Path
A high school diploma or equivalent is all that you need to start a career as a welder but having some post-secondary education will give you an advantage over your competitors on the job market.
If your high school offers some technical courses, it's a good idea to take them because this will make it easier for you to understand blueprint reading and other classes that will be included in the welding school curriculum.
As you would expect, most employers prefer candidates who have a diploma or degree in the field but there are still some who will train you on the job.
As a beginner in this career, it's a good idea to apply for a certificate offered by the American Welding Society because this can help you earn a higher starting salary.
There are many places where you can learn welding in the state of Massachusetts.
From trade schools to community colleges, and apprenticeships, there are plenty of training opportunities.
Tuition varies between a few thousand and more than $15,000 depending on the duration and the type of the program but scholarships are also available to qualifying students.
Before deciding where to enroll it's best to visit the school's website and to gather as much information as needed about accreditation, tuition costs, curriculum, exams, and all the other factors that will be relevant in your choice.
Below we have compiled contact information about the top welding schools in Massachusetts.
29 Welding Schools in Welding Schools In Massachusetts
Bristol-Plymouth Regional Technical School
207 Hart St, Taunton, MA 02780
508-823-5151
Tri-County Regional Vocational Technical High School
147 Pond St, Franklin, MA 02038
508-528-5400
The Peterson School
705 Plantation St, Worcester, MA 01605
774-823-3047
Assabet After Dark
215 Fitchburg St, Marlborough, MA 01752
508-263-9651
Porter and Chester Institute
1984 Westover Rd, Chicopee, MA 01022
413-593-3339
New England Institute of HVAC
240 Smith St, Lowell, MA 01851
978-735-4979
Blue Hills Regional Technical School
800 Randolph St, Canton, MA 02021
781-828-5800
Blackstone Valley Regional Vocational Technical High School
65 Pleasant St, Upton, MA 01568
508-529-7758
Old Colony Regional Vocational Technical High School
476 North Ave, Rochester, MA 02770
508-763-8011
The Peterson School
25 Montvale Ave, Woburn, MA 01801
781-938-5656
Lincoln Technical Institute
5 Middlesex Ave, Somerville, MA 02145
617-776-3500
McCann Technical School
70 Hodges Cross Rd, North Adams, MA 01247
413-663-5383
Shawsheen Valley Technical High School
100 Cook St, Billerica, MA 01821
978-667-2111
Diman Regional Vocational Tech High School
251 Stonehaven Rd, Fall River, MA 02723
508-678-2891
Porter and Chester Institute
220 Brooks St, Worcester, MA 01606
508-304-6500
Westover Job Corps Center
103 Johnson Rd, Chicopee, MA 01022
800-733-5627
Northeast Metro Tech
100 Hemlock Rd, Wakefield, MA 01880
781-246-0810
Franklin County Technical School
82 Industrial Blvd, Turners Falls, MA 01376, United States
413-863-9561
Metalwerx
50 Guinan St, Waltham, MA 02451
781-891-3854
North Bennet Street School
150 North St, Boston, MA 02109
617-227-0155
MTTI
1241 Fall River Ave, Seekonk, MA 02771
508-336-6611
Worcester Technical High School
1 Skyline Dr, Worcester, MA 01605
508-799-1940
Technology Learning Center
11 Buffum Dam Rd, Oxford, MA 01540
508-987-1852
MassArt Professional & Continuing Education
600R Huntington Ave, Boston, MA 02115
617-879-7200
Southeastern Regional Vocational Technical High School
250 Foundry St, South Easton, MA 02375
508-230-1200
Keefe at Night
750 Winter St, Framingham, MA 01702
508-935-0202
Training Resources of America
231 Main St #302, Brockton, MA 02301
508-587-6115
Lynn Vocational Technical Institute
80 Neptune Blvd, Lynn, MA 01902
781-477-7420
JATC of Greater Boston
194 Freeport St, Dorchester, MA 02122
617-436-0980
Become a Welder, Find a School >
Welders in Massachusetts
The manufacturing industry in Massachusetts employs 7.02% of all workers.
Fabricators of metal products rank number four in a list of top manufacturing sectors.
Machinery manufacturing and manufacturers of aerospace and other transportation equipment are also among the top Massachusetts manufacturers.
According to the Bureau of Labor Statistics, the average annual wage in Massachusetts was $70,010 as of May 2020.
Entry-Level Salary
According to salary.com, the median annual wage reported by Massachusetts welders with less than three years of experience was $47,142 as of April 2021.
This means that half of all entry-level welders earned less than this amount while half earned more.
Salaries also vary depending on other factors, including industry of employment and education.
The lowest 10 percent reportedly make less than $50,326 while the highest 10 percent make more than $85,506.
Intermediate Salary
The same report calculates the median annual wage for welders who have between 3-5 years of experience at $54,447.
Salaries for this experience level vary between less than $43,000 and more than $67,000.
Salary for Experienced Welders
The median annual wage for welders in Massachusetts was $65,936 with salaries ranging between less than $50,000 and more than $85,000 depending on the region of employment, industry, and education.
For example, the median annual wage reported by experienced welders in Boston was $68,282 in April of 2021 while the median wage reported by welders with the same experience level who were employed in Haverhill earned $64,724 on average.
Below you will find more information about salary estimates in the top 10 cities of Massachusetts, according to data published by salary.com in May of 2021.
Annual Salary Range:
Average Salary of Welders in Welding Schools In Massachusetts
| City Name | Salary |
| --- | --- |
| Boston | $55,864 |
| Worcester | $52,210 |
| Springfield | $51,441 |
| Lowell | $54,044 |
| Cambridge | $55,864 |
| Brockton | $53,697 |
| New Bedford | $52,259 |
| Fall River | $52,259 |
| Lynn | $55,864 |
| Quincy | $55,864 |
Welding Schools by City