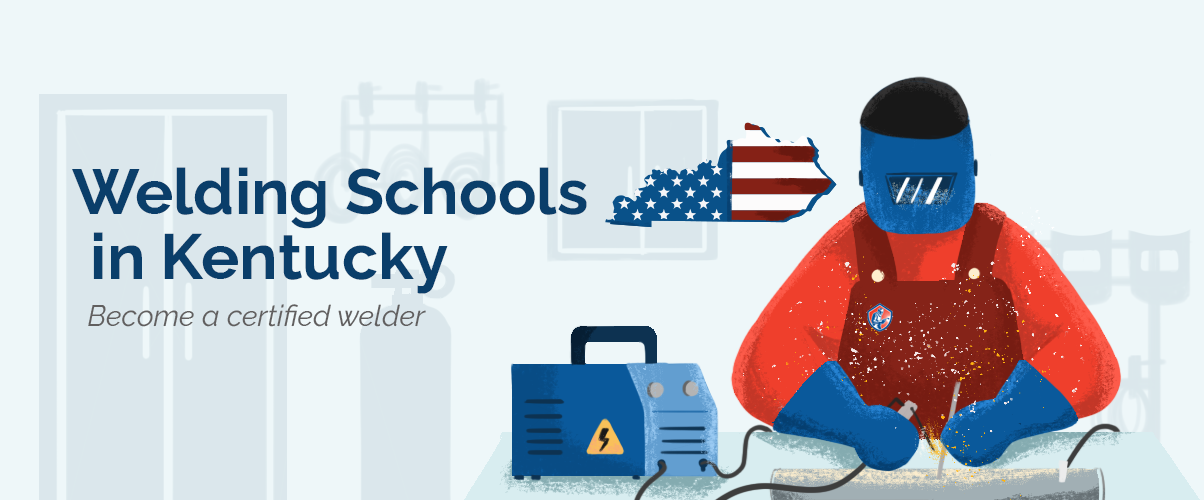 If you're living in Kentucky and you want to become a welder, in this article you will find a lot of information about this career path.
You will learn about types of welding, welding certificates, job prospects, salary information, and schools that offer training in this profession.
Job Description
If you're contemplating the idea of starting a career in this profession, you already know, in broad lines at least, what welders do: they join two pieces of metal together.
But, besides MIG and TIG welding, the two most frequent welding techniques, there are also other welding techniques, such as aircraft welding or thin alloy welding.
The more complex and delicate the weld, the more skills you need and the higher the pay.
Other welding techniques, such as pipe welding require a strong, error-free weld.
Any major project regarding infrastructure will require welders so it isn't a job that will go out of style in the near future.
Career Path
A high school diploma or equivalent is all that you need to get started.
If your high school offers some technical courses, it's a good idea to take them because this will teach you the basic technical skills that are very useful in welding.
Courses such as blueprint reading and mechanical drawing are also useful and it is a good idea to take them if you can.
As you would expect, most employers prefer the candidate that has some formal training in the field although there are still some who will train you on the job.
As a beginner in this career, it's a good idea to apply for a certificate offered by the American Welding Society because this can help you earn a higher starting salary.
You can work as a welder but also as a welding inspector once you have more experience if you desire a supervisory role.
From trade schools to community colleges, and apprenticeships: there are plenty of training opportunities for prospective welders in the state of Kentucky.
Tuition varies between a few thousand and more than $15,000 depending on the duration and the type of the program but the good news is that most schools offer lower tuition rates for in-state students.
Before deciding where to enroll is best to visit the school's website and gather as much information as needed about all the factors that are relevant to you, including accreditation, tuition costs, curriculum, exams, and so on.
20 Welding Schools in Welding Schools In Kentucky
Kentucky Welding Institute
1828 Maysville Rd, Flemingsburg, KY 41041
606-849-9353
Knight School Of Welding
2017 S 39th St, Louisville, KY 40211
502-778-9767
Kentucky Tech - Rockcastle Area Technology Center
1555 Lake Cumberland Rd, Mt Vernon, KY 40456
606-256-4346
Southside Technical Center
1800 Harrodsburg Rd, Lexington, KY 40504
859-381-3603
Boone County Vocational School
3320 Cougar Path, Hebron, KY 41048
859-689-7855
Clark County Vocational School
2748 Boonesboro Rd, Winchester, KY 40391
859-744-1250
College for Technical Education
1165 Centre Pkwy #120, Lexington, KY 40517
859-272-5225
Campbell County Area Technology Center
909 Camel Crossing, Alexandria, KY 41001
859-635-4101
Knox County Area Technology Center
210 Wall St, Barbourville, KY 40906
606-546-5320
Boyd County Career and Technical Education Center
12300 Midland Trail Rd, Ashland, KY 41102
606-928-7120
Montgomery County Area Tech Center
682 Woodford Dr, Mt Sterling, KY 40353
859-498-1103
Bowling Green Vocational School
Bowling Green, KY 42101
855-712-0252
Kentucky Tech
130 Vocational School Rd, Princeton, KY 42445
270-365-5563
Lee County Vocational School
960 Center St, Beattyville, KY 41311
606-464-5018
Kentucky Tech Madison Co Center
703 N 2nd St, Richmond, KY 40475
859-624-4520
Barren County Vocational Center
491 Trojan Trail, Glasgow, KY 42141
270-651-2196
Russell Area Technical Center
705 Red Devil Ln, Russell, KY 41169
606-836-1256
Kentucky Tech-Somerset Campus
230 Airport Rd, Somerset, KY 42501
606-677-4049
Floyd County Area Tech Center
1024 KY-122, Martin, KY 41649
606-285-3088
Campbellsville University Technology Training Center
1 University Dr, Campbellsville, KY 42718
270-789-5396
Become a Welder, Find a School >
Welders in Kentucky
Accounting for approximately one-fifth of Kentucky's gross product, the manufacturing industry is the largest contributor to the state's economy, according to Britannica.
Since manufacturers are the biggest employer for welders, if you want to start a career in this profession, your prospects are looking pretty good, especially if you're a certified welder with a few years of experience.
Metal manufacturing companies are contributing significantly to this sector's growth.
Many companies that produce automotive parts and home appliances, such as Toyota Boshoku America, Yanfeng Automotive, and Brazeway have opened in the twentieth century in central Kentucky and are still offering employment opportunities for welders.
Welder Salary in Kentucky
The average wage in the state of Kentucky is $46,000 as of May 2020, according to the Bureau of Labor Statistics.
Salaries for welders in Kentucky vary widely depending on experience level and the region of employment.
Most welders with less than three years of experience earn less than the state average but salaries increase as welders become more experienced and earn additional certifications.
According to salary.com, the median annual wage reported by entry-level welders is $40,772 as of April 2021 with wages ranging from less than $33,000 and more than $52,000.
Welders with 3-5 years of experience reported wages that averaged at $47,091.
The lowest 10 percent of welders in this group reportedly earned less than $36,828 while the top 10 percent made more than $58,595.
Salaries for experienced welders (with more than 5 years of experience) range between less than $44,000 and more than $73,000 with the average calculated at $57,028.
Wages for welders also vary depending on the city of employment.
The table below includes information about the wages reported by welders in major cities of Kentucky.
Annual Salary Range:
Average Salary of Welders in Welding Schools In Kentucky
| City Name | Salary |
| --- | --- |
| Lexington | $47,126 |
| Louisville | $47,191 |
| Owensboro | $46,999 |
| Bowling Green | $45,300 |
| Covington | $48,938 |
| Hopkinsville | $45,039 |
| Frankfort | $45,750 |
| Richmond | $46,653 |
Welding Schools by City