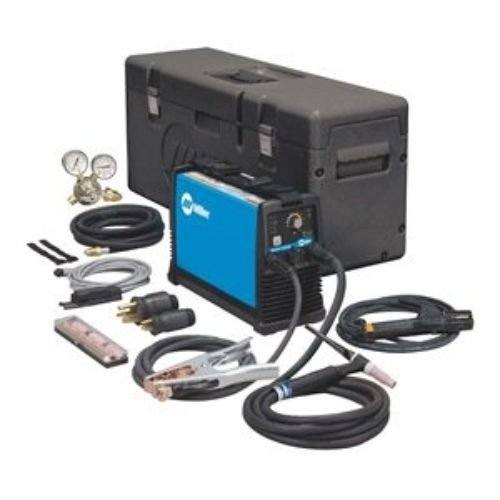 If you want to take your welding skills to a professional level, then you need equipment that will help you to get there. In the world of TIG welding, it can be very difficult to find the right welder to do just that. The Miller Electric Maxstar TIG welder is one of the options that you'll want to consider.
Like many TIG welders, it offers a stick application in addition to the primary TIG welding feature. It also has a DC inverter with lift arc features so that you can establish a consistent arc on a variety of materials.
Here are the key points that you'll want to know about this welder.
It offers dual power inputs, giving you the option to have a 120 or a 240 plug-in for the welder. This lets you go just about anywhere with this compact welder, which stands just 9 inches in height.
At the 120v input, it offers a variable 5-150 amps with a 30% duty cycle, while the stick feature offers a variable 20-100 amps with a 35% duty cycle. We found the duty cycles were relatively similar at any amperage being used.
It is a DC-only welder, so you'll need to make sure that you're matching up your rods to the machine.
We found that it works pretty well on 1/8-inch materials with good consistency. Since it is DC-only, you can't use this welder on any aluminum products. It's perfect for those who do a lot of sheet metal work, do the occasional plumbing repair on stainless steel pipe, or the occasional job for some hobby cash. The arc was stable in every application we through this welder's way.
Tips on Using the Miller Electric Maxstar

Although this does offer a stick welding feature, it's true strength is in its ability to provide a solid TIG welding experience. Don't buy this welder if you're looking for a high-quality stick weld. It can get the job done, but there are better stick welders out there.
As a TIG machine, this is an excellent option.
The lift start on this TIG welder does work pretty well, but you'll also want to use a foot pedal with the machine. It won't provide a high-frequency start for you, but that's a feature you won't miss much when you see the quality and consistency of the TIG welds you're able to produce with this equipment.
If you do plan on welding every day, however, you may wish to opt for the upgraded STH model.
There isn't a manual gas valve on the torch. The welder has a built-in valve that will open as soon as the base metal comes into contact with the tungsten.
Our Bottom Line: The price is going to scare a few folks away. That's understandable. The Miller Electric Maxstar TIG welder is a high-capacity machine that will let you weld consistently on a regular basis. It is not really a machine for beginners. If you're familiar with TIG welding already or you're ready to start with this discipline and you want the best equipment at-hand for your work, then this is the welder for you.
Click here to view the price on Amazon and get the best deal.
Read this for more recommendations on great quality TIG welders.