Last Updated: by Alfred Byron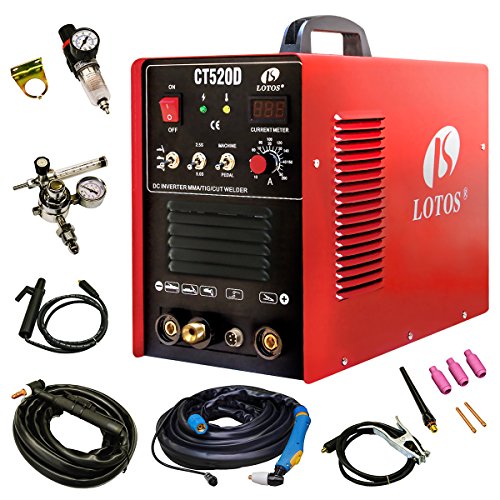 If you're looking for a welder that can give you the best possible versatility for your home projects, then a multi-process welder is what you need. But what if you don't need to have a MIG welder as one of the options, which is what most MP welders offer? The Lotos CT520D multi-process welder provides you with an alternative option: it replaces the MIG welder with a plasma cutter.
It is an automatic dual voltage and dual frequency machine, allowing you to use either 110v or 220v inputs for power. You do need to purchase a pigtail in order to use the standard household current, as it doesn't come in the box.
There is a 30-day 100% satisfaction guarantee with this welder and a 1-year limited warranty. It weighs just under 40 pounds.
What to Expect with the Lotos CT520D
This little machine can do a lot. The 50-amp plasma cutter can slice through ½-inch materials with ease and even works reasonably well on ¾-inch materials. It cuts through steel, copper, and aluminum very effectively.
As a TIG welder, it is a DC-only machine, so it won't weld aluminum for you at all. The foot pedal is very precise, as is the HF start hand torch control, but the foot pedal doesn't come in the box with this welder – a slight inconvenience.
The stick welder is a 15- to 200-amp option that allows you to create a deep weld pool and a consistent shape. The hot striking arc current gives you a consistent starting function, allowing you to weld in your preferred style with relative ease.
Tips on Using the Lotos CT520D

The TIG and plasma cables on this welder are about 6 feet in length. The power cord is only 4 feet long, however, so there is a good chance that you're going to need one of the best welding extension cords to help you be mobile around your garage or shop. Otherwise, you'll be bringing your project to the welder instead of the welder to the project.
The ground cable is also very short. You may wish to upgrade this feature in the near future. The hose is a bit stiff for our liking, but something that you can get used to using.
The plasma cutter is pretty straightforward. It doesn't have a pilot arc, so you're going to need to touch it off every time you need to start cutting. Make sure you purchase extra consumables as well because this machine will blow through them pretty quickly.
Our Bottom Line: If you have multiple processes that need to be completed at home, then the Lotos CT520D multi-process welder is a solid option to consider. The plasma cutting function is the strongest of the three that it provides, but the TIG and stick welding disciplines work quite well once you get used to the machine. If you consider yourself a DIY expert, have professional experience, or welding is a side hustle for you, then this is definitely a welder to consider having in your possession.
Click here to view the price on Amazon and get the best deal.
View this if you want more multi process welder reviews to help you in making a purchase.