Last Updated: by Alfred Byron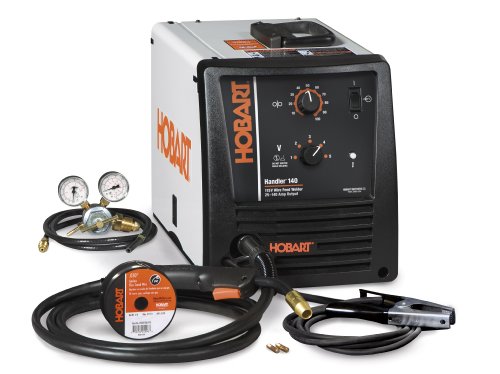 Most small welders are able to work with materials that are about 1/8-inch thick and that's it. Even when they are upwards of 130 amps, you're stuck with a welder that has limited capabilities. The Hobart 500559 Handler Wire Welder tells a different story. With a variable output of 25-140 amps, you're able to weld in a range of 24-guage to ¼-inch mild steel.
We love the fact that this welder is MIG ready right out of the box. There's no additional kit needed and it works with stainless steel just as well as mild steel. The duty cycle is 20% at 90 amps, providing an arc performance that we found to be consistent and excellent in most regards.
Here are some of the additional features that you'll want to take a look at if you're considering this Hobart welder.
It does have the capability of operating off of a 115V household current, but you'll want to have it on a 20-amp circuit. Our 15-amp circuit kept tripping on us.
There is a tapped voltage control selector that offers 5 positions, allowing the user to smooth out or stabilize their arc, no matter what the material thickness happens to be.
The aluminum drive system and the 200-amp heavy-duty work clamp give you an industrial-level performance that s easy to use at home.
Setting up this welder was pretty easy. We were up and running within 15 minutes. At 57 pounds, it isn't the lightest portable welder that's on the market today, but it isn't terribly difficult to move. If you can lift a bag of large dog food, you can move this welder around your property.
Tips on Using the Hobart 500559 Handler Wire Welder

With the 10-foot MIG gun, dual gauge regulator, and 10-foot work cable and clamp, this welder is about as straight-forward as it gets. Your power cord is also 10 feet in length. The MIG gun comes with a liner. You will want to use .030 wire with this welder, however, as that tends to provide the best overall performance.
If you're doing long and continuous beads on a steel plate, you're going to need to take your time with this welder. Using an interrupted stitching technique is a better option, especially on thicker materials. Only when trying to test it on high volume production did we encounter a kick-out due to unit temperature, so it's able to handle pretty much everything one could ask for within its published specs.
Our Bottom Line: The Hobart 500559 Handler Wire Welder comes with everything you need to get welding for the first time. It is a good beginner model or for experienced welders who need to work on the occasional DIY project on their property. The 20% duty cycle at 90 amps is a little on the light side for industrial applications, but there is enough strength for this welder in an emergency. From a value perspective, it's tough to find a better welder than this one.
Check this out: best MIG welders to buy for your MIG projects.

Click here to view the price on Amazon and get the best deal.