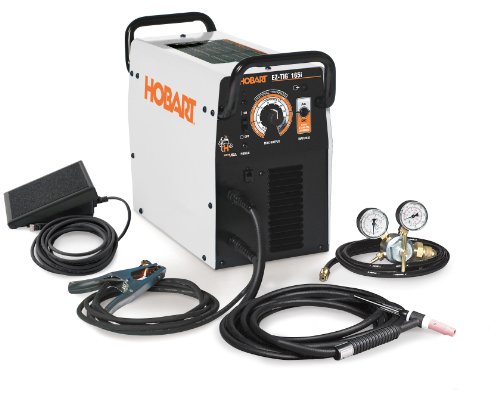 There are several processes that you need to know in order to be successful with TIG welding. You also have several settings from which to choose on a TIG welder, depending on what your project happens to be. The Hobart 500551 EZ TIG Inverter-Based Welder makes like simple. Instead of multiple switches and components which need constant adjustment, you have a single-knob control design that works with the classic foot pedal to make sure your welds are clean, consistent, and precise.
Out of all the TIG welders that we had the opportunity to look at, this model was the easiest one to set up and use. It really is a complete welding package.
Features of the Hobart 500551

To get started, just plug this welder into your 230 VAC, connect your shielding gas, and then select your materials. That's really all it takes to get started when you want to weld. It is an AC/DC welder that allows you to work on 22-gauge materials to items that are 3/16-inch with relative ease.
This welder is also very lightweight with its inverter-based design, allowing you to have a portable TIG welder that is actually useful. Two carrying handles are included on the frame of the welder to make it safer and easier to carry it from location to location. It weighs just 50 pounds. Every unit from Hobart is designed and manufactured in Appleton, WI.
Here's what comes in the box.
A 12.5-foot Legacy 17 Weldcraft TIG torch.
A RFCS-RJ45 remote foot control.
A 12-foot work cable with clamp
Gas regulator / flow meter and shielding gas hose.
Tips on Using the Hobart 500551

You're going to receive one piece of tungsten with this welder. You're going to want to purchase more of it and filler rod if you want to be welding right away.
It is an air-cooled model, so you'll want to give this welder plenty of open space if you plan to be using it consistently. We didn't have any problems with it overheating, but if your welds are long and in an enclosed space, it could become an issue for some users.
This welder goes up to 160 amps, which makes it useful for most home fabrication work or light industrial work. Small-to-medium projects are completed with relative ease. It comes equipped with a 50-amp 240-volt plug and cord. We had no problems using it on a residential 30-amp circuit. If you don't have that circuit in place already, you'll need to have one installed before using this welder.
Our Bottom Line: This is an excellent mid-range TIG welder. The Hobart 500511 makes it easy to take on weekend fabrication projects for the experienced welder, while still making the welding process easy to understand for those who are just making the jump to a TIG welder for the first time. You'll need to practice with it to get a feel for what it can do, but it is a solid machine that will support your welding endeavors.
Click here to view the price on Amazon and get the best deal.
Check this for the best tig welders on the market.