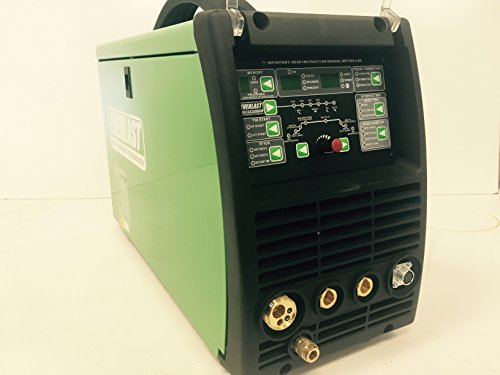 Here's the issue: many MP welders are good in a single discipline, but many struggle to be an all-around performer. Some are good for light side hustle work, while others are designed more for industrial needs. The Everlast PowerMTS 211Si Multi-Process Welder is a good option for those operators who need more than the basics, but may not need something that competes with industrial-strength welders.
This option has more than enough power and capability to handle most of the DIY welding chores that you'll come across in the home. It can also handle light fabrication work when you're trying to earn some spare cash.

Features to Expect with the Everlast PowerMTS

This MP welder by Everlast features a standard MIG mode, with the setup fully controlled by the operator. It comes with a synergic spool gun mode for those who need it. The menus are comprehensive, though a little basic for advanced operators, allowing you to get to work right away.
Here are some of the additional features to expect with the Everlast PowerMTS.

It offers a synergic MIG function with an adjustable MIG arc force, allowing operators to save up to 9 different programs.
It features a 35% duty cycle at 200 amps and offers dual voltage inputs.
The TIG discipline offers HF and lift start.
A 12-pound spool of .023-.035 wire is compatible with this MP welder.
It offers a digital lGBT inverter for added versatility.
As for the TIG discipline, the torch doesn't need to have a manual gas valve because the MP welder controls the flow automatically. You program the welder from the panel for the pre-flow and post-flow operations that you need. The TIG discipline also features a touchless start, which is rare in this particular category.
What to Expect with the Everlast PowerMTS

This MP welder is a little heavier than other models, coming in at 80 pounds. It is still portable to some extent, but you'll probably want to put this welder onto a cart if you need to lug it around.
It is a DC-only machine, so it will not TIG weld aluminum for you. You'll need the aluminum spool gun for MIG welding to do that.
There isn't a setting chart that comes with this welder, so it takes a little trial and error to get to know what you'll need in order to create a solid weld. Give yourself some time to practice with this machine before trying to put a project together so you can get to know the settings a bit.
Our Bottom Line: This is better than a pure hobbyist welder, but the Everlast PowerMTS 211Si Multi-Process Welder does struggle in some areas. You'll need to figure out the settings on your own. Having the automatic dual voltage feature is nice since you don't need to worry about rewiring anything. The MIG function is a bit stronger than the other disciplines, but for a 3-in-1 machine, the value that this welder offers offsets the few negatives that we experienced.
Click here to view the price on Amazon and get the best deal.
Check this link: best Everlast welders online.